Jupiter's fifth moon, Io, is the most volcanically active body in the solar system. Plumes of sulphur spew upward as high as 190 miles (300 km). The surface of Io is splotched with lava lakes and floodplains of liquid rock.
Facts about Io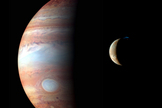 Age: Io is about 4.5 billion years old, about the same age as Jupiter.
Distance from Jupiter: Io is the fifth moon from Jupiter. Its orbital distance is about 262,000 miles (422,000 km). Io takes 1.77 Earth days to orbit Jupiter. The same side of Io always faces Jupiter.
Size: Io has a mean radius of 1,131.7 miles, making it slightly larger than the Earth's moon. It has a slight elliptical shape, with its longest axis directed toward Jupiter. Among the Galilean satellites Io ranks third, behind Ganymede and Callisto but ahead of Europa, in both mass and volume.
Temperature: Io's surface temperature averages about negative 202 degrees F, resulting in the formation of sulfur dioxide snowfields. But Io's volcanoes can reach 3,000 degrees F. Io is often referred to as a celestial body of fire and ice.
The Discovery of Io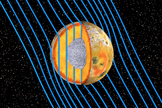 Io was the first of Jupiter's moons discovered by Galileo Galilei on Jan. 8, 1610. He actually discovered the moon the day prior, but could not differentiate between Io and Europa, another Jupiter moon, until the next night. The discovery, along with three other Jovian moons, was the first time a moon was discovered orbiting a planet other than Earth. Galileo's discovery eventually led to the understanding that planets orbit the sun, instead of our solar system revolving around Earth.
Io's Name
Galileo first referred to this moon as Jupiter I. In the mid-1800s, the moon was renamed Io. The name Io has a bit of a tawdry back story, as Io is named for the daughter of Inachus, whom Zeus raped. He turned Io into a cow to hide the incident from his wife.
Exploration of Io
Several spacecraft have flown by Jupiter and its moons. Pioneer 10 arrived first, in 1973, followed by Pioneer 11 in 1974. Voyager 1 and Voyager 2 returned striking photos during their flybys. The Galileo spacecraft passed as low as 162 miles (261 km) over the surfaces of the Galilean moons and produced detailed images.
Characteristics of Io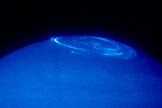 The interior of Io is composed of an iron or iron sulfide core and a brown silicate outer layer, giving the planet a splotchy orange, yellow, black, red, and white appearance.
Based on data from scientific computer models, Io formed in a region around Jupiter where water ice was plentiful. Io's heat, combined with the possibility that there was water on Io shortly after it was formed, could have made life possible, although Jupiter's radiation would have removed the water from the surface.
The planets most distinctive features are its volcanoes. Aside from Earth, Io is the only known body in the solar system to have observed active volcanoes. While Galileo had made some cryptic notes inferring possible volcanic activity, NASA's Voyager spacecraft discovered Io's volcanoes in 1979.
The volcanic activity is a result of Io being stretched and squeezed as it orbits Jupiter. Io's rock surface bulges up and down by as much as 100 meters during the process. This impacts Io's volcanic activity in a similar way to which the Earth's oceans react to the moon. Io's irregularly elliptical orbit also heightens the tidal activity.
Io's Atmosphere
Because of the volcanic activity, Io's atmosphere contains mostly sulphur dioxide. Io's orbit cuts across Jupiter's powerful magnetic lines of force, turning Io into an electric generator. As Jupiter rotates, the magnetic forces strip away about a ton (1,000 kg) of Io's material every second. The material becomes ionized and forms a doughnut-shaped cloud of radiation called a plasma torus. Some of the ions are pulled into Jupiter's upper atmosphere and create auroras.
- Kim Ann Zimmermann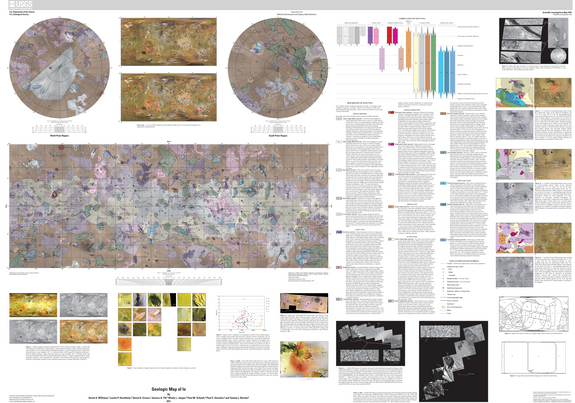 Related: