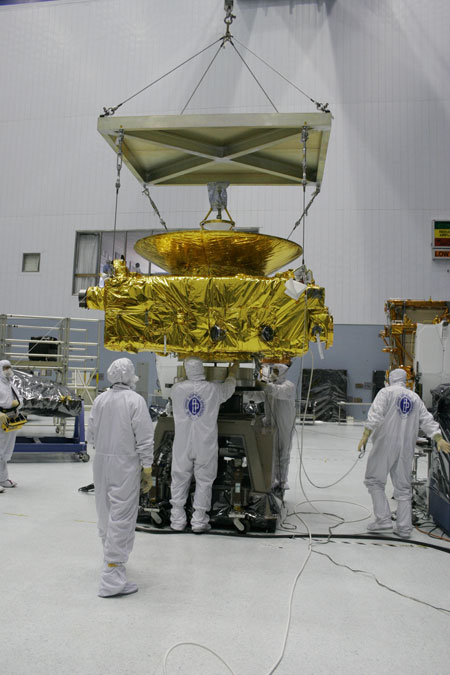 A spacecraft bound for Pluto has arrived at NASA's Florida spaceport, bringing it one step closer in its journey toward the distant world.
NASA's New Horizons space probe arrived at the agency's Kennedy Space Center (KSC) in Cape Canaveral, Florida on Saturday and was promptly ushered into a clean room, NASA officials said Monday.
The 1,000-pound (453-kilogram) spacecraft is slated ride atop a Lockheed Martin Atlas 5 rocket on Jan. 11, 2006 and begin a 10-year journey to Pluto and its moon Charon.
New Horizons is the first of NASA's medium-class missions to fly under the space agency's New Frontiers program.
The probe carries a suite of seven science instruments to study Pluto and Charon during its fly by past the planet-moon pair. Researchers hope New Horizons will not map the surface composition of Pluto and Charon, but also record their temperatures, geology and landform history, and study Pluto's atmosphere.
NASA officials said that after the flyby, still more than a decade away, New Horizons could also visit other rocky objects beyond Pluto's orbit during an extended mission.
But first, the spacecraft has months of tests and preparations that must be completed before launching from Complex 41 at the Cape Canaveral Air Force Station.
Engineers are gearing up for a series of tests and readiness checks, including a full end-to-end test to verify its compatibility with NASA's Deep Space Network that will track the mission, now scheduled for October.
In November, the spacecraft's vital hydrazine propellant will be loaded aboard and the probe will be tested for its spin-balance, NASA officials said. The probe's Atlas 5 booster will also be stacked by then for a launch countdown rehearsal, they added.
If all goes well, New Horizons will be integrated into its launch vehicle in December.
While mission managers are currently targeting a two-hour window that begins at 2:07 p.m. EST (1907 GMT) to loft New Horizons, the flight has a wide, month-long launch window that closes on Feb. 14, 2006.