New Horizons Pluto Probe Readied For Launch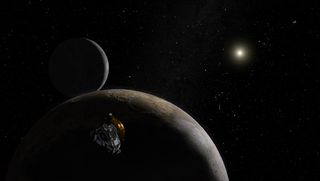 (Image credit: Dan Durda)
BOULDER, Colorado--Distance wise, Pluto is way out there. But the time to hurl a probe toward that outlying world is close at hand.
Engineers have completed a set of key shake and bake tests in readying NASA's New Horizons spacecraft - critical steps to show that the craft is on track for launch in January of next year.
New Horizons is designed to perform the initial reconnaissance of Pluto and its moon, Charon, as well as the Kuiper Belt of icy bodies. They are all baffling objects at the "edge" of our solar system.
In the past, New Horizons has been billed as the first mission to the last planet.
However, given recent revelations, such as a new, bigger than Pluto object--temporarily named 2003 UB313--some three times as far from the Sun as is Pluto--it is obvious that the entourage of planets we're all so familiar with...well, it's no longer your father's solar system.
That has become as clear as astronomical observations can be...lots of uncharted territory...and more hedge than edge.
Misfit Earth
"I jokingly say now that New Horizons is the first mission to the nearest example of the last planet," said Alan Stern, principal investigator for the project here at the Department of Space Studies of the Southwest Research Institute. Stay tuned, he predicted, as the number of planets within our solar system will grow.
"It used to be that Pluto was a misfit. Now it turns out that Earth is the misfit. Most planets in the solar system look like Pluto, and not like the terrestrial planets," Stern told SPACE.com.
Our old view of a stately, grand design solar system with four rocky planets, four gas giants, and a single misfit is badly biased, Stern advised, skewed by observational techniques available.
Paradigm deposed
Stern said it bothers many that there are now so many planets. We are witness to a paradigm deposed.
"Now that we can see farther and deeper, we realize most planets are going to be Pluto-like planets, in Pluto-like orbits. Everything about the inner eight is going to be the exception instead of the rule."
And all the more reason for New Horizons to make its first-of-a-kind cruise.
Dispatching scientific hardware to Pluto has long been sought, starting in earnest back in 1988.
Over the years, various incarnations of such a mission were concocted, but never got off the drawing board - even though loads of money had been spent, Stern explained. New Horizons emerged during an open competition of proposals in 2001, he said, and selected by NASA as the first New Frontiers mission. These are medium-class, high-priority solar system exploration projects.
The cost of New Horizons, including the launch vehicle and operations through the Pluto-Charon encounter, will be roughly $650 million.
Primary launch window
The tempo to ready New Horizons for takeoff is quickening.
There have been a steady string of multi-day simulations of flying the spacecraft, Stern explained. "There's been a lot of testing of software and autonomy."
Designed and built at the Johns Hopkins University Applied Physics Laboratory (APL) in Laurel, Maryland, the probe now resides at NASA's Goddard Space Flight Center in Greenbelt, Maryland, headed for shipment to Cape Canaveral, Florida late this month. It will then undergo final checkout and eventual installation atop an Atlas 5 booster.
Primary launch window for New Horizons is January 11 - February 14, 2006. If the spacecraft roars skyward within the first 18 days of that window, scooting by Jupiter for a gravity assist, it will reach Pluto in 2015.
"It'll be the fastest spacecraft ever to Jupiter...13 months after launch," Stern said. "We pass the Moon in just nine hours."
What's in store for New Horizons is a five-month-long flyby reconnaissance of Pluto-Charon in summer 2015. In extended mission mode, the spacecraft then heads farther into the Kuiper Belt to scrutinize one or two of the ancient, icy mini-worlds that dwell far beyond Neptune's orbit.
If liftoff is after February 2 -- depending on exact launch date -- New Horizons zips to Pluto direct -- sans Jupiter - and arrives at Pluto in 2019-2020.
Chain of approvals
Before New Horizons heads for Pluto, however, yet another crucial milestone must be met: Approval to use a radioisotope thermoelectric generator (RTG), the nuclear power source that provides the electrical energy to operate the spacecraft's mechanical and electronic systems in the cold darkness of deep space.
Any mission that plans to use an RTG undergoes a safety analysis carried out by the U.S. Department of Energy (DoE). In addition to the DoE review, an ad hoc Interagency Nuclear Safety Review Panel (INSRP) - supported by experts from government, industry and academia -- is involved as part of a Presidential nuclear safety launch approval process to evaluate the safety analysis report prepared by DoE.
Based upon the INSRP evaluation and recommendations by DoE and other Federal agencies, NASA may then submit a request for nuclear safety launch approval to the White House Office of Science and Technology Policy (OSTP).
The OSTP Director--the President's science adviser--may make the nuclear safety launch decision or refer the matter to the President. In either case, the launch cannot proceed until nuclear safety launch approval has been granted.
Join in the celebration
Fueling of the RTG for New Horizons has just been completed, said Harold McFarlane, program manager for the New Horizons RTG work at the Idaho National Laboratory (INL) in Idaho Falls and director of INL's Space Nuclear Systems and Technology.
McFarlane said the RTG work was completed at INL's new Space and Security Power Systems Facility where assembly of the space power systems takes place. Testing the flight unit, he added, is "quite a long process," including vibration and vacuum chamber testing--work done at INL.
The single flight ready unit for New Horizons is to be shipped to Florida in the late October timeframe, McFarlane told SPACE.com, for later attachment to the spacecraft.
Given the go-aheads, the RTG-powered New Horizons will be all set for its long-distance trek.
Meanwhile, there is no doubt in Alan Stern's mind that surprises await. "It's going to be a jaw on the ground" type of mission, he said.
By the way, time is fleeting for you to join in the celebration that spotlights 75 years of Pluto. You can sign up to send your name to Pluto. But you better hurry as the opportunity to do so ends on September 15.
All aboard via the Internet at:
Get the Space.com Newsletter
Breaking space news, the latest updates on rocket launches, skywatching events and more!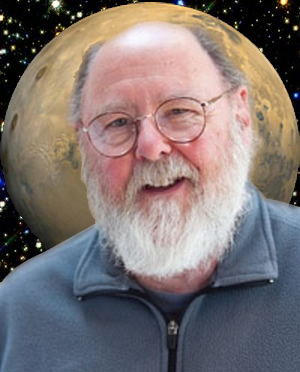 Leonard David is an award-winning space journalist who has been reporting on space activities for more than 50 years. Currently writing as Space.com's Space Insider Columnist among his other projects, Leonard has authored numerous books on space exploration, Mars missions and more, with his latest being "Moon Rush: The New Space Race" published in 2019 by National Geographic. He also wrote "Mars: Our Future on the Red Planet" released in 2016 by National Geographic. Leonard has served as a correspondent for SpaceNews, Scientific American and Aerospace America for the AIAA. He was received many awards, including the first Ordway Award for Sustained Excellence in Spaceflight History in 2015 at the AAS Wernher von Braun Memorial Symposium. You can find out Leonard's latest project at his website and on Twitter.