We wouldn't hesitate to recommend the Ugreen PowerRoam 1200 power bank to anyone looking for an away-from-home or emergency backup power supply, and even more so with a $300 saving at Amazon as part of the Prime Big Deal day sales. If you're looking for the complete package to include solar panels, check the bundles, there are 30 to 40% savings to be had across the range.
When we reviewed the Ugreen PowerRoam 1200 earlier this year, we struggled to find anything we didn't like about it and we've named it the best compact power station in our best power banks guide, as well. It seems to be the perfect size-to-capacity ratio, small enough to lift with one hand and pop in the trunk of your car or store in your RV for off-grid adventures, but with enough power and super quick (50 minutes) AC or solar charging to keep you powered up for days.
Don't forget, if you want to make the most of Amazon Prime Day 2023, check out our Amazon Prime Day hub for a roundup of the best discounts and deals on telescopes, binoculars, cameras, star projectors, drones, lego and much more.
---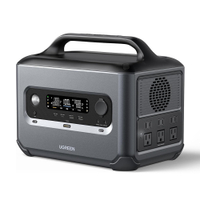 Ugreen PowerRoam 1200: was $999, now $699 on Amazon
Save $300 on the highly-rated Ugreen PowerRoam 1200. We'd recommend it at the full RRP price, so why not take advantage of the extra generous sales price?
---
Key Specs: The PowerRoam 1200 is fairly small for a power station at just 340 x 220 x 270 mm, making it easy to tuck away under your RV bed or in the trunk of your car. It weighs 24.5 lbs / 11.5 kg, so manageable with just one hand for a short distance. It charges in a ridiculously quick 50 minutes and has a whopping nine output ports to charge multiple devices at once.
Consensus: We've tested several power stations and as you'll see in our best power banks guide, this is currently our favorite compact power station that we're very happy to recommend to Space.com readers.
Buy if: You want a power supply away from home, or one to keep as an emergency backup at home. It's small enough to store away without having much of a footprint and easy enough to transport from location to location.
Don't buy if: One of the only downsides of this model is that the handle is on the top, which means you can't stack things on top of it. We still don't think that's a dealbreaker though, and struggled to comment on any other 'cons'.
Alternative models: You'll find plenty of alternative power banks and power stations in our best power banks guide guide. If you're looking for one with a huge capacity to keep you powered up during blackouts, the EcoFlow DELTA 2 Max which we reviewed earlier this year is definitely worth a look. It's currently on sale for $1498, a saving of 35% off the $2299 RRP.
One that we are yet to test for ourselves (but one we're keen to, given its excellent reputation) is the Anker SOLIX F1200, which has had its price slashed by 50% for this prime day.