Black Friday is a shopping holiday celebrated annually on the fourth Friday of November, the Friday after Thanksgiving. This year it falls on November 24th 2023. It is traditionally the start of the holiday shopping season, and many retailers offer significant discounts on a wide range of their stock. Millions of shoppers participate each year, and with most retailers having online stores, you don't even need to leave your couch to make the most of the opportunities to save.
Cyber Monday is the Monday immediately after Black Friday, and it is typically the busiest online shopping day in the calendar; this year it falls on November 27th. Retailers battle it out to get as many customers buying their products over this period as possible, so it's one of the best times to pick up some great deals, especially telescope deals.
The cost of living has continued to rise over recent years, so people have had to make cutbacks or be more mindful of expenditure; sales events are highlights in many calendars, especially for tech lovers, and this includes gear and tech-loving astronomers. We covered Black Friday and Cyber Monday on Space.com in 2022 (and for many years before that), and we're confident there are big savings to be had across the board this year from telescopes and binoculars to cameras, lenses, power banks and star projectors.
Is it worth buying a telescope in the Black Friday sales? We'll look at some reasons to spend, some reasons not to, and some examples of the best deals we picked out during this sale period in 2022.
Best Pre-Black Friday telescope deals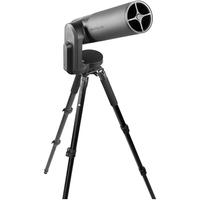 Unistellar eVscope eQuinox Smart Telescope: was $2999 now $1899 on Amazon.
Save $1000 on a highly sophisticated telescope that's 100 times more powerful than a regular telescope.
It has a huge database of night sky objects to view targets at the touch of a button. It's a serious bit of kit with a serious discount to match.
Note: Stock is low, so you'll have to act fast to grab this deal, which is one of our top early deals for Black Friday 2023.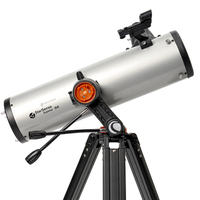 Celestron StarSense Explorer DX 130AZ Telescope: Was $479.95 now $339 at Amazon
Save $29% on this excellent reflector model from Celestron, which we were really impressed with when we reviewed the StarSense Explorer DX 130AZ and gave it four out of five stars. It offers clear, crisp views and is excellent for spotting galaxies, nebulas, planets and star clusters. It's also on sale at Adorama for $399.95.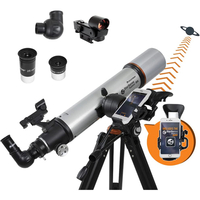 Celestron StarSense Explorer DX 102AZ Telescope: Was $611.95 now $399.99 at Adorama
Save over $210 on this refractor scope, another model from Celestron that works in tandem with the helpful StarSense app. This model has been much more expensive in previous months, so this is a great deal. Check out our Celestron StarSense Explorer DX 102AZ review before buying.
Note: This is a pretty good price for this telescope, but the 'before price is inflated to make it look like a better deal.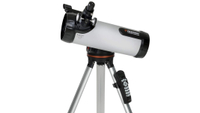 Celestron 114LCM Computerized Newtonian Telescope: Was $439.95 now $387 on Amazon
Save just over $50 off this computerized Newtonian telescope from Celestron. Utilizing a motorized Go-To mount, astronomers can use the hand control to navigate to and track approximately 4000 celestial objects. It also has a StarPointer red dot finderscope, aluminum tripod and two eyepieces (25mm and 9mm).
Why buy a telescope on Black Friday/Cyber Monday?
With so many discounts and big sales events throughout the year, timing is everything when finding the best deals on telescope equipment. Black Friday/Cyber Monday are undoubtedly the biggest sales events of the year, with other events like Amazon Prime Day and Amazon Prime Big Deals days dotted throughout the year.
Be aware that there is still a global supply issue with telescopes due to limited production and distribution, so stock may be harder to get hold of than usual. We keep all our guides like the best telescopes, the best telescopes for beginners, the best telescopes for seeing planets updated and check stock levels each month — we've definitely noticed it's still difficult to get hold of some of our favorite models. Some retailers will let you pre-order them and give you an estimated delivery time, which could be months away.
It's also worth noting that retailers know that with the darkening skies, there will be a bigger demand for telescopes throughout the Autumn and Winter than the rest of the year, so telescope discounts might not be as outstanding as you might be hoping for.
Why not Amazon Prime Day?
Black Friday and Cyber Monday are sales events adopted by most major retailers across many countries in the West. Amazon Prime Day is, as the name suggests, Amazon-centric. However, other retailers increasingly hop on the bandwagon as they know consumers will compare prices before pressing 'add to basket.' Prime Day is only for Amazon Prime members, so you won't benefit unless you're signed up.
It can be tempting to want to hold out for a better discount, but these particular sales events are pretty far apart; the next Prime Day (unless they add another one in, which they could do at any point) will likely be in July 2024. As we mentioned, if you're in the market for a telescope, you'll want it throughout the darker months to maximize its use. That said, demand during mid-summer will be lower, so stock might be more plentiful, and the deals may be more attractive.
You might get lucky during the January sales as retailers look to clear out excess stock after the Christmas rush. Retailers that carry a wide range of products (like photography and department stores) would prefer to sell excess astronomy stock for a lower price to make space; telescopes are large items for retailers to store. The savings are less likely to be as abundant as it depends on individual retailers' stock.
Ultimately, if you're in the market for a telescope you want to use immediately, take advantage of the quickly approaching sales, but only if the product you want falls to a price you're happy paying.
Should I wait for Black Friday/Cyber Monday?
If you've made it this far through the year without buying the telescope of your dreams, it could really pay to wait just a month longer. We can't guarantee that the model you're after will be discounted, but there's a good chance it will be, so hold on just that bit longer, Black Friday is just around the corner.
Some retailers start their sales the week or even weeks before Black Friday and extend them throughout the holiday season to encourage consumers to spend more money. Regularly check the price of the product you want in the run-up to Black Friday and Cyber Monday, and if it drops to a price you're comfortable with, then go for it, especially if you can resist checking back on the days themselves 'just to see if you could have gotten it cheaper.'
How to find the best deals on Black Friday
We continually seek out the best telescope deals and share the best deals with our Space.com readers. Be sure to check in regularly with us, and most definitely on Black Friday and Cyber Monday, where we will have a whole dedicated team of bargain hunters working around the clock to scope out and share the best, genuine deals from several online retailers including Amazon, Adorama, B&H Photo, Walmart, Target, Newegg and more.
There are already several decent dealers around; retailers know that consumers will be researching products and making their Black Friday/Cyber Monday wishlists ahead of time, we know we are! You'll find a few examples below, but check out our Telescope deals page for all the best deals live right now.
Telescope deals to expect
Here are some deals from the Black Friday/Cyber Monday sales in 2022 so you know what kind of telescope deals and discounts you can expect to see this year.
• Celestron NexStar 8SE: Was $1599 and the 2022 sale price was $1399. Its current listing price on Amazon is $1599
• Celestron Travel Scope 70: Was $109.95 and the 2022 sale price was $92.48. Its current listing price on Amazon is $99.99
• Celestron Powerseeker 127EQ: Was $219.95 and the 2022 sale price was $168.68. Its current listing price on Amazon is $152
• Celestron StarSense Explorer DX 130AZ: Was $479.95 and the 2022 sale price was $319.67. Its current listing price on Amazon is $339
Though some genuinely great deals are expected, you need to remember not to get caught up in the sales hype and spend unnecessarily. We'd recommend getting ahead of the game, researching and planning exactly what you want (we have plenty of guides to help you), and sticking to that list on the day. It is very easy to get distracted by all of the discounts. There is no use really wanting a Celestron telescope, ending up with another brand just because the deal looked good, only to regret it later. Or even worse, buying a vacuum, air fryer or coffee machine you didn't need!
It's worth noting down the price of the scope(s) you want now, ahead of the event; it's no secret that retailers bump their pre-sales prices or mark up the 'before' price so the discount looks more impressive on the day. Don't feel rushed into buying something if the deal is disingenuous, even with the big countdown clock ticking away at the top of the page.