New Lego Ideas 'Tales of the Space Age' set creates out-of-this-world displays
'Now we've got our minds wondering about outer space.'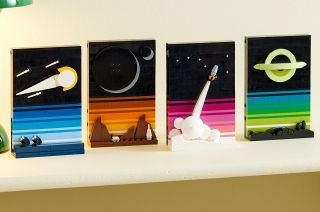 (Image credit: Lego)
The next Lego set to celebrate humanity's fascination with the cosmos uses the toy bricks to capture the visual style that inspired exploration.
"Tales of the Space Age," Lego Ideas set no. 21340, was announced Wednesday (April 12), on the 62nd anniversary of the first human spaceflight and 42 years after the first space shuttle launch. The simple but engaging set of four postcard-size space artworks is scheduled to go on sale to Lego VIP members on May 5 and for all at Lego Stores and on the company's online shop on May 8 for $49.99 (£44.99 or €49.99, though Euro prices will vary by country).
"Our search for truth for the meaning of our existence takes us way beyond the limits of what's known," says the unseen narrator in a video accompanying Lego's announcement of the "Tales of the Space Age" set's upcoming release. "So much has been learnt, and yet life is still a nebulous marvel. Curiosity fuels our journeys out into the cosmos, beyond pulsating stars, blinking constellations from which we look back knowing now that like everything, we are made up of infinitely small parts, borrowed stardust, ephemeral slices of space-time, joined, connected into something bigger, something astonishing. We are all built from stars."
Related: Lego space deals: savings on spaceships, space stations and NASA kits
The four 5.5-inch-tall by 3.5-inch-wide (14 by 9-centimeters) vignettes, which are built from a total of 688 pieces, can be displayed either together or separately as self-standing units or wall hangings. They depict a meteor shower falling over a pair of satellite dishes; a planetary rover and lander under two moons, each in eclipse; a rocket launch backdropped by the stars that form the constellation Ursa Major (the Big Dipper); and the light-bending event horizon of a black hole.
That last display was an addition made by the Lego designers who adapted the proposal for a three-piece set submitted by Polish fan Jan Woźnica to the Lego Ideas website in 2021. After reaching the prerequisite 10,000 votes on the site, Woźnica's idea was reviewed and approved for production by Lego a year later.
"When The Lego Group released the Art theme, I realized it had a lot of potential," Woźnica said in a statement released by Lego. "Then came the 'Out of This World' contest on Lego Ideas and since I'm a sci-fi nerd I decided to participate. These two inspirations resulted in the brick-built picture format and the first of the 'tales.'"
Woźnica built two additional "postcards" after winning a runner-up spot in the 2021 "Out of This World" challenge, after which he submitted the trilogy to Lego Ideas and qualified for a review in less than three months.
"Jan's three-piece product idea intrigued our review board, and we're certain it caught the fascination of the community, too," Jacob McQuillan, a Lego Ideas community specialist, said at the time that the "Tales of the Space Age" set was announced for production. "He's managed to create stunning poster-style sci-fi themes filled with action and serenity, showing that you don't need a lot of bricks or loads of details to create awe-inspiring Lego models.
"Now we've got our minds wondering about outer space," said McQuillan.
Lego's designers also made some changes to Woźnica's original builds, adding a lander to the rover vignette, raising the altitude of the rocket's climb in the Big Dipper and, most notably, changing the trajectory of the comet (or meteor) from falling into the atmosphere to pointing away from the planet.
"Tales from the Space Age" is the sixth space-themed Lego Ideas set to go for sale after models of Japan's Hayabusa asteroid sample return probe (2012); NASA's Mars Science Laboratory Curiosity rover (2014); NASA Apollo Saturn V rocket (2017); "Women of NASA" minifigures set (2017); and the International Space Station (2020).
Follow collectSPACE.com on Facebook and on Twitter at @collectSPACE. Copyright 2023 collectSPACE.com. All rights reserved.
Get the Space.com Newsletter
Breaking space news, the latest updates on rocket launches, skywatching events and more!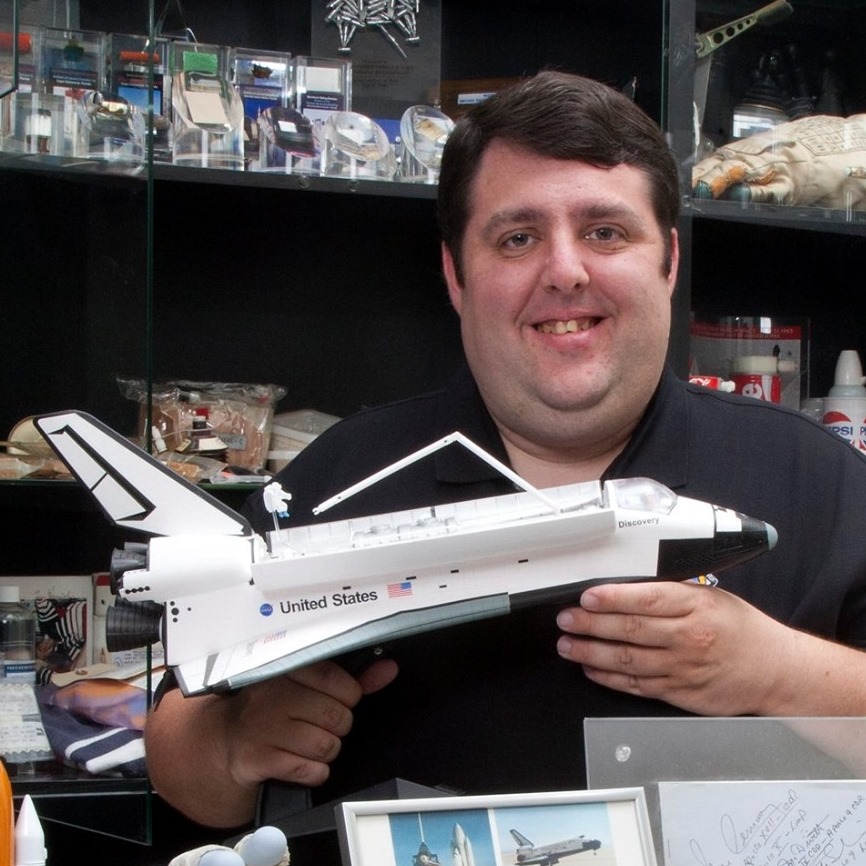 collectSPACE.com Editor, Space.com Contributor
Robert Pearlman is a space historian, journalist and the founder and editor of collectSPACE.com, an online publication and community devoted to space history with a particular focus on how and where space exploration intersects with pop culture. Pearlman is also a contributing writer for Space.com and co-author of "Space Stations: The Art, Science, and Reality of Working in Space" published by Smithsonian Books in 2018. He previously developed online content for the National Space Society and Apollo 11 moonwalker Buzz Aldrin, helped establish the space tourism company Space Adventures and currently serves on the History Committee of the American Astronautical Society, the advisory committee for The Mars Generation and leadership board of For All Moonkind. In 2009, he was inducted into the U.S. Space Camp Hall of Fame in Huntsville, Alabama. In 2021, he was honored by the American Astronautical Society with the Ordway Award for Sustained Excellence in Spaceflight History.