If you've had your eye out for a good telescope deal on a model that's reliable, powerful and user-friendly, then US customers can save $40 (opens in new tab) off the recently reviewed Celestron AstroMaster 70AZ, and UK customers can make a £60 saving (opens in new tab).
For UK astronomers, A saving of 35% (opens in new tab) is a pretty good deal, especially as prices continue to rocket everywhere you turn. It's an excellent telescope for newcomers and more inexperienced astronomers due to its easy-to-use and setup nature. You'll also find it on our best telescopes for seeing planets buying guide.
Of course, buying a telescope is a big deal, so do make sure you do some research of your own, and be sure to identify what it is you want to achieve from stargazing. Some telescopes will lend themselves to different 'jobs' better than others. That said, we have plenty of resources to help you make a decision, including our best telescopes and telescope deals which we constantly update based on what's on the market.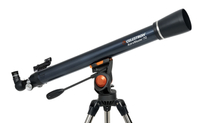 (opens in new tab)
Celestron AstroMaster 70AZ Telescope: £169.99 now (opens in new tab)$116.99 (opens in new tab) (£109.95 for UK customers (opens in new tab))
Save 27% on this powerful, reliable and easy-to-use telescope. The 70mm optics will give you clear night sky views, while the panning handle will give you controlled and accurate pointing. Accessories include an adjustable tripod, two eyepieces, a red-dot finderscope and bonus software for interactive simulation.
This is a powerful refractor telescope, you get fully coated optics, a lightweight but sturdy frame, two eyepieces, a red-dot finder scope and an adjustable height tripod, so quite a lot of bang for your buck.
Celestron's AstroMaster 70AZ telescope is also quick and easy to set up and use thanks to its lightweight frame and 'no tools needed' set up. It also comes with a panning handle with Alt-AZ control for smooth and controlled pointing. The 70mm optics mean you'll get clear sights of celestial objects, making night-sky viewing a breeze.
Below, you'll see some other options you might want to take a look at but it is worth noting the prices of some of these models have been lower in the past.
It's always worth checking out our telescope deals on Amazon to dive into even more deals on telescopes if you're happy to grab your 'scope from the retail giant. If you're only interested in brand-specific deals though, be sure to check out our Celestron telescope and binoculars deals guide for everything Celestron.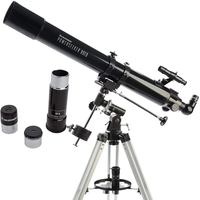 (opens in new tab)
Celestron PowerSeeker 80EQ Telescope $199.95 now $153.99 on Amazon (opens in new tab)
Save $46 on this telescope designed for beginners. Easy to use and powerful, this is a great compact and lightweight telescope. It comes with two eyepieces, a finderscope and a free download of one of the top-rated astronomy software programs.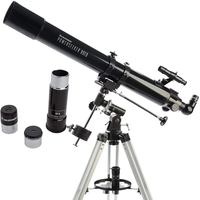 (opens in new tab)
Celestron 70mm Travel Scope $109.95 now $92.36 on Amazon (opens in new tab)
A small saving of $17 but every little helps! It's an affordable 'grab and go' bit of kit for stargazers that requires minimal setup. The lightweight telescope comes with a handy backpack, so you can port the telescope around easily too. If you'd rather not shop at Amazon, it's just a couple of cents more at B&H Photo (opens in new tab).
Follow us on Twitter @Spacedotcom (opens in new tab) and on Facebook (opens in new tab).