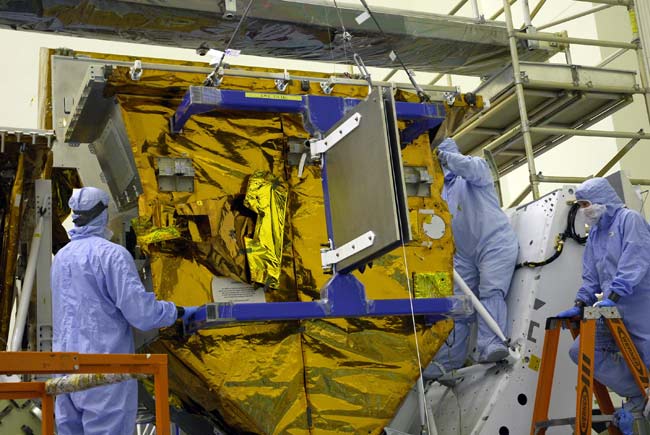 CAPE CANAVERAL — NASA's Kennedy Space Center apparently avoided major damage as of Wednesday night, and the agency's next shuttle launch likely will remain on schedule.
The storm shut down the nation's shuttle homeport two consecutive days and regular operations won't resume until Friday.
But the targeted Oct. 8 launch of shuttle Atlantis and seven astronauts on a fifth and final Hubble Space Telescope servicing mission is expected to take place as planned.
"Right now, as far as we are able to tell, there will be no impact to the Oct. 8 launch date," KSC spokesman George Diller said.
A Titusville resident, Diller is one of 200 people who rode out the storm at the KSC Emergency Operations Center, keeping vigil over the nation's three-orbiter shuttle fleet and spaceport facilities.
A single panel of aluminum siding blew off the east side of the KSC Vehicle Assembly Building, and a glass door at an office building shattered. There were also a few downed trees.
"So far, we're doing much better than the folks in South Brevard," he said.
NASA planned to bring a core group of "mission essential" personnel into work at 10 a.m. today to ready the spaceport for regular operations Friday.
At Cape Canaveral Air Force Station and Patrick Air Force Base, the storm plan remained the same: "Nonessential mission personnel" will shelter in place today. Mission-essential personnel will be recalled as required.
The Kennedy Space Center Visitor Complex is closed today and will reopen Friday.
? Video Player: Hurricane Bertha: View from a Million Feet
? Video Player: Flame Trench Repair
? NASA Closes Florida Spaceport for Tropical Storm Fay