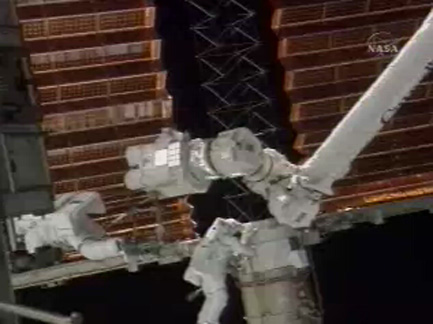 HOUSTON -- Efforts to fully recover critical Russian computer systems aboard the International Space Station (ISS) will likely continue through the rest of the week, with no quick fix at hand, a top NASA official said Thursday.
Bill Gerstenmaier, NASA?s associate administrator for space operations, said the Russian systems are down again after a brief seven-minute period earlier today. But during that time, Russian engineers uploaded commands to put the station in a more stable configuration as work continues to trace the glitch, he added.
?It?s going to take time. It will not be quick,? Gerstenmaier told reporters during a briefing here at NASA?s Johnson Space Center. ?Unless we get lucky right away and find the problem, it?ll be a couple days [that] we?ll probably be in this configuration.?
Possible sources for the glitch may be power quality issues associated with the station?s new starboard solar arrays, which unfurled Tuesday, NASA said. Software anomalies, a mismatch in the station?s U.S.-to-Russian power transfer system and electromagnetic interference may also be candidates for the computer crash, the space agency has said.
The spate of recent false fire alarms aboard the ISS, meanwhile, has been found to be associated with the ongoing computer issue, Gerstenmaier added.
Computer crash
Two vital computers, one governing navigation and attitude control and the other command and control systems, went offline inexplicably early Wednesday, leaving some of the station?s Russian systems unavailable to its three-person crew and seven visiting shuttle astronauts. Those systems include Russian thrusters used to orient the ISS when its U.S.-built gyroscopes are unavailable, as well as the Elektron oxygen generator and other systems.
The Elektron, and some others aside from the thrusters, can be operated manually without computer control, said Gerstenmaier, who stressed the current computer issue is not serious enough to warrant abandoning the space station.
?I think we?re a long way from that scenario,? he said.
But since Thursday?s computer crash, the ISS has depended solely on its control moment gyroscopes for attitude control, with the thrusters on NASA?s visiting Atlantis shuttle serving as backup. Astronauts aboard Atlantis have powered down unnecessary lighting, laptops and other systems in order to conserve power for the possibility of a one day or so extension to their already extra-long mission to continue serving as the station?s attitude control system backup, NASA said.
Space station managers hope to fix the computer issue before Atlantis undocks, since the Russian thrusters are preferred to be functioning in case the station?s gyroscopes are overwhelmed - or ?saturated? - just after the orbiter?s planned June 21 departure.
?Ideally, we?d would like to have the Russian computer systems up and operating when the shuttle undocks,? Gerstenmaier said. ?The concern is really attitude control, and can we find ways of providing attitude control without using these computers.?
Thrusters aboard unmanned Russian Progress cargo ships, two of which are docked at the ISS, are among several alternatives to control the station?s orientation, he added.
Russian flight controllers woke the station?s Expedition 15 crew, commanded by cosmonaut Fyodor Yurchikhin, much earlier than planned this morning so the astronauts could help in the troubleshooting process. Russian communications with the ISS are handled through ground stations, which are within range of the orbital laboratory earlier in the day, NASA said.
?We won?t ask how you?re doing because we can imagine,? Russian flight controllers said later, adding that a crewmember will again have to stay up overnight. ?Are you running out of steam yet??
?No we?re okay,? Yurchikhin replied. ?And we?re ready to work.?
NASA is broadcasting the space shuttle Atlantis' STS-117 mission live on NASA TV. Click here for mission updates and SPACE.com's video feed.
SPACE.com Video Interplayer: Space Station Power Up with STS-117

STS-117 Power Play: Atlantis Shuttle Crew to Deliver ISS Solar Wings

Complete Shuttle Mission Coverage