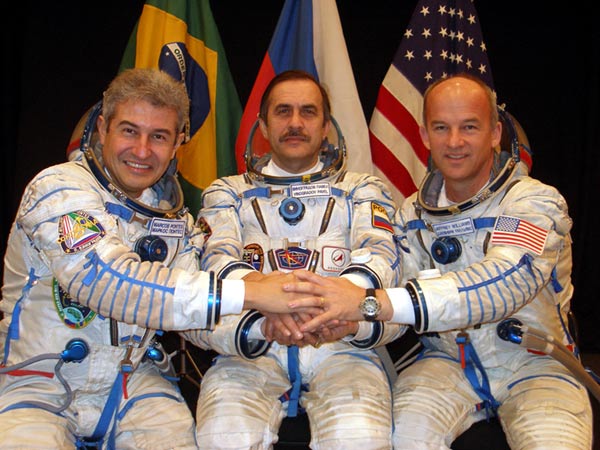 HOUSTON - Brazil's first astronaut and two veteran spacefarers are eagerly awaiting their chance to launch toward the International Space Station (ISS).
ISS Expedition 13 commander Pavel Vinogradov, flight engineer Jeffrey Williams and ISS visitor Marcos Pontes - Brazil's first astronaut - are set to ride their Soyuz TMA-8 spacecraft into orbit in a 12:43 a.m. EST (0543 GMT) launch from Kazakhstan's Baikonur Cosmodrome on March 22.
"I've been waiting for this opportunity for seven years and now finally it comes," Pontes said during a press conference here at NASA's Johnson Space Center, adding that he originally trained to fly to the ISS aboard a NASA shuttle. "Besides all the scientific objectives for us from Brazil, it will be a very strong step for our space program."
Pontes, a lieutenant colonel in the Brazilian Air Force, will spend eight days performing a series of science studies that include nanotechnology tests and student experiments from Brazilian schools. He will return to Earth with the station's current crew - Expedition 12 commander Bill McArthur and flight engineer Valery Tokarev.
"[Expedition] 13 will be a new page in the history of the International Space Station," Vinogradov said during a press conference here at NASA's Johnson Space Center. "We will be looking forward to Thomas Reiter who possibly will join us onboard...after more than three years of flying two-person crews we may finally come to fly with the full capacity of a three-person crew."
ISS crews were limited to two members following NASA's 2003 Columbia shuttle accident due to the subsequent drop in orbiter flights and supply limitations. The space shuttle Discovery and its STS-121 crew is expected to launch toward the ISS no earlier than May 2006 with Reiter, a German astronaut with the European Space Agency (ESA), though the orbiter flight hinges on the results of shuttle fuel tank modifications currently underway at NASA's Michoud Assembly Facility in New Orleans, Louisiana.
Vinogradov and Williams are hopeful to receive at least one shuttle crew, and possibly two, during their six-month stay aboard the ISS. They will relieve the Expedition 12 astronauts, who have lived aboard the ISS since their arrival in October 2005.
Both Expedition 13 astronauts are spaceflight veterans, though only Vinogradov has flown a long-duration mission.
As a cosmonaut for Russia's Federal Space Agency, Vinogradov racked up 198 days aboard the Russian space station Mir in 1997. Williams, a NASA astronaut and U.S. Army colonel, flew a 10-day mission aboard the Atlantis orbiter during STS-101 mission to the ISS May 2000.
"I'm particularly looking forward to this flight for the Soyuz," Williams said. "It's obviously a very unique experience from shuttle."
Williams said at least one spacewalk in U.S. spacesuits is slated for the Expedition 13 crew. Two additional spacewalks in Russian-built Orlan spacesuits are scheduled for later in the mission.
"The schedule is very busy up there," Williams said, adding that three spacewalks, potentially two shuttle visits and absorbing a third crewmember makes for little down time. "But I personally know that it's important to get the word out to the public."
Despite a tight timeline, Williams said he hopes to spend some of his free time relating his spaceflight experience to the public through journals and log entries.
Pontes and the Expedition 13 crew will spend two days chasing the ISS after launch before docking at the orbital platform on March 24. After eight days of joint operations, the Brazilian astronaut and the Expedition 12 crew will cast off from the station aboard their TMA-7 spacecraft for a March 31 landing on the steppes of Kazakhstan.
But Pontes hopes that the end of his science mission will mark a new beginning for his homeland's space program.
"Although I am the first [Brazilian] astronaut there, I don't want to be the last one," Pontes said. "Hopefully, there will be another selection and we will have other participants in the program."
Complete Coverage: ISS Expedition 12
Complete Coverage: ISS Expedition 13