Astronaut to Hand Off Space-Flown Football at Houston Super Bowl LI Event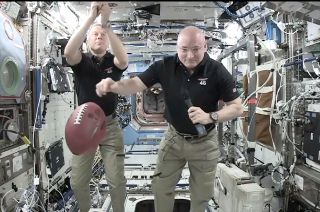 (Image credit: Houston Super Bowl Host Committee)
HOUSTON — Just before astronaut Scott Kelly touched down after almost a year on board the International Space Station, he helped kick off a year-long countdown to Super Bowl LI (51).
"The next best place — to space — for a Super Bowl is our hometown of Houston," said Kelly, as he tossed around, or rather floated a football as part of a video recorded for the Houston Super Bowl Host Committee on board the orbiting outpost. The game is scheduled for Sunday, Feb. 5, 2017, at NRG Stadium in Houston, Texas.
Now back on the ground and retired from NASA, Kelly is set to hand off the space-flown football to the head of the committee at Space Center Houston on Saturday, Aug. 27. [Super Bowl Space Tech: NASA Makes the Big Game Possible]
"We're excited to partner with the Host Committee to help kick off its Touchdown Tour," William Harris, Space Center Houston president and CEO, said. "And what better place in Space City to hold it than at Space Center Houston!"
Kelly, joined by Harris and Johnson Space Center director Ellen Ochoa, also a former astronaut, will pass the football to Sallie Sargent, the president and CEO of the Houston Super Bowl Host Committee, kicking off a day of activities open to the public.
"We want to bring the excitement of Super Bowl LI into the community so everyone is able to have a great Super Bowl experience," said Sargent in a statement.
In addition to the flown football handoff ceremony, which is scheduled for 10:30 to 11:00 a.m. CDT (1530-1600 GMT), the Touchdown event will offer the public a chance to meet and hear from other astronauts, go through a robot training camp and tour the Houston Texans' mobile locker room.
"After the ceremony, explore technology and engineering in the Space Robotics Field," the space center wrote on its website to promote the event. "Complete the robot training camp, plan a strategy on a practice field and then compete in a Space Robotics Challenge football game — all while learning about remarkable robotics."
NASA's Driven to Explore multimedia mobile exhibit and a model of Orion, NASA's crewed exploration spacecraft, will also be on outdoor display.
Meanwhile, inside the center, four panels of astronauts and other space experts will speak about the shuttle program, commercial spaceflight, deep space exploration and space station science.
Brian Duffy, who launched on four space shuttle missions, will dine with visitors as part of a "Lunch with an Astronaut" premium program. Veteran station resident Clay Anderson will also be there to sign copies of his book, "The Ordinary Spaceman."
The Touchdown Tour activities in Space Center Houston's parking lot are free (parking will cost the normal rate of $6 and a beer garden and food will be available for additional purchase). Visitors can also buy admission tickets to enter Space Center Houston to access to the panels and other special activities planned for the day.
Space Center Houston is the Houston's only Smithsonian Affiliate and serves as the official visitor center of NASA's Johnson Space Center. In January, Space Center Houston debuted Independence Plaza, an eight-story-tall attraction featuring NASA's historic Shuttle Carrier Aircraft and a full-scale, walkthrough replica of a space shuttle orbiter.
Watch astronauts Scott Kelly and Tim Kopra kick off the countdown to Super Bowl LI from aboard the space station at collectSPACE.
Follow collectSPACE.com on Facebook and on Twitter at @collectSPACE. Copyright 2016 collectSPACE.com. All rights reserved.
Get the Space.com Newsletter
Breaking space news, the latest updates on rocket launches, skywatching events and more!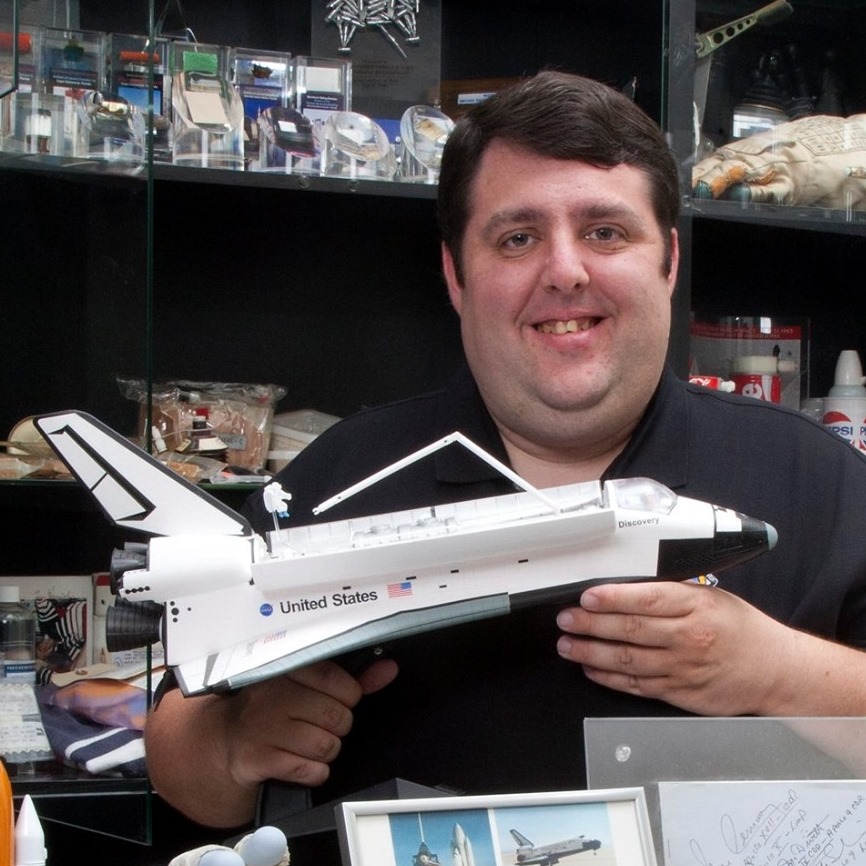 collectSPACE.com Editor, Space.com Contributor
Robert Pearlman is a space historian, journalist and the founder and editor of collectSPACE.com, an online publication and community devoted to space history with a particular focus on how and where space exploration intersects with pop culture. Pearlman is also a contributing writer for Space.com and co-author of "Space Stations: The Art, Science, and Reality of Working in Space" published by Smithsonian Books in 2018. He previously developed online content for the National Space Society and Apollo 11 moonwalker Buzz Aldrin, helped establish the space tourism company Space Adventures and currently serves on the History Committee of the American Astronautical Society, the advisory committee for The Mars Generation and leadership board of For All Moonkind. In 2009, he was inducted into the U.S. Space Camp Hall of Fame in Huntsville, Alabama. In 2021, he was honored by the American Astronautical Society with the Ordway Award for Sustained Excellence in Spaceflight History.