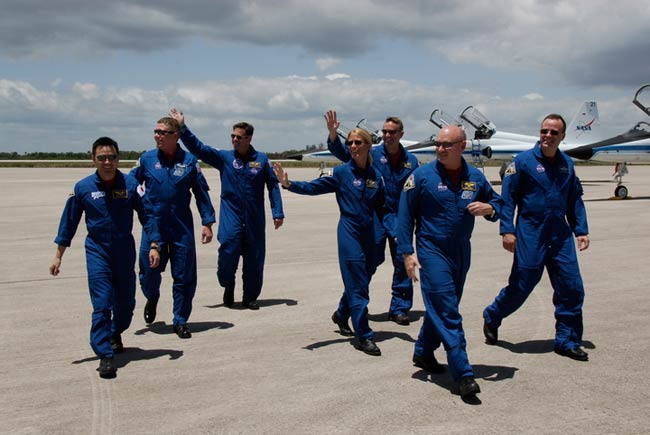 CAPE CANAVERAL, Fla. - NASA?s shuttle Discovery is ?go? for its planned Saturday launch to deliver a massive Japanese lab and a new toilet pump to the International Space Station, mission managers said Thursday.
The weather forecast looks good for Discovery?s planned liftoff at 5:02 p.m. EDT (2102 GMT) from a seaside pad here on Saturday, and mission managers said there are currently no issues that would prompt a delay for the space shuttle?s planned weekend launch. Discovery?s seven-astronaut crew is set to deliver the space station?s largest room, the Japanese Kibo pressurized module, during the 14-day mission.
?We?re not carrying any constraints from here to launch on Saturday,? said LeRoy Cain, chair of the Mission Management Team, in a launch readiness briefing here at NASA?s Kennedy Space Center in Cape Canaveral, Fla. ?The vehicle and the crew and the weather and the team are all ready to go, and so we?re really looking very good.?
Discovery?s STS-124 mission, led by commander Mark Kelly, is hauling the main cabin of Japan?s $1 billion Kibo lab and its robotic arm to the space station. Shuttle astronauts plan to stage three spacewalks to install the tour bus-sized module and perform station maintenance, and will also ferry U.S. astronaut Greg Chamitoff to the orbiting outpost, where he?ll replace fellow NASA spaceflyer Garret Reisman as a member of the three-man Expedition 17 crew.
In addition to Chamitoff, Discovery will drop off a few other necessities for the space station, particularly for its orbital loo.
Last night a replacement pump arrived for a misbehaving toilet on the ISS?s service module. Ground crews loaded it in to Discovery?s middeck this morning around 3:30 a.m. EDT (0730 GMT), removing less urgent items such as spare wrenches, which will be brought up on a later mission. The toilet has gone through three pumps already, with the last two each working for only about a day.
?We?re hoping this new pump won?t have this issue,? said Kirk Shireman, NASA's deputy program manager for the space station. ?We?re told [the Russians] went through a testing program and they believe this pump is functioning? They know it?s good to the best of their ability.?
The toilet pump isn?t the only addition to Discovery?s payload. NASA announced today that a toy action figure of the Disney-Pixar character Buzz Lightyear from the movie ?Toy Story? will fly to space with the crew.
Buzz?s journey is part of a NASA educational partnership with Disney. While on the space station, the doll will demonstrate laws of physics for kids, and online science games featuring Buzz will be available on NASA?s website once Discovery launches.
?[Buzz] finally gets what he always wanted - he always wanted to go to infinity and beyond, he always wanted to fly, and now he gets his dream come true,? said Duncan Wardle, a Disney representative.
Discovery?s seven crewmembers arrived at their launch site Wednesday and are spending today on final training routines and preparations for their voyage. They plan to fly T-38 jets for some last-minute flight practice and meet with the president of the Japan Aerospace Exploration Agency (JAXA), whose Kibo lab will be the main Japanese contribution to the space station.
?The module is already installed in the shuttle cargo bay and is waiting for the launch,? said Yoshiyuki Hasegawa, Japanese Experiment Module program manager. ?I?m looking forward to seeing the great exciting moment, and the great anticipation to the launch.?
There have been no changes to the weather forecast since yesterday, when Kathy Winters from the space shuttle weather office reported there was about an 80 percent chance of weather permitting the launch on Saturday.
?We?re definitely going to have good weather, it looks like,? she said this morning. ?Overall, launch day one looks like the best day weather-wise for launch.?
NASA will the planned launch of Discovery?s STS-124 mission live on NASA TV, beginning at 12:30 p.m. EDT (1630 GMT) on Saturday. Click here for SPACE.com's shuttle mission updates and NASA TV feed.
The Space Shuttle Countdown Quiz