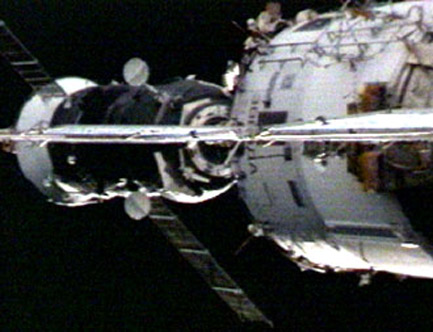 A trash-filled Russian cargo ship destined for destruction cast off from the International Space Station (ISS) late Tuesday to help prime the orbital laboratory for the arrival of a new crew next month.
The unmanned Progress 25 supply ship undocked from the aft end of the space station's Russian-built Zvezda service module at 8:37 p.m. EDT? (0037 Sept. 19 GMT).
Russian flight controllers plan to put the disposable space freighter through a week-long series of propulsion maneuvers before commanding Progress 25 to plunge into Earth's atmosphere and burn up during reentry.
"It's for engineering testing and to gather data about the propulsion system," NASA spokesperson Kylie Clem told SPACE.com of Progress 25's extra week in space.
The cargo ship's Tuesday departure clears a berth for a Soyuz spacecraft swap as the space station's Expedition 15 astronauts prepare for the arrival of their relief crew next month.
Expedition 15 commander Fyodor Yurchikhin and flight engineers Oleg Kotov and Clayton Anderson will move their Russian-built Soyuz TMA-10 spacecraft from its Earth-facing berth on the station's Zarya control module to Progress 25's former port.
That move, scheduled for Sept. 27, will clear a space for the incoming Expedition 16 commander Peggy Whitson, flight engineer Yuri Malenchenko and Malaysian astronaut Sheikh Muszaphar Shukor. The Expedition 16 crew and Shukor are due to launch toward the ISS on Oct. 10 and dock two days later.
Shukor, Malaysia's first astronaut, will return to Earth with Yurchikhin and Kotov while Anderson stays aboard the ISS to join the Expedition 16 crew.
Meanwhile, space station flight controllers decided Tuesday that the ISS would not have to have to fire its engines to distance itself from an old Strela rocket component drifting in Earth orbit. On Monday, mission managers were concerned that the spent rocket stage could pose a debris risk for the ISS. But after further analysis, the space junk's trajectory was found to steer it well clear of the station, NASA said.
Progress 25 arrived at the space station in May to deliver more than 2.5 tons of fresh supplies to the Expedition 15 crew. Its Tuesday departure left two Russian spacecraft - the Soyuz TMA-10 and a newer Progress 26 cargo ship - still docked at the space station.
SPACE.com Video Interplayer: NASA's STS-118 Shuttle Mission

Complete Space Station Mission Coverage