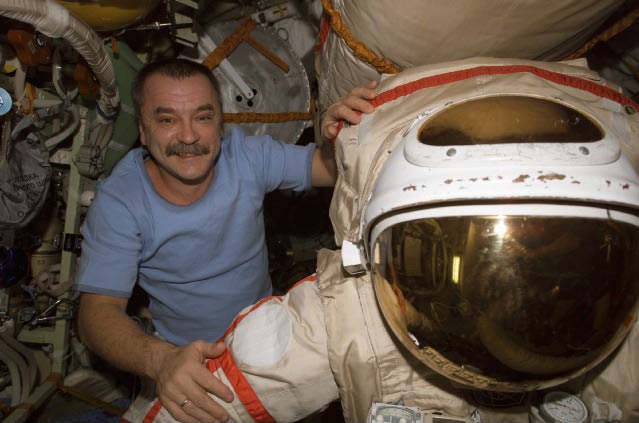 Astronauts aboard the International Space Station (ISS) are setting the stage for the spacewalk finale of their six-month mission Thursday to free a jammed antenna on a Russian cargo ship.
ISS Expedition 14 commander Michael Lopez-Alegria and flight engineer Mikhail Tyurin will step outside the space station at 5:00 a.m. EST (1000 GMT) to loose a Progress 23 supply ship antenna, among other tasks, during a planned six-hour spacewalk [VIDEO: Spacewalk Overview].
"The crew is in great shape and they're ready to go," Rick LaBrode, NASA's lead ISS flight director for the spacewalk, said of the upcoming extravehicular activity (EVA).
Thursday's spacewalk will mark the fifth and final planned EVA - an ISS mission record - for the Expedition 14 crew as well as the fourth in a series of densely-packed activities. Lopez-Alegria and Expedition 14 flight engineer Sunita Williams staged three spacewalks in nine days to overhaul the space station's cooling system.
Spacecraft mechanics
Clad in red-striped Russian Orlan spacesuits [image], Tyurin and Lopez-Alegria will chisel, hammer or cut the Progress spacecraft's antenna free from its wedged position up against an ISS handrail [image].
"That's not where we want it. It all should be folded down nicely," LaBrode said of the jammed antenna, which served as part of Progress 23's autonomous Kurs navigation system that guided the unmanned space freighter to the ISS. "In April we're going to be undocking this Progress vehicle and in order to be able to do this safely we need to get that antenna retracted and up out of the way." [VIDEO: Spacecraft Repair]
The antenna failed to retract properly when the unmanned Progress 23 cargo ship docked at the aft-end of the space station's Russian-built Zvezda service module in October 2006 [image]. Efforts to free it failed during a November spacewalk.
ISS flight controllers aren't sure how the stuck antenna will affect Progress 23's April jettison, station managers said. "Because of that unknown, there's major concern that you may have control problems," LaBrode said.
Tyurin, who will lead Thursday's spacewalk, and Lopez-Alegria will first try to manually free the Progress antenna by manhandling it loose with a chisel-like tool and hammer, and then tying it down against the cargo ship's hull. Failing that, they can use a U.S. bolt cutter-like tool to sever two of the antenna's four aluminum struts and then fold it against the Progress 23 exterior [image].
"They've got a whole bag of tricks," Glenda Laws, NASA's Expedition 14 lead EVA officer, said of the ISS spacewalkers.
Tyurin and Lopez-Alegria could even cut all four of the antenna's cylindrical struts and dump the entire assembly overboard if it remains stubbornly in place after other attempts, mission managers said.
"Everyone is pretty confident," Laws said, adding that the spacewalkers have a good chance of freeing Progress 23's antenna without resorting to the cutting tool.
Other tasks
Tyurin and Lopez-Alegria have a number of other maintenance tasks on tap for Thursday's spacewalk.
The astronauts plan to perform a series of photographic surveys of a Russian satellite navigation antenna, a German-built Rockviss robotic experiment, and a docking target for the European Space Agency's Automated Transfer Vehicle - an unpiloted cargo ship slated to make its first flight to the ISS later this year.
Tyurin and Lopez-Alegria are also due to swap out a Russian materials exposure experiment, inspect the station's Russian-built Strela crane, mate bolts and connectors for other ISS hardware.
Laws said Thursday's EVA will mark the 81st spacewalk dedicated to ISS assembly or maintenance. Tyurin will make his fifth career spacewalk during the activity while Lopez-Alegria is poised to make his 10th and set a new NASA record, she added.
NASA will provide a live broadcast of the ISS Expedition 14 crew's spacewalk on NASA TV beginning at 4:00 a.m. EST (0900 GMT).
VIDEO: Expedition 14 Final Spacewalk Overview
Complete Coverage: Expedition 14