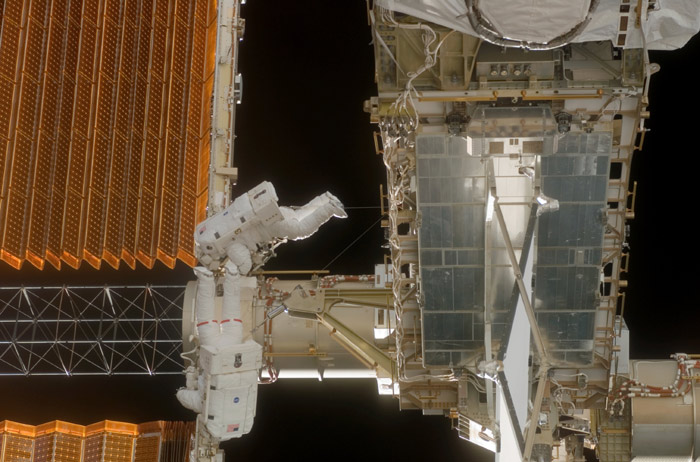 HOUSTON -- Two shuttle astronauts are poised to step outside the International Space Station (ISS) later today in an extra spacewalk aimed at furling a finicky solar array.
Discovery's STS-116 spacewalkers Robert Curbeam and Christer Fuglesang are due to start climbing the space station at 2:17 p.m. EST (1917 GMT) to reach the peak of its mast-like Port 6 (P6) truss which harbors the troublesome solar wing.
"I have a pretty good feeling that we've got a good chance of success," Curbeam told the Associated Press TV Sunday in an interview broadcast on NASA TV.
With Curbeam perched at the tip of the station's robotic arm and Fuglesang floating free, the duo plan to poke and prod a partially-furled solar array until its two "blankets" are tucked neatly away in their storage boxes. NASA flight controllers hope the singular task will require little or none of the strong-arm shaking performed in a Saturday spacewalk [image].
"We are going to try it with a little more finesse," said Tricia Mack, NASA's lead extravehicular activity (EVA) officer for Discovery's STS-116 mission, in a status briefing Sunday.
Curbeam will serve as a solar array surgeon of sorts, with Fuglesang handing him pliers, a scraper or a hooked tool--some rigged together and all wrapped in translucent orange Kapton tape--as needed to alternately poke on hinges or tug on guide wires to loose snares during the folding process [image].
Astronauts inside the ISS and Discovery will issue the commands that remotely retract the 115-foot (35-meter) solar wing. Shuttle pilot William Oefelein will choreograph today's spacewalk while his crewmates Joan Higginbotham and Sunita Williams wield the ISS robotic arm.
"We really want the entire array in the blanket box at the end of this EVA," Mack said, adding that a spaceworthy scraper tool wrapped in tape is expected to be the tool of choice to free the guide wires [image].
Today's spacewalk, which is slated to run no longer than six and one half hours but may take less than five, will be the fourth of Discovery's STS-116 spaceflight. Mission managers added it to the schedule late Saturday during a previous EVA in order to fold the P6 array without impacting later ISS or shuttle missions.
Solar array shakes and folds
The beleaguered ISS solar array extends over the station's port side and is one of two atop the P6 truss that must be retracted before the massive segment can be moved to its final location next year.
Discovery and ISS astronauts attempted to furl the six-year-old array last week, but encountered folding problems when guide wires jammed as they passed through grommets along some metal hinges of the 115-foot (35-meter) solar wing's individual panels [image]. At just over half-folded, the array was stowed enough to allow a pair of newer solar wings on the port side the station to rotate and track the Sun.
"Right now, we're in a pretty good configuration and we're getting good power," Higginbotham told television reporters Sunday, adding that the extra spacewalk added a welcome extra day in space for herself and her crewmates. "So if the solar array is not fully retracted, we're still good. But of course, we'd all like to get it fully retracted."
NASA mission managers were also concerned that future maneuvers, such as spacecraft engine firings to boost the space station's orbit from vehicles at certain docking ports, could damage or even break the solar array's mast in its half-furled configuration [image].
A spacewalking first
Curbeam will make a bit of NASA history today as he sets a new space agency record for the most spacewalks performed by a single astronaut during shuttle mission.
"Well, I didn't know it was a record, but I feel great," Curbeam told television reporters Sunday. "I'll just have to treat it like any other spacewalk."
A veteran spaceflyer with six EVAs and three shuttle missions under his belt, Curbeam has served as the chief STS-116 spacewalker. He lead each of the three mission's spacewalks to first install the new Port 5 (P5) truss segment on the space station's port side, and then rewire the orbital laboratory's power grid and ultimately shake its finicky P6 solar array.
"Beamer is a pretty cool customer, I'm sure he'll be ready for tomorrow's EVA," Mack said Sunday, referring to Curbeam by his nickname.
Today's spacewalk will also mark the third for Fuglesang, a European Space Agency astronaut and Sweden's first spaceflyer, who is making his first spaceflight during the STS-116 mission.
Mack said that before the solar array spacewalking tasks, the P6 truss extending above the ISS was the only region of the space station Curbeam was not slated to visit. Over the course of three spacewalks, Curbeam ascended the ranks to move from 22nd to 13th on the list of most spacewalking time.
"He is just a machine," Mack said. "He is an EVA machine."
Images: The Spacewalks of NASA's STS-116
Images: Discovery's STS-116 Launch Day Gallery
STS-116 Video: Power is Everything
STS-116 Video: Building Blocks
Mission Discovery: The ISS Rewiring Job of NASA's STS-116
Complete Space Shuttle Mission Coverage
The Great Space Quiz: Space Shuttle Countdown
All About the Space Shuttle