Solar Array Shake: Astronauts Rewire ISS, Fourth Spacewalk Set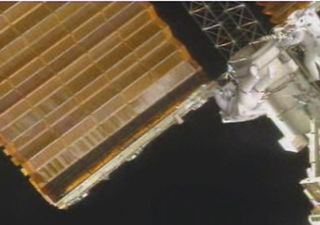 (Image credit: NASA TV.)
HOUSTON -- Two spacewalkers working outside the International SpaceStation (ISS) shook a troublesome solar array late Saturday to help fold itaway, but ultimately ran out of time during an extendedspacewalk to finish rewiring the orbital laboratory.
NASAastronauts Robert"Beamer" Curbeam and Sunita "Suni" Williams spentseven hours and 31 minutes outside the ISS, apparently breezing through theirplanned tasks before each taking dramatic turns to shake out snags on astubborn solar array atop the station's mast-likePort 6 (P6) truss. A fourth extravehicular activity (EVA) is slated forMonday to continue solar array work, NASA officials said.
"Beamer,you've been amazingly effective," NASA astronaut Steve Robinson told Curbeam from Mission Control here at the Johnson Space Center, and later laudedboth spacewalkers. "We really commend you for a tremendous effort, an Olympianeffort of our two shaking EVA members."
Curbeamand Williams spent about two hours of their long spacewalk perched just belowthe portside wing of the P6 solar array, which had been parkedhalf-furled since Wednesday after folding troubles popped up during itsretraction [image].Friction between guide wires, three of which run the length of each 115-foot(35-meter) solar wing panel, and the grommets they thread through were thoughtto be the problem's source [image].
Using astart-and-stop method, in which astronauts inside the ISS alternately retractedthe solar array slightly and stopped so the spacewalkers could shake out anysnags, appeared to work well [image].
"Forawhile, we really thought that we were going to get this retracted on thisEVA," said Tricia Mack, NASA's lead spacewalk officer for Discovery's STS-116mission, adding that spacesuit consumables were the only limitation. "Weall firmly believe that had we had more time, we would have been able to get itin there...we just ran out of time."
Thespacewalk, the third planned for the shuttle Discovery's STS-116mission to the ISS, began at 2:25 p.m. EST (1925 GMT).
Fourth spacewalkapproved
Before Curbeam and Williams even began performing what flightcontrollers ultimately dubbed "Beamer shakes" and "Sunishakes," mission managers approved plans to add a fourthspacewalk to the joint docked operations between the station's Expedition14 crew and the shuttle Discovery's STS-116 astronauts.
"We are go for EVA 4 on Flight Day 10," Robinson told Discovery'sSTS-116 crew of the extra spacewalk.
Robinsonsaid the extra spacewalk effectively adds a full day to Discovery's mission,with undocking now coming on Tuesday and landing on Dec. 22. The shuttleastronauts will still perform a late inspection of Discovery's heat shield toseek out any signs of damage from micrometeorites or other orbital debris,Robinson added.
Astronautsaboard the ISS partially retracted the six-year-old P6 array, which originallystretched over the station's port side and is designated as P6-4B, earlier thisweek to clear the area and allow a pair of newer solararrays to begin rotating like a paddlewheel to track the Sun.
Attempts tojostle the guide wire free by wigglingthe array, and then with an exercising astronaut causing vibrations withinthe ISS, failed Friday, as did work to extend the solar wing slightly and foldit back in again.
At thestart of today's spacewalk, about 17.5 of the 31.5 mast segments, known asbays, supporting the solar array remained to be retracted. By the end of theactivity, only 11 bays remained, NASA officials said.
"If you sawthe success of today, I'm very confident that we're probably going to get thatdone," John Curry, NASA's lead ISS flight director during the STS-116 mission.
Station'sprimed power system
While theirsolar array shaking may not have led to a complete retraction of the unruly P6solar array, Curbeam and Williams sped through theirprimary chore of completing a two-part job to overhaul the space station'spower grid.
Until thisweek, the space station's primary power supply stemmed from a temporaryelectrical system fed by the two solar arrays atop the orbital laboratory's P6truss. A successfulThursday spacewalk switched half the station's power grid to its permanentset up, with Curbeam and Williams completing thateffort.
"Yes, inthat sense, it is all downhill," Curry said of the rewiring work, which nowleaves some cargo transfer and the solar array retraction as the only majorto-do items outstanding.
With thespace station now plugged into its permanent configuration and drawing powerfrom solar arrays on the orbital laboratory's main truss, a sort of orbitalbackbone that will rival a U.S. football field in length when complete, it isone step closer to the arrival of more solar wings, larger six-astronaut crewsand new orbitallaboratories for Japan and Europe to launch in the next several years.
"Thevehicle is ready to accept the international modules now, and that's a hugeaccomplishment," Curry said. "So that was big."
Curbeamand Williams also performed a few maintenance tasks during their spacewalk toinstall some spare parts for later on the exterior of the ISS. The astronautsstowed a new grapple bar on the station's exterior along with a set of debrispanels arranged in a set up affectionately dubbed the "Christmastree."
"MerryChristmas," Williams remarked as she and Curbeamdelivered the new panels to the space station.
About theonly drawback in today's spacewalk was a lost camera, which floated freeWilliams' spacesuit tool bench she arranged her tethers outside the spacestation's U.S. Destiny laboratory. A button designed to lock the camera inplace may have failed, resulting in the camera's loss, Mack said, adding thatdebris analysts are studying the camera's trajectory.
Today'sspacewalk marked the 76th EVA dedicated to ISS assembly ormaintenance and the 48th staged from the orbital laboratory itself.It was the sixth career spacewalk for Curbeam, who at13 hours and 56 minutes, now ranks 13th among the list of all timespacewalkers, NASA officials said.
Williamsmade her spacewalk debut during Saturday's activity, which prompted well wishesfrom Mission Control as she stepped outside the space station's airlock.
"It's goingto be a blast," Williams said.
STS-116 Mission Profile Video: EVA 3
Images: The Spacewalks of NASA's STS-116
Images: Discovery's STS-116 Launch Day Gallery
STS-116 Video: Power is Everything
STS-116 Video: Building Blocks
Mission Discovery: The ISS Rewiring Job of NASA's STS-116
Complete Space Shuttle Mission Coverage
The Great Space Quiz: Space Shuttle Countdown
All About the Space Shuttle
Get the Space.com Newsletter
Breaking space news, the latest updates on rocket launches, skywatching events and more!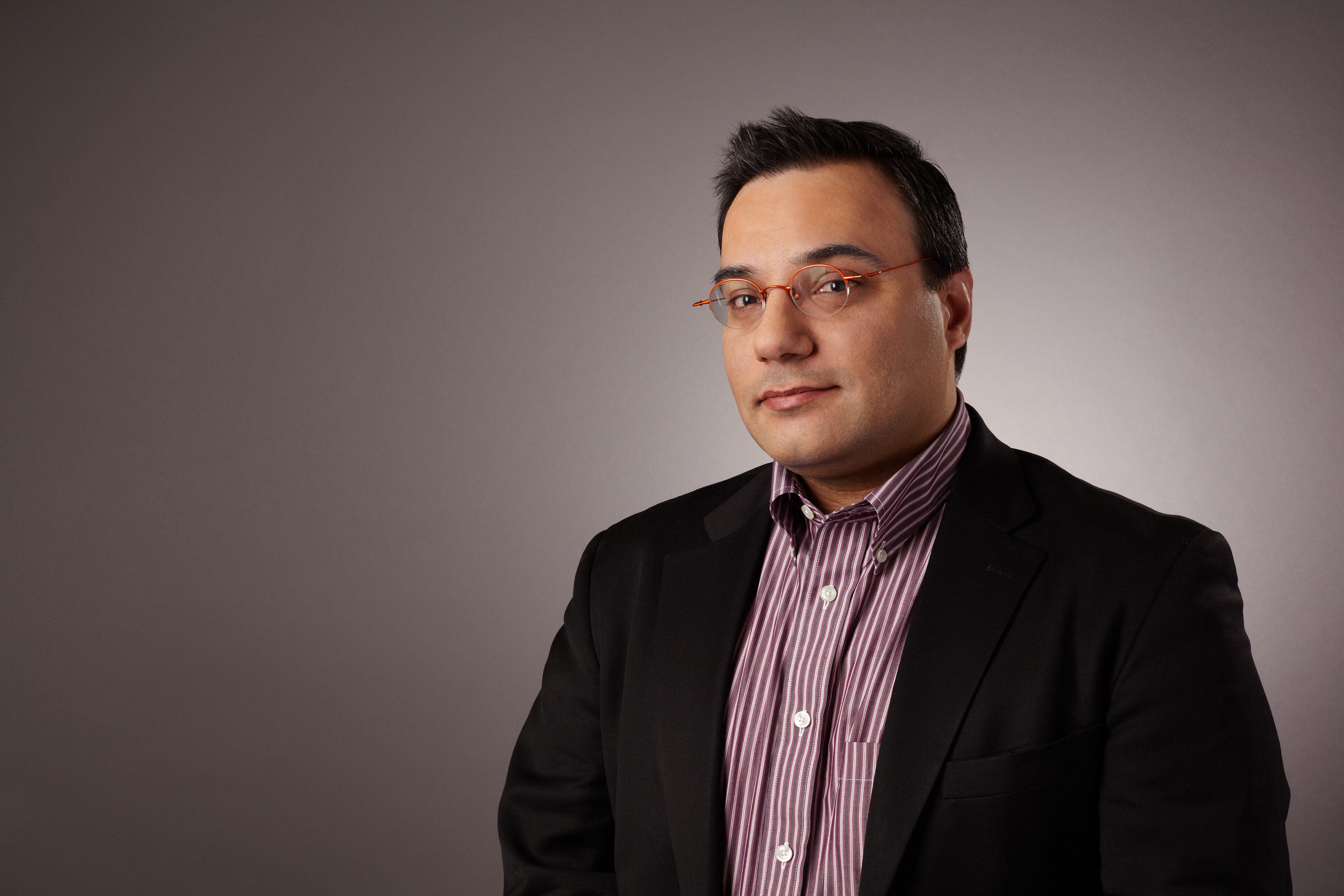 Tariq is the Editor-in-Chief of Space.com and joined the team in 2001, first as an intern and staff writer, and later as an editor. He covers human spaceflight, exploration and space science, as well as skywatching and entertainment. He became Space.com's Managing Editor in 2009 and Editor-in-Chief in 2019. Before joining Space.com, Tariq was a staff reporter for The Los Angeles Times covering education and city beats in La Habra, Fullerton and Huntington Beach. In October 2022, Tariq received the Harry Kolcum Award for excellence in space reporting from the National Space Club Florida Committee. He is also an Eagle Scout (yes, he has the Space Exploration merit badge) and went to Space Camp four times as a kid and a fifth time as an adult. He has journalism degrees from the University of Southern California and New York University. You can find Tariq at Space.com and as the co-host to the This Week In Space podcast with space historian Rod Pyle on the TWiT network. To see his latest project, you can follow Tariq on Twitter @tariqjmalik.