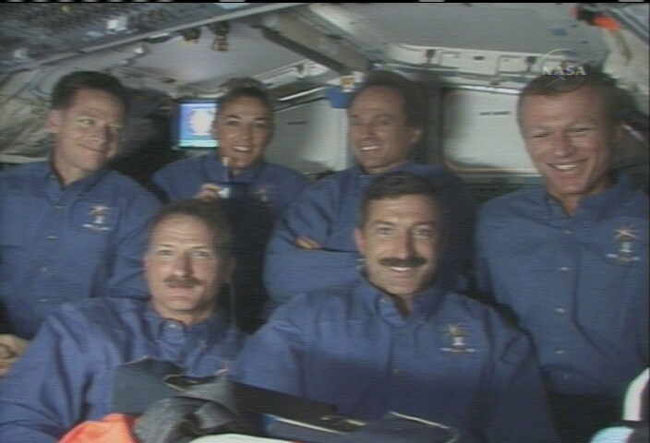 CAPE CANAVERAL, Fla. - Six astronauts aboard NASA's space shuttle Atlantis are spending what is expected to be their last day in orbit, though poor landing weather could keep them spaceborne for one more day, mission managers said Tuesday.
NASA entry flight director Steven Stitch said high winds at Atlantis' Shuttle Landing Facility runway here at the Kennedy Space Center (KSC) may prevent the orbiter's planned Wednesday landing. Weather forecasts improve significantly for a Thursday or Friday landing, he added.
"The weather outlook for tomorrow is not as promising as I would like," Stitch said during a status briefing for Atlantis' STS-115 mission. "You'd like to come in with a nice, perfect forecast with clear skies and no wind."
But that's not the case for the end of what has been a widely successful STS-115 mission to resume construction of the International Space Station (ISS).
Cross winds are expected to be higher than allowable for Atlantis' first landing opportunity at 5:58 a.m. EDT (0958 GMT), with possible showers within a 30-mile (48-kilometer) perimeter and a potential cloud ceiling of about 5,000 feet (1,524 meters).
NASA flight rules for that landing attempt - which would occur in the predawn darkness - call for cross winds of less than 12 knots (13 miles per hour), no rain within 30 miles (48 kilometers) and a thick cloud ceiling of no less than 8,000 feet (2,438 meters).
Atlantis' STS-115 mission delivered a $372 million pair of trusses and new solar arrays to the ISS, the station's first major addition since late 2002. The planned 11-day mission featured three spacewalks to install the 17.5-ton Port 3/Port 4 truss segments and unfurl the station's new solar wings.
Watching weather
Stitch said that, if the weather goes NASA's way, it could pass through Atlantis' return runway in time for a second landing attempt in daylight at 7:33 a.m. EDT (1133 GMT).
"We're going to try to be smart with the timeline," NASA astronaut Tony Antonelli, serving as spacecraft communicator, told Atlantis' STS-115 commander Brent Jett this morning. "If it looks early like we don't have a chance, we'll try to knock it off early so we don't waste your efforts."
"Obviously we're ready to do whatever you guys need," Jett said. "And we'll be ready to go tomorrow if the weather's good."
Only Atlantis' KSC landing strip will be available Wednesday, though Stitch said he could activate a backup site at California's Edwards Air Force Base in the Mojave Desert on Thursday depending on weather forecasts. A third landing site - Northrup Strip at New Mexico's White Sands Space Harbor - is currently unavailable due to standing water on its runways.
NASA would prefer Atlantis return directly to KSC rather than touch down at Edwards and be ferried by its carrier plane across the country, which typically costs about one week in turnaround time and $1 million.
Stitch said that Jett, like most shuttle commanders, has more time rehearsing landings at KSC than at Edwards.
"And, of course, it saves on the turnaround time," Stitch added.
NASA must ready Atlantis to serve as a rescue craft to support the planned Dec. 14 launch of its sister ship Discovery in case that orbiter suffers serious damage in flight and its crew is forced to take refuge aboard the ISS.
"We'll watch the weather carefully and if it's a good day to land, we'll do so," Stitch said, adding that the shuttle has enough supplies to last through Saturday if needed.
Homeward bound
While mission controllers eye Atlantis' landing weather, the shuttle's astronaut crew is preparing to say goodbye to space.
"This flight has been everything that I could have imagined and more," STS-115 mission specialist Heidemarie Stefanyshyn-Piper, who is making her first spaceflight and participated in two of the mission's three spacewalks, told television reporters this morning.
Jett and his fellow STS-115 crewmates spent much of today checking out their spacecraft's systems to ensure all worked as it should. Astronauts fired the orbiter's thrusters, activated its hydraulics and control surfaces - used in the Earth's atmosphere - and set up the seats they will take during reentry.
The astronauts also participated in a rare orbital conference call with two other spacecraft crews - aboard the ISS and its new crew approaching in a Soyuz TMA-9 spacecraft - earlier today.
"We're going to start converting the shuttle into its reentry mode, sort of like an airplane," STS-115 mission specialist Daniel Burbank told television reporters today. "We're just hoping the weather will cooperate and we'll be able to get in on our first try tomorrow."
New Gallery: STS-115 Spacewalks
Gallery: STS-115: Atlantis's Launch Day
Complete Space Shuttle Mission Coverage
NASA's STS-115: Shuttle Atlantis to Jump Start ISS Construction
The Great Space Quiz: Space Shuttle Countdown
Complete Coverage: ISS Expedition 13