Observing with a Solar-Filtered Telescope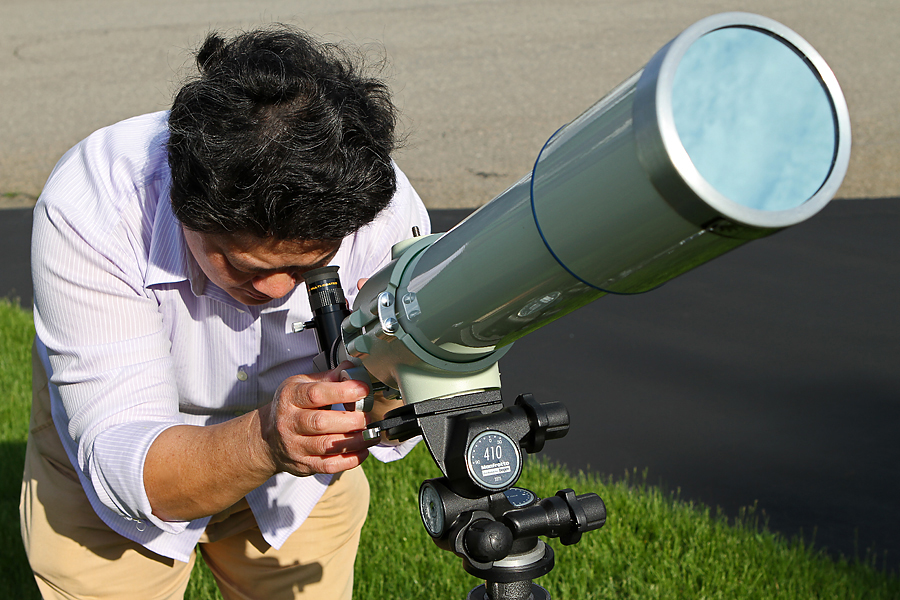 Eclipse or not, always use a proper filter when observing or photographing the sun. Regular sunglasses and photographic polarizing or neutral-density (ND) filters are not safe for use on the sun.
How to Look at a Solar Eclipse Without Going Blind (Infographic)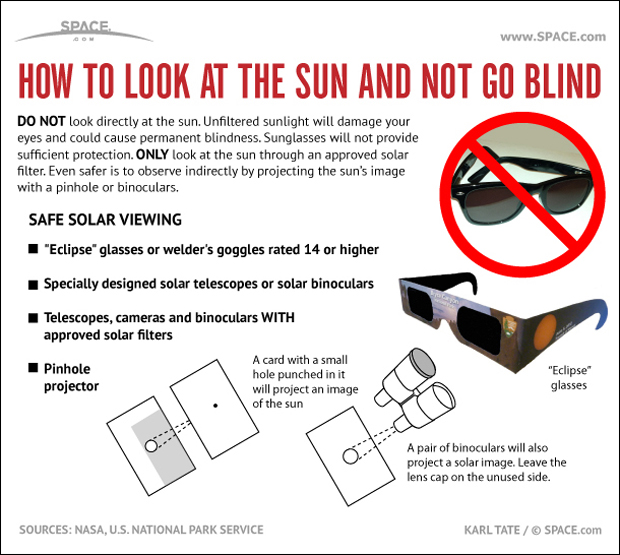 Projecting an Image of the Eclipsed Sun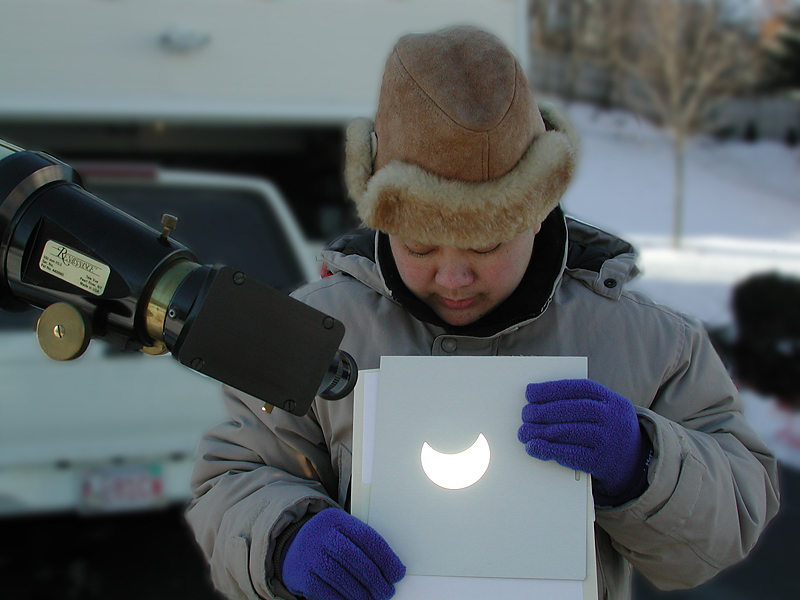 The safest and simplest technique to observe and photograph the eclipse is to use your telescope (or one side of your binoculars) to project a magnified image of the sun's disk onto a shaded white piece of cardboard. The projected image on the cardboard will be safe to look at and photograph. Be sure to cover the telescope's finder scope and the unused half of the binoculars, and don't let anyone look through them. This view was taken near Boston during the partial solar eclipse on Christmas Day 2000.
Camera Coupled to a Telescope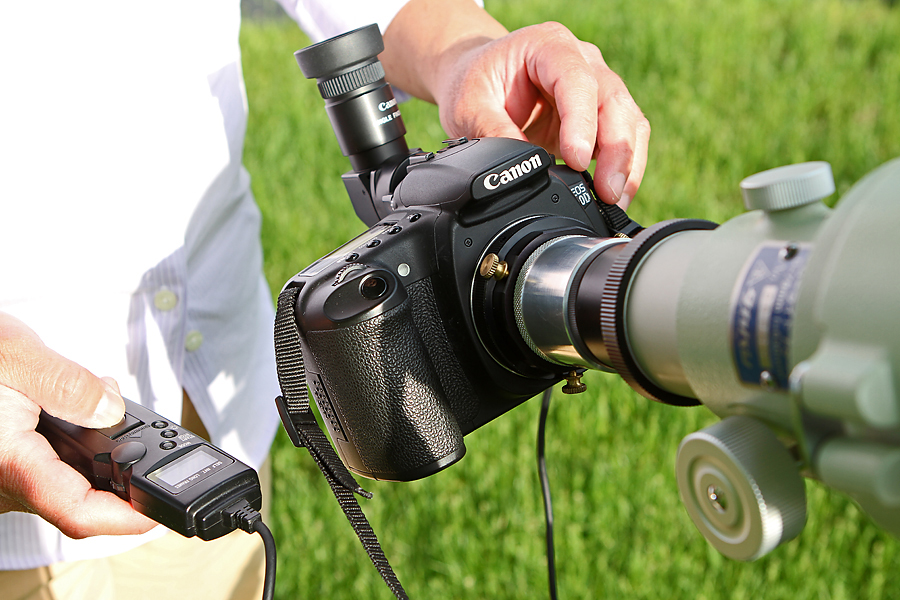 The best way to attach your digital SLR camera to the telescope is to use an appropriate T ring and T adapter for your camera brand. (Check with your local camera retailer.) Other helpful accessories include an electronic cable release to operate the shutter and a right-angle magnifier that attaches to the camera's viewfinder to assist you in focusing.
Holding a Point-and-Shoot Camera to the Eyepiece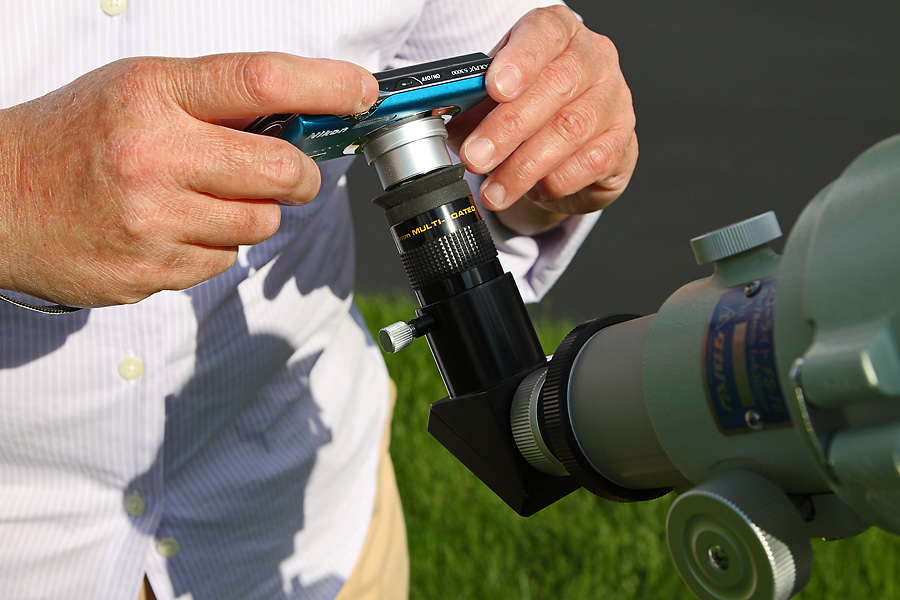 If you don't have a DSLR camera, don't worry — you can use your automatic "point-and-shoot" camera to take decent pictures of the eclipse through a filtered telescope. Insert a wide-field eyepiece and hold the camera lens close to it. Use the camera's built-in LCD screen to center the sun and compose your shot. Zoom in as needed.
Blue and Yellow Eclipsed Sun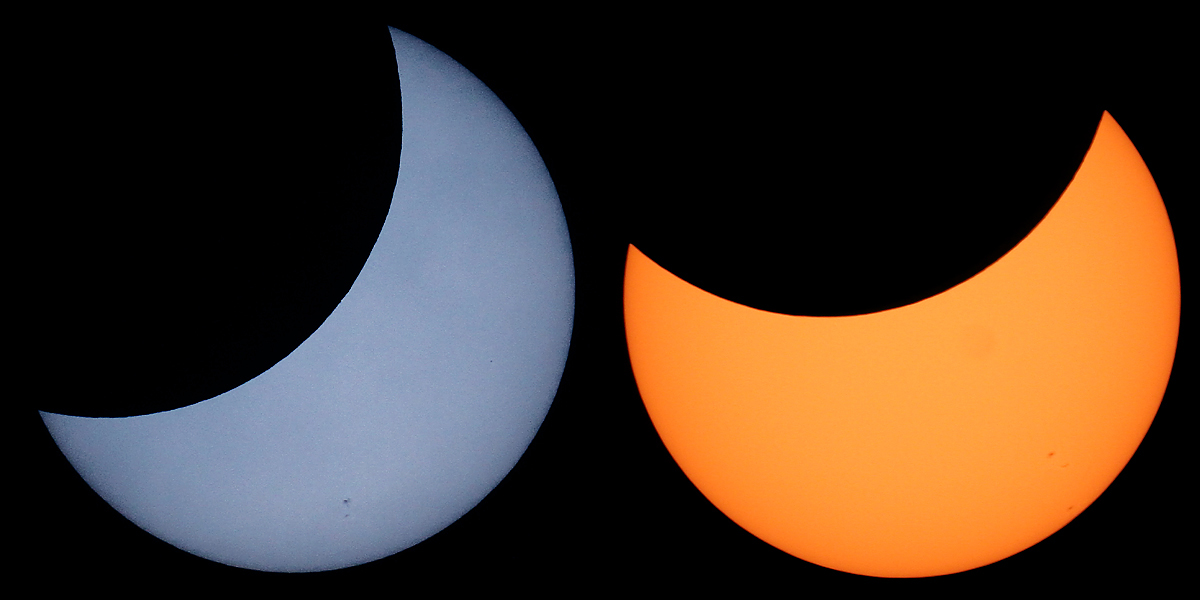 The color of the solar image will depend on the type of solar filter used. Metal-coated glass and black polymer filters produce a pleasing yellow or orange image of the sun, while aluminized Mylar filters show a bluish sun. Welder's No. 14 glass filters give a greenish image (not shown).
Photo of the Sun in Hydrogen-alpha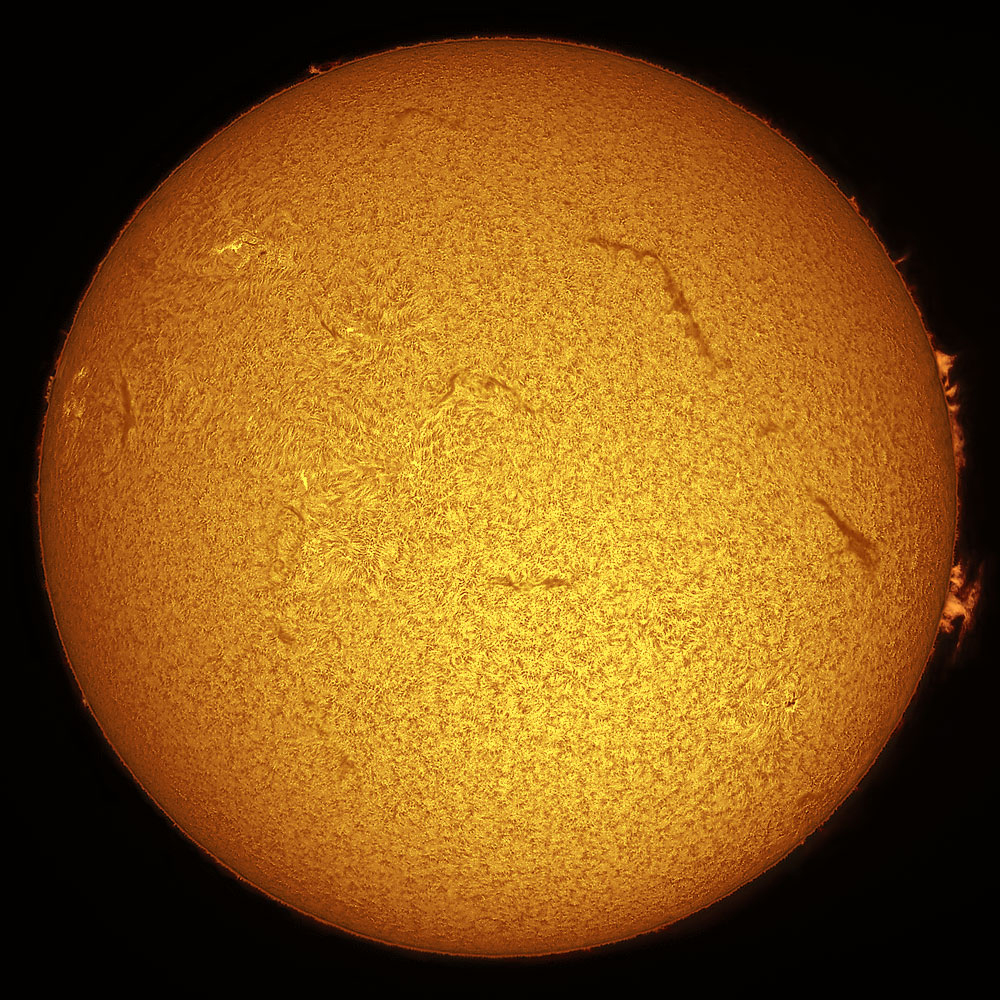 This is a typical view of the sun as seen through an H-alpha telescope. Details in the sun's chromosphere that are visible include fine, carpet-like spicules and long, dark filaments across the disk as well as delicate prominences along the edges of the sun. Paul Hyndman captured this view April 16, 2004, using an Astro-Physics 105-mm refractor fitted with a Coronado Solarmax90/T-Max and 30-mm blocking filter, a Tele Vue 2X Powermate lens and an SBIG STL-11000M CCD camera.
1994 Annual Eclipse Series

Imelda Joson and Edwin Aguirre captured the May 10, 1994 annular solar eclipse from the eclipse path's northern limit near Lordsburg, N.M.. They used a filtered 4-inch Meade telescope with a focal length of 1,000 millimeters and Kodak Royal Gold 400 color-negative film.
Guide to Solar Eclipses (Infographic)