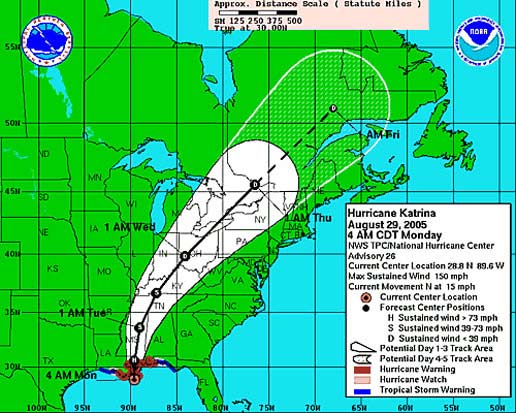 The plant that builds space shuttle external fuel tanks cleared out Sunday morning as colossal Hurricane Katrina roared toward shore.
NASA's Michoud Assembly Facility in New Orleans employs about 2,000 Lockheed Martin workers, some from as far as Tennessee and Texas. The facility closed at 8 a.m. Sunday, per the city's mandatory evacuation order.
Marion LaNasa, director of communications for Lockheed, estimated the plant will not reopen until third shift Tuesday -- at the earliest, depending on road conditions.
"We've been keeping track of this system Friday and Saturday, especially early Saturday evening," LaNasa said. "We're following standard procedures to prepare for the hurricane. We've put the tanks on breathers and the facility has back up generators. We're as prepared as we can be for the largest storm to hit the continental U.S."
About two dozen people will remain at the facility -- which includes a deep water port and 43-acre roofed manufacturing plant -- during the storm. The team investigating the shuttle foam loss left for Huntsville, Ala., earlier this week.
Kennedy Space Center was in the process of shipping three tanks back to the plant for safety modifications. With those shipments and other work at the plant on hold, NASA faces a threat to an on-time shuttle launch in March.
That's even if there is not major damage to the NASA complex, fuel tanks and the one-of-a-kind machinery there.
Further inland, the NASA Marshall Space Flight Center closed Sunday morning in anticipation of the hurricane, a switchboard operator said.
Published under license from FLORIDA TODAY. Copyright ? 2005 FLORIDA TODAY. No portion of this material may be reproduced in any way without the written consent of FLORIDA TODAY.