Fisher Space Pen, the company behind the pressurized writing instruments used by astronauts to take notes on the moon and check off checklists in orbit, is about to cross into another frontier: commercial spaceflight.
Fisher, which more than 50 years ago developed an ink cartridge that was capable of working without the need for gravity, has signed a deal with Virgin Galactic on the eve of the first fully-crewed flight of the SpaceShipTwo rocket plane. Richard Branson, Virgin Galactic's billionaire founder, and his five "Unity 22" crewmates will use specially-adorned versions of Fisher's Infinium space pen to sign their test flight log after launching to the edge of space on Sunday (July 11).
"They were seeking a pen appropriate for this particular event and obviously our name 'Space Pen' really fits well," Joshua Skidmore, Fisher Space Pen's director of sales and marketing, said in an interview with collectSPACE.com. "The six pens they are going to have for their crew to use will be space pens with the Virgin Galactic evolution of flight logo on them."
Related: How to watch Virgin Galactic launch Richard Branson to space
More: How Virgin Galactic's SpaceShipTwo works (infographic)
The black titanium nitride and chrome pens will be Infinium models, designed to write three times longer than an ordinary ballpoint pen. "In fact," Fisher states on its website, "the Infinium Space Pen will write so long that the average user won't run out of ink in their lifetime." (The Virgin Galactic edition pens are not for sale.)
Virgin Galactic's "DNA of Flight," which also appears along the top of the VSS (Virgin SpaceShip) Unity and on the back of the crew's Under Armour flight suits, symbolizes humanity's journey to space through key aviation milestones. The design features icons representing Icarus (from Greek mythology), the Wright Flyer, Charles Lindbergh's "Spirit of St. Louis" monoplane, Chuck Yeager's Bell X-1 supersonic jet, Boeing's 747 aircraft, NASA's Apollo lunar module, the X Prize-winning SpaceShipOne and, at the top, SpaceShipTwo.
In Photos: Virgin Galactic's Sleek Under Armour Spacesuits for Space Tourists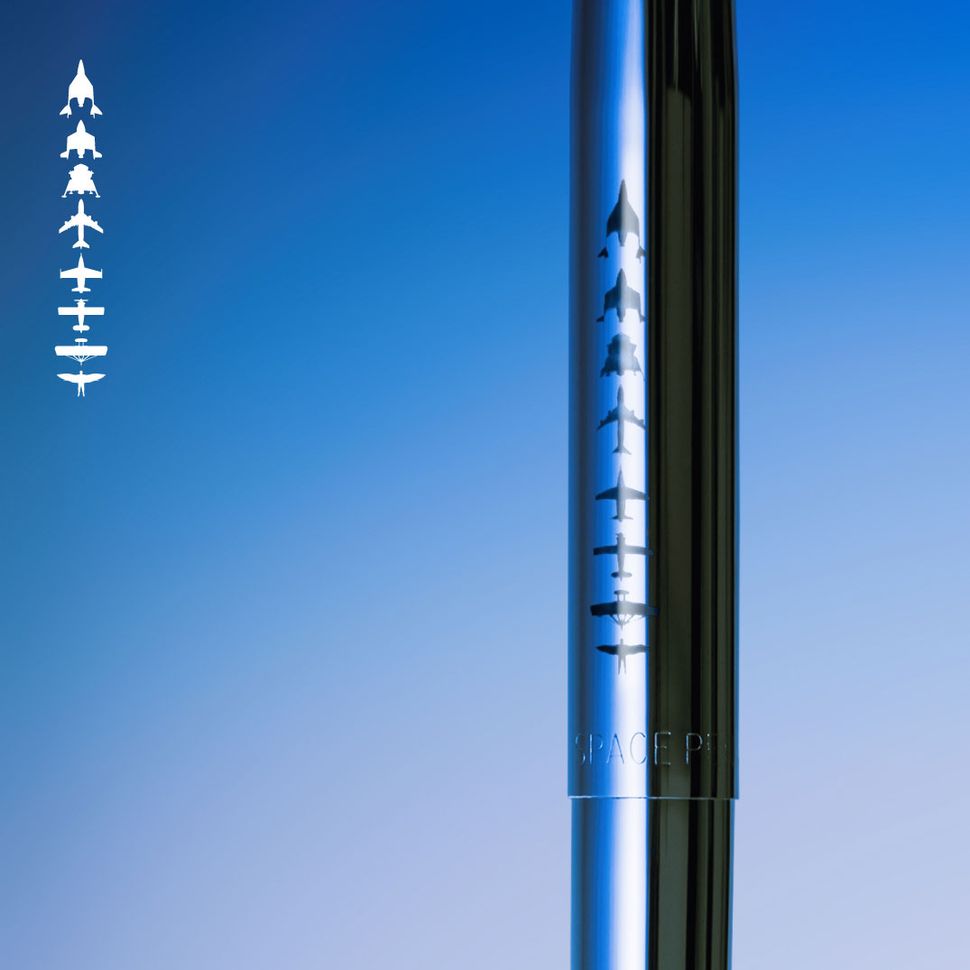 "Each symbol represents a pivotal moment in the collective journey to creating the world's first commercial spaceline," Virgin Galactic said.
Fisher's own history in that time line picks up with the lunar module. Its space pen was adopted by NASA for its moon missions in 1967 and by the Soviet Union's space program (today, Russia's Roscosmos state space corporation) for the early Soyuz flights two years later.
"Our pens have flown on every mission that has been piloted by astronauts or was flown with a crew since Apollo 7," said Skidmore. "We also have a lot of pilots with commercial airlines who carry and use one."
Virgin Galactic is the first company to openly acknowledge using the Fisher space pen as part of its spaceflight activities.
"This is the first non-NASA regulated flight that a space pen will be part of the event," said Skidmore. He was not told if the pens will fly aboard VSS Unity or will be waiting for the crew after they land. In addition to Branson, the Unity 22 crew includes pilots Dave Mackay and Michael Masucci, as well as mission specialists Beth Moses, Colin Bennett and Sirisha Bandla.
"They had mentioned to us that there was not a need for a flight pen right now, but here's the thing I can imagine: they are going up several hundred thousand feet and the only pen that will work in that environment is the space pen, so their pilots may already have our AG-7 [the same model pen used by NASA astronauts and Russian cosmonauts]," he said.
The Inifinum will not be the only Virgin Galactic-edition Fisher space pens present for the launch at Spaceport America in New Mexico.
"There are going to be roughly 550 people attending event and everybody is going to be receiving a swag bag," Skidmore said. "Inside there, there will be a classic Bullet pen from Fisher Space Pen with the Virgin Galactic "DNA of Flight" logo on them as well."
Follow collectSPACE.com on Facebook and on Twitter at @collectSPACE. Copyright 2021 collectSPACE.com. All rights reserved.