One of the best Lego deals to come out of Amazon Prime Day this year is a 30% saving on the Razor Crest ship. Usually $139.99, it can be yours for just $97.99 on Amazon.
This is one of two Lego Star Wars Razor Crest ships currently available. It's the smaller of the two (the larger being a $600 Ultimate Collectors Series model), but this one is still no slouch. Made up of 1,023 pieces, it's still big enough to make a mighty fine display piece while also managing to appeal to younger fans thanks to its interactive play features.
It's a fantastic-looking set, whether you're looking for a display model or something to swoosh about. It's a really enjoyable - if a little quick - build, too, with easy to follow instructions making it ideal for younger builders. In our Razor Crest review, our only real criticism was its fragility: if you are going to swoosh it through the air, be careful - otherwise it may end up with a similar fate as the real thing.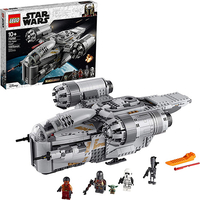 Lego Star Wars Razor Crest Was $139.99 now $97.99 at Amazon
Save $42 on your very own Razor Crest model. Made up of over 1,000 pieces and including four minifigures, it has everything you need to recreate the epic adventures of Mando and Grogu.
In the box you'll find everything you need to build your very own Razor Crest, along with four minifigures: there's The Mandalorian himself, Greef Karga, a Scout Trooper and, of course, Grogu aka The Child. There's also an IG-11 droid.
In terms of play features, the Razor Crest has enough space in the cockpit for a minifigure, and an opening cargo hold to store various important bounties - including some carbonite elements. There's also a sleeping area and a detachable escape pod. You know, just in case you do find yourself getting attacked by the Empire.
Key Specifications: Model number: 75292, Pieces: 1,023, Finished item, Dimensions: 5.5 x 15 x 11 inches, Recommended age: 10+
Price history: The Razor Crest has an RRP of $139.99. We've seen it as low as $97.99 before, but it's been several months since it's had any discounts. We don't think it's likely to get any cheaper.
Price comparison: Lego: $139.99
Reviews consensus: In our review, we especially praised the included minifigures, saying "fans of The Mandalorian (aka Tales of the Bounty Hunter and His Small, Green Son) will want this just for the minifigs." We also praised its interactive parts, particularly its missiles - though we also said "as a craft, the Razor Crest isn't the most visually interesting – or identifiable – Star Wars ship."
Space: ★★★½
Buy it if: You're a fan of The Mandalorian and would like your own model of the ill-fated Razor Crest without breaking the bank.
Don't buy it if: You've not seen The Mandalorian, or you already own the UCS Razor Crest.
Find more Lego Star Wars deals this Amazon Prime Day in our dedicated deals hub.