The first Italian woman to launch into space is no longer a one-of-a-kind Barbie.
Samantha Cristoforetti, an astronaut with the European Space Agency (ESA), made her debut as part of the fashion doll line three years ago, but only as a couple of one-off models for display. Now, Cristoforetti's Signature Role Model Barbie doll is for sale and is raising funds for a scholarship in celebration of "Women in Space," the theme of this year's World Space Week that began on Monday (Oct. 4).
"With STEM [science, technology, engineering and mathematics] careers still underrepresented by women, Barbie is using its platform this World Space Week to show girls [in] exciting and diverse roles and activity in space for them to explore their limitless potential," Isabel Ferrer, Mattel's marketing director for the Barbie line in Europe, the Middle East and Africa (EMEA), said in a statement.
The new Cristoforetti Barbie comes dressed in a simplified version of the NASA extravehicular mobility unit, or spacesuit, that is used to perform spacewalks outside of the International Space Station. The white garment is adorned with the Italian flag on the doll's left shoulder, NASA's extravehicular activity (EVA) patch on the right shoulder and ESA's logo patch on its chest. The spacesuit also has red stripes, used to denote the lead spacewalker.

Related: Pioneering women in space: a gallery of astronaut firsts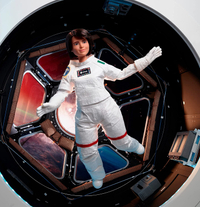 Barbie Signature Role Models ESA Astronaut Samantha Cristoforetti Doll $29.99 at Amazon.
Recruit real-life European Space Agency astronaut Samantha Cristoforetti for your next doll adventure with this Barbie Signature Role Model doll from Mattel.
The Barbie doll is similar in appearance to one of the two Cristoforetti models first produced for display, less a portable life support system (PLSS) backpack. The second display model had Cristoforetti in her blue flight suit used for training.
The real Cristoforetti has yet to conduct any spacewalks, but may still do so on her next mission. In 2022, Cristoforetti will become the first European woman to command the space station after launching to the orbiting outpost as a member of Crew-4 aboard a SpaceX Dragon spacecraft.
To celebrate World Space Week, a Cristoforetti Barbie was flown aboard a recent ESA parabolic flight, exposing the doll to short periods of the same weightless environment that the real Cristoforetti experienced in training and during her first spaceflight in 2015.
"Sometimes little things can plant the seeds of great dreams," said Cristoforetti. "Maybe the fun images of my doll floating in weightlessness will spark children's imagination and lead them to consider a career in STEM."
In Photos: Barbie's many astronaut looks in space exploration history
The Cristoforetti Signature Role Model Barbie doll is now available across Europe and through select stores in the United States. Part of the proceeds from the sale of the $30 (34,99 €) doll will be donated to Women in Aerospace (WIA) Europe to support a new € 5000 ESA x Mattel Bursary to be awarded for outreach projects fostering interest and motivation to take up STEM careers.
Academic and nonacademic outreach projects are eligible to apply for the new scholarship, so long as they will be conducted in Europe and can be completed within 12 months.
"The partnership between ESA and Mattel was initiated in order to foster ... diversity and inspire girls and women to take up careers in the aerospace sector. With the invaluable support of Women in Aerospace Europe we are very pleased that this partnership has yet another channel through which we can reach this goal," said Emmet Fletcher, head of the branding and partnership office at ESA.
The Cristoforetti doll was the first Barbie to be modeled after a real astronaut and the second to go on sale to the public. In 2019, Mattel released the Barbie Inspiring Women Series Sally Ride doll, which was styled after the first American woman to fly into space. The company also created a Barbie for Anna Kikina, the only woman active in Russia's cosmonaut corps, but like the original Cristoforetti dolls, for display only.
Follow collectSPACE.com on Facebook and on Twitter at @collectSPACE. Copyright 2021 collectSPACE.com. All rights reserved.