Up until a month ago, if RR Auction had announced it was selling a spacecraft seat, it would have been doing just that — offering a seat made for or removed from a spacecraft.
The Boston-based auction firm has for 10 years now been organizing biannual sales dedicated to the relics of the space race, from astronaut-autographed photos to equipment that was flown to the moon.
The spacecraft seat RR Auction is selling now, though, is unlike anything that the company has sold before. It is not auctioning the chance to sit where an astronaut once sat, but rather the opportunity to become an astronaut by occupying the first commercially available seat on Blue Origin's New Shepard suborbital rocket set to launch on July 20. Blue Origin founder Jeff Bezos and his brother Mark will join the auction winner on the flight.
Related: How Blue Origin's New Shepard vehicle works (infographic)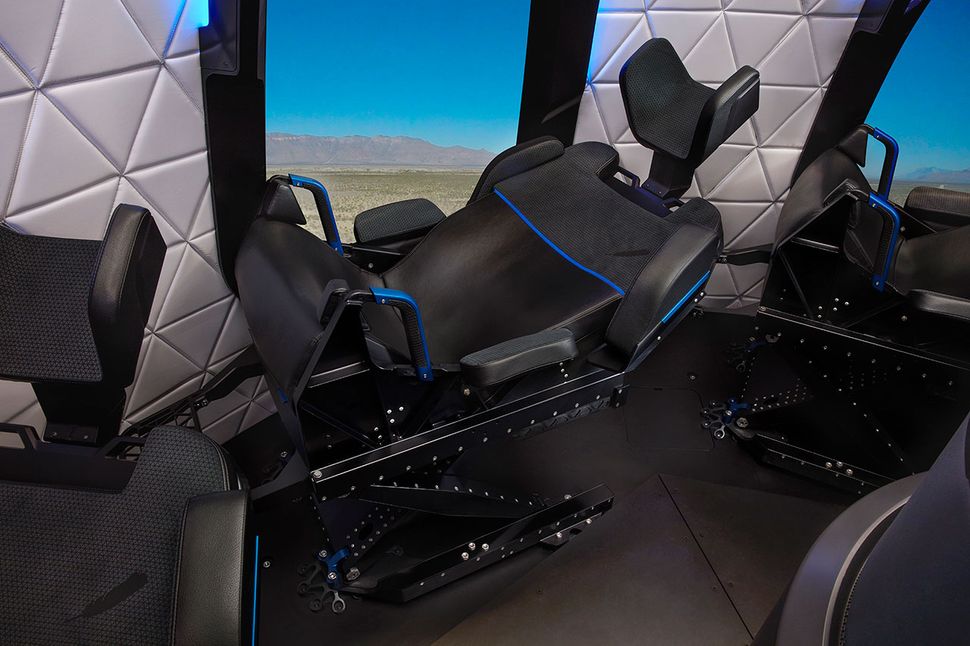 "It's really wild," Bobby Livingston, RR Auction's executive vice president for public relations, said in an interview. "They want to go, and go now. It is an exciting group of people who have all dreamt of going."
The group who Livingston is referring to are the bidders, who since the single lot auction began on May 5, have driven the price of the seat to nearly $3 million. The bid as of Monday morning (June 7) stands at $2.8 million, which does not include a 6 percent buyer's premium (for a total of $2,968,000, were that the winning bid).
Blue Origin is not disclosing how many bidders, or bids, that total reflects, but has said that more than 5,200 people from more than 135 countries registered on its website for more information about the auction and to potentially take part. It then fell to RR Auction to ensure everyone who wanted to bid was qualified to do so.
"It is their website, but we are running the auction," said Livingston. "In order to execute a bid, they have to give RR Auction a $10,000 [non-refundable] deposit and they have to be vetted by us. We have talked to every prospective bidder over Zoom, so we are very much involved in the actual auction process."
In addition to being financially sound, bidders also needed to meet Blue Origin's requirements for flying aboard the New Shepard capsule. The winner must be at least 18 years old, be between 5 feet and 6 foot, 4 inches tall (152 and 193 centimeters), weigh between 110 and 223 lbs. (50 and 101 kilograms) and be able to climb the launch tower — seven flights of stairs — in less than 90 seconds. He or she also must be able to sustain up to three times the force of gravity for up to two minutes and be able to reliably follow instructions by radio contact or alert lights.
For the first two weeks of the auction, from May 5 to May 19, all bids were sealed. The open bidding then began at $1.4 million and rose within the first day to $2.8 million, where it stands now.
Online bidding will remain open until 5 p.m. EDT (2100 GMT) on Thursday (June 10). The sale will then pause for two days before picking up with a live auction on Saturday (June 12) at 1 p.m. EDT (1700 GMT).
The break, says Livingston, was scheduled to allow for an anticipated demand.
"I expect a lot of last-minute deposits and I have to vet everybody, so that was at my request because we have to have time to prepare," he said.
When the live auction gets underway, only those who raised their bid limit during the online bidding will be able to participate, but everyone will be able to watch. Blue Origin will host a live webcast of the sale on its website and on YouTube.
Livingston expects the live auction will be exciting to watch.
"I think there's going to be plenty of people on the phone bidding that day. Now, we don't know what's going to happen between now and the 10th as far as if people are going to start bidding again, but I wouldn't be surprised if it goes a lot higher on the live auction day," he said.
Related: Blue Origin's 1st upgraded New Shepard for astronauts aces launch (and landing)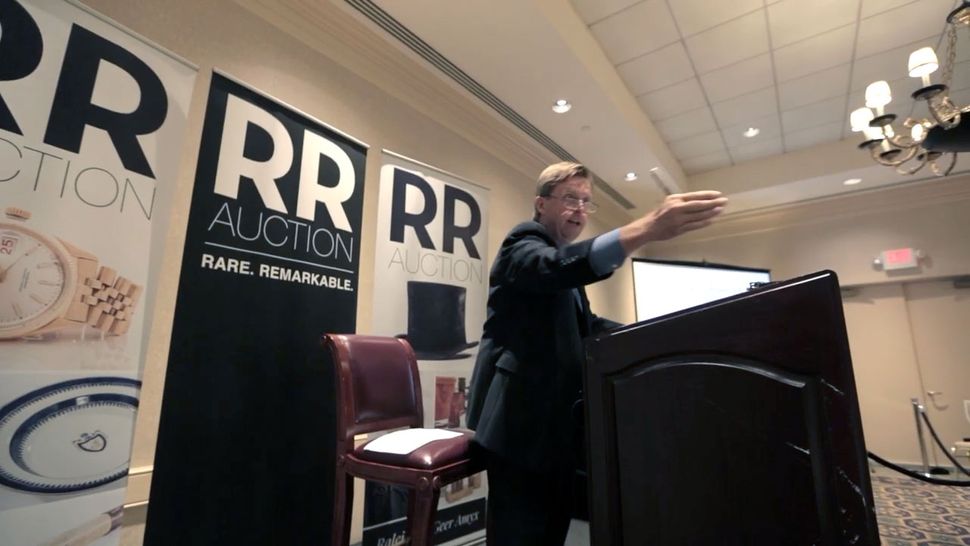 Blue Origin is donating all proceeds from the auction to its non-profit organization, the Club For the Future, which is working to inspire future generations to pursue careers in science and technology and to help "invent the future of life in space."
As to who will win the auction, neither Blue Origin nor RR Auction is sharing any details about the bidders, but Livingston did say that more than a few seem to share an interest with his more typical auction participants.
"I know that a lot of the bidders collect or have some type of space memorabilia, because I have been on Zoom calls with them and can see what is behind them, on their walls and shelves," he told collectSPACE.com.
The $2.8 million bid already tops the highest amount RR Auction has received for anything related to space. The prior record was set in 2015, when RR Auction sold a Bulova chronograph worn on the surface of the moon for $1.625 million. (The most ever paid at a public auction for a piece of space memorabilia was the $2,055,000 received for a gold medallion flown to the moon by Neil Armstrong.)
RR Auction's agreement with Blue Origin precludes the firm from marketing their services to the bidders, and Blue Origin's terms prevent the winner from selling any of the items they choose to take on the New Shepard flight.
"Each astronaut is allowed to fly with a small bag of personal belongings, and we hope they have such a special experience that they feel inspired to share their experience with others," a Blue Origin spokesperson said.
Follow collectSPACE.com on Facebook and on Twitter at @collectSPACE. Copyright 2021 collectSPACE.com. All rights reserved.