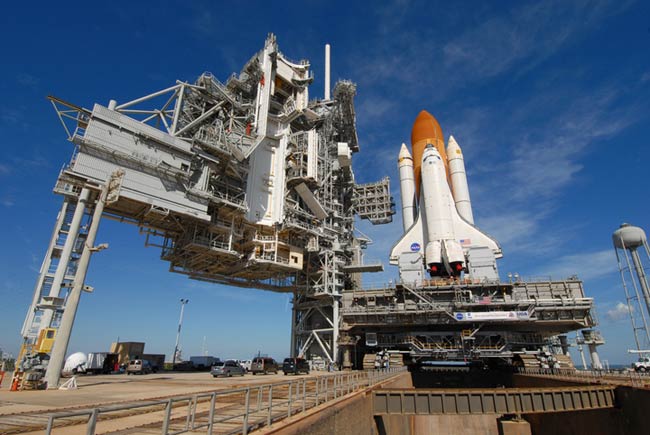 CAPE CANAVERAL, Fla. - The space shuttle Discovery is looking free and clear for a launch Wednesday night.
The weather looks promising for the planned evening launch at 9:20 p.m. EDT (0120 March 12 GMT) from NASA's Kennedy Space Center at Cape Canaveral, Fla., shuttle weather officer Kathy Winters said.
"It should be a beautiful launch,? she said. ?The weather is looking very good for launch, I'm happy to say. And of course we're going to have that full moon, that's going to be really nice too."
Discovery?s seven-astronaut crew, led by commander Lee Archambault, will deliver a new set of solar arrays and support girder to the space station, as well as a new inhabitant to the outpost: the first long-duration Japanese astronaut Koichi Wakata. Wakata, a veteran Japan Aerospace Exploration Agency (JAXA) flyer, is set to replace NASA astronaut Sandra Magnus as an Expedition 18 flight engineer, checking in for a roughly six-month stay.
"At this point we have no real concerns," said Steve Payne, NASA test director, during a morning briefing here. "Our systems are in good shape, the countdown is proceeding on schedule like it should be, and we are ready for the exciting mission that lies ahead of us on Wednesday night."
If weather does end up prohibiting launch tomorrow, mission managers said they are willing to try again until March 16, even if it means having to cut down the planned 14-day mission. After that, the shuttle must stand down temporarily to let a Russian Soyuz craft launch toward the ISS as planned.
Discovery is on track for launch after a series of delays have set back the mission over concerns with fuel control valves in the shuttle's main engines. A series of in depth tests convinced mission managers that the issue, first noticed last year when a valve cracked during the shuttle Endeavour's November 2008 liftoff, does not pose a serious threat. Just to be safe, engineers replaced all three valves on Discovery with a set found to be free of damage.
SPACE.com is providing continuous coverage of STS-119 with reporter Clara Moskowitz at Cape Canaveral and senior editor Tariq Malik in New York. Click here for mission updates and SPACE.com's live NASA TV video feed.
New Video - Meet Discovery's STS-119 Shuttle Astronauts

New Video - Discovery's Mission: Space Station Power Up!

New Show - NewSpace: The Orbital Industrial Revolution