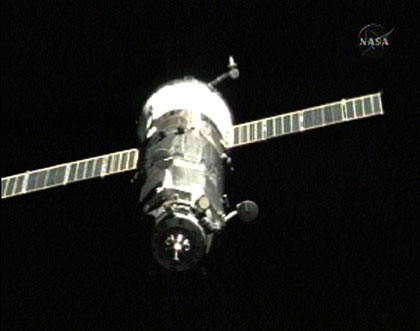 Astronauts aboard the International Space Station (ISS) welcomed the arrival of a new Russian cargo ship filled with fresh food, water and other vital supplies Friday after a flawless orbital rendezvous.
The unmanned space freighter Progress 29 successfully docked with the station at 5:39 p.m. EDT (2139 GMT) as both spacecraft flew 215 miles (346 km) above the Atlantic Ocean, just off the coast of Brazil.
?Okay, guys! Congratulations with the successful docking!? Russia?s Mission Control radioed the station?s three-man crew.
Loaded with some 2.3 tons of cargo, the automated Progress 29 supply ship launched toward the station Wednesday atop a Russian-built Soyuz rocket, lifting off from the central Asian spaceport of Baikonur Cosmodrome in Kazakhstan. After a two-day trek, the spacecraft ? also known by its Russian designation M-64 ? arrived at an open berth on the station?s Earth-facing Zarya control module.
?Everything?s nominal,? Russian cosmonaut Sergei Volkov, commander of the station?s Expedition 17 crew, told Mission Control as the freighter neared its orbital dock.
Volkov and fellow cosmonaut Oleg Kononenko, an Expedition 17 flight engineer, watched over the arrival of Progress 29 from inside the station, where they were poised to take remote control of the cargo ship if its automated docking systems failed. But the space freighter flew smooth and true.
Volkov, Kononenko and flight engineer Garrett Reisman of NASA are expected to open the hatches separating the station and its new cargo ship at about 7:30 p.m. EDT (2330 GMT) tonight. They will begin unloading spacecraft?s 4,657 pounds (2,112 kg) of supplies on Saturday, NASA officials said.
Packed aboard Progress 29 are about 770 pounds (350 kg) of rocket propellant, over 100 pounds (45 kg) of oxygen and air, and 925 pounds (420 kg) of water. The freighter is carrying about 2,850 pounds (1,292 kg) of dry cargo, which includes 568 pounds (258 kg) of food, 277 pounds (126 kg) of medicine and 282 pounds (128 kg) of hygiene items, according to Russia's Federal Space Agency and wire reports.
A batch of 90 snails also launched to station aboard Progress 29 as part of an experiment that studies the effects of weightlessness on living organisms, Russia?s Interfax News Agency has reported.
Russia?s unmanned Progress cargo ships are similar in appearance to the country?s three-segment Soyuz spacecraft that routinely ferry astronauts to and from the space station.
Progress 29 was initially slated to dock at a berth on the station?s Russian-built Pirs docking compartment, but that perch is currently occupied by the Soyuz TMA-12 spacecraft that ferried Volkov and Kononenko to the station last month.
The Expedition 17 crew was originally slated to move the Soyuz to the Zarya docking port, clearing the Pirs berth for Progress 29, in early May. But Russian and NASA flight controllers canceled that short flight due to an ongoing investigation into a previous Soyuz spacecraft?s off-target landing last month.
Images: The Expedition 16 Photo Album