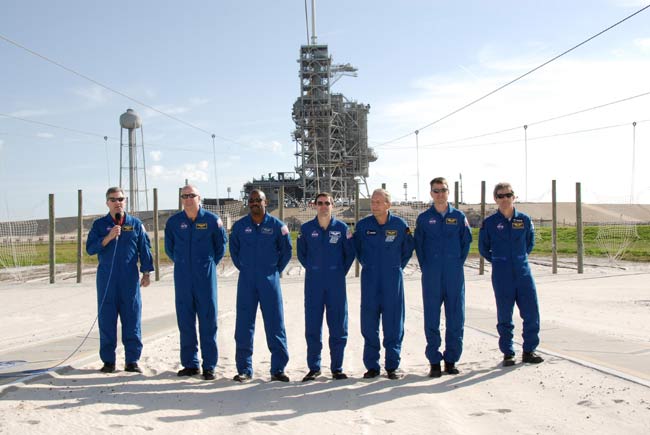 Top NASA officials are expected to set a firm December launch date today for the shuttle Atlantis and a European laboratory bound for the International Space Station (ISS).
Shuttle mission managers are holding a day-long review at NASA's Kennedy Space Center (KSC) in Cape Canaveral, Fla., to determine whether Atlantis is ready for a planned Dec. 6 launch to the ISS. The agency will formally announce its decision during a press conference later today.
"From a shuttle viewpoint, I think everything is looking very good," NASA spokesperson Kyle Herring told SPACE.com Thursday.
Commanded by veteran shuttle flyer Stephen Frick, Atlantis' STS-122 astronaut crew is charged with delivering the European Space Agency's (ESA) Columbus laboratory to the ISS and swapping one member of the three-person Expedition 16 crew currently serving aboard the station.
Frick and his six crewmates plan to stage at least three spacewalks to install Columbus at the station's Harmony connecting node during their 11-day spaceflight. ESA astronaut Leopold Eyharts, of France, will replace U.S. spaceflyer Dan Tani as part of the Expedition 16 crew.
Their mission follows a packed month of ISS construction by Expedition 16 commander Peggy Whitson, Tani and flight engineer Yuri Malenchenko. The astronaut trio staged three spacewalks in 15 days and performed tricky robotic arm work to outfit the Harmony node with a shuttle docking port, move it to the front of the ISS and wire it into the station's cooling and power grid.
Engineers on Earth continue to study the impact of metallic grit in a massive gear that rotates the station's starboard solar arrays like a paddlewheel to track the sun. They are also continuing work to determine if indications of a slight air leak aboard the station's Harmony module are genuine or the result of false signals from ISS instrumentation.
During today's Flight Readiness Review (FRR), a standard meeting that precedes every shuttle mission, NASA officials are expected to discuss plans that call for STS-122 spacewalkers to wear protective overgloves during their excursions to avoid cutting their spacesuit gloves on sharp edges outside the ISS, Herring said. Mission managers will also continue talks over potential exterior coating defects on heat-resistant panels lining space shuttle wing edges and nose caps, he added.
A new inspection technique to examine the reinforced carbon-carbon (RCC) panels prior to the Oct. 23 launch of NASA's shuttle Discovery found indications of slight defects in the exterior coating of some panels. After a lengthy discussion, mission managers cleared Discovery for flight, but vowed to continue studying the coating issue to determine its cause. Discovery's STS-120 crew returned to Earth on Nov. 7 after a successful ISS construction flight.
Earlier this month, mission managers also cleared Atlantis' heat shield, which consists of the RCC panels, heat-resistant tiles and thermal blankets, of any concerns for next week's planned launch.
NASA has an up to nine-day window to launch Atlantis to the ISS in December before angles between the station's power-generating solar arrays and the sun become unfavorable for docked operations. Mission managers have said they would reschedule the mission to early January if a December launch proves untenable.
Atlantis' STS-122 mission will mark NASA's fourth shuttle flight of 2007 and the second to deliver a new orbital room to the ISS.
NASA will hold a press briefing no earlier than 4:00 p.m. EST (2100 GMT) on NASA TV to discuss today's Flight Readiness Review meeting for Atlantis' STS-122 shuttle mission. Click here for SPACE.com's shuttle mission coverage and NASA TV feed.
VIDEO: ISS Commander Peggy Whitson Takes Charge

NEW IMAGES: Discovery's STS-120 Mission in Pictures

The Orbital Chef: The Top 10 Space Foods