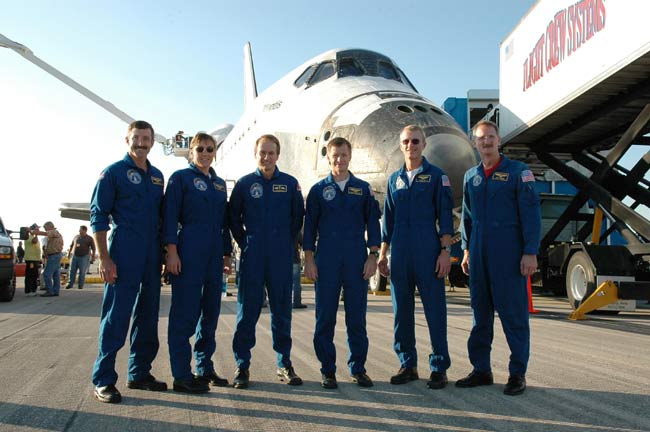 CAPE CANAVERAL, Fla. - The six Atlantis shuttle astronauts who jump started construction of the International Space Station (ISS) are happy to be home after a job well done.
Just hours after returning to Earth following a 12-day space trip, Atlantis shuttle commander Brent Jett and his STS-115 crewmates said they left an awe-inspiring sight in the form of a drastically different ISS.
"It's left me with a feeling of pride and awe," said STS-115 pilot Chris Ferguson, who guided Atlantis around the ISS after undocking Sunday. "It was really quite a moment for me personally to see it, and to know that we had the pleasure and the honor and the distinction to be a part of it."
Jett and Ferguson deftly guided Atlantis to a predawn landing here at NASA's Kennedy Space Center at 6:21 a.m. EDT (1021 GMT), ending a 12-day mission that marked the first dedicated ISS construction flight since late 2002.
Joining Jett and Ferguson on their STS-115 mission - which delivered a hefty pair of $372 million trusses and expansive solar arrays to the ISS - were mission specialists Joseph Tanner, Daniel Burbank, Heidemarie Stefanyshyn-Piper and Canadian Space Agency astronaut Steven MacLean.
"The mission, from our standpoint, went off very well," said Jett, who told reporters STS-115 was likely his last mission to actually fly in space. "I would hope five years from now, we will have an assembled space station."
NASA's STS-115 mission returned the U.S. space agency to an operational mode of spaceflight after two successful test flights to recover from the 2003 Columbia accident. The mission came after four years of training for the STS-115 astronauts, which Jett said seemed to be actually more challenging than the spaceflight itself.
Despite their stellar performance, NASA officials said Atlantis' STS-115 crew gave up much when the astronauts decided to persevere through four years of delays and training.
"This crew made a choice to stay with this flight, NASA's ISS program manager Michael Suffredini said during the STS-115 mission. "They chose to make a huge sacrifice to stick with it."
Atlantis' astronaut crew staged three spacewalks outside the ISS which, despite their complexity, appeared to go relatively smoothly.
"I know it might have looked easy, it was not," said Tanner, a veteran spacewalker, adding that many of the massive ISS components installed during STS-115 were flown and activated for the first time. "What we did on those EVAs was not easy."
One major asset to accomplish the intense STS-115 spacewalks was the support of the space station's Expedition 13 crew of Pavel Vinogradov, Jeffrey Williams and Thomas Reiter, the Atlantis astronauts said.
"Those guys were phenomenal," Jett said of the Expedition 13 crew. "There was no way we could have gotten back-to-back EVAs without them...we knew they were good, we didn't know how good. We were impressed."
Ferguson and Stefanyshyn-Piper made their first spaceflight during STS-115, with Stefanyshyn-Piper - a trained U.S. Navy diver - also making her spacewalk debut.
"It's a much better view than it is underneath a ship," Stefanyshyn-Piper said.
Ferguson said before landing that he and his crew could use an extra day in orbit to relax and look out the window. But when a few mystery objects floating away from the orbiter prompted yet another round of heat inspections - the crew's third set of their mission - with Atlantis' robotic arm and a landing delay, his wish came at a price.
"They were looking out the window, but they weren't looking at the Earth," Jett joked.
"While it's fun to operate the arm, it would have been nice to get at least a couple hours off to look out the window," Ferguson said.
MacLean became the second Canadian ever to walk in space during STS-115 and the first ever from his country to actually wield the ISS arm built in his homeland. But the most memorable moment, he said, will be during a spacewalk he shared with Burbank as both astronauts struggled to remove a stubborn bolt that could have thrown a wrench in plans to deploy a new solar array.
"When we got to that second bolt and it just wouldn't go at first and it was tight, I thought, 'Oh man, I am not coming inside until that thing comes off,'" MacLean said. "Plus, when you're on the end of the [Port 3/Port 4] truss like that, you're splitting the Earth and space while you're doing it and it's a great place to be."
"That could have brought the mission to a halt for at least a day or two or more just to figure out how to get that thing off of there," Burbank said of the bolt.
But with the mission complete, and a stunning success in NASA's view, Ferguson said he will focus his next few hours on relearning how to function on Earth.
"You would think that after a week and a half that your body wouldn't forget what gravity is like," Ferguson said. "I think I've spent the last seven hours or so trying to remember, and I'm getting there."
New Gallery: STS-115 Spacewalks
Gallery: STS-115: Atlantis's Launch Day
Complete Space Shuttle Mission Coverage
NASA's STS-115: Shuttle Atlantis to Jump Start ISS Construction
The Great Space Quiz: Space Shuttle Countdown