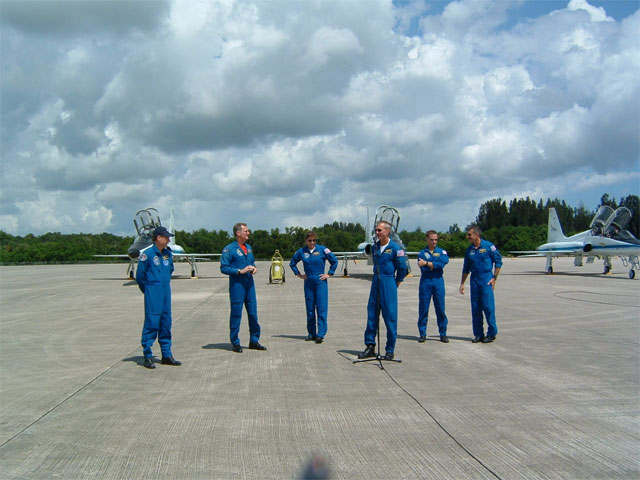 CAPE CANAVERAL, Fla. - The astronauts are here and the clock is ticking for NASA's planned launch of the space shuttle Atlantis on Sunday.
Atlantis and its six-astronaut crew are poised to launch toward the International Space Station (ISS) at 4:30 p.m. EDT (2030 GMT) on NASA's first major construction flight since 2002. With current weather forecasts predicting a 70 percent chance of clear conditions on launch day, Atlantis' STS-115 astronauts had reason to smile as they arrived here at NASA's Kennedy Space Center (KSC) today.
"I hope you can tell by the smiles on our faces that we're very, very happy to be here in Florida to start the launch countdown," shuttle commander Brent Jett told reporters at the Shuttle Landing Facility after the crew flew over the airstrip in formation twice in their T-38 NASA jets. "There's been a lot of talk in the press lately about NASA being back, and I think we would all certainly agree with that talk. But we have a saying in Texas, 'It's time to walk the walk.'"
Jett, Atlantis pilot Chris Ferguson and mission specialists Joseph Tanner, Daniel Burbank, Heidemarie Stefanyshyn-Piper and Steven MacLean, of the Canadian Space Agency, will ride Atlantis to the ISS and deliver two massive trusses and a pair of solar arrays to the orbital outpost.
"When we climb aboard Atlantis on Sunday we do so with confidence that the vehicle is ready, prepared by the best technicians, engineers and managers in the business," Tanner said, thanking the teams of shuttle workers to prepare his crew's spaceship. "We just thank you for allowing us to play a little part in your life's work."
NASA launch controllers began counting down toward Atlantis' STS-115 liftoff at 12:00 p.m. EDT (1600 GMT) today, about six hours earlier than planned to allow extra time to load the shuttle's fuel cell propellant, space agency officials said.
At about that same time, pad workers were expected to close Atlantis' cargo bay doors for the final time after one last battery charge for its 17.5-ton solar array and ISS truss payload.
"The vehicle, the launch and the flight teams, and the flight crew are all ready for launch," NASA test director Steven Payne said in a status briefing.
Atlantis has a 12-day launch window that closes on Sept. 7 to allow a buffer between the shuttle's flight and the planed Sept. 14 launch of a Russian Soyuz spacecraft ferrying the next station crew - Expedition 14 commanded by NASA astronaut Michael Lopez-Alegria - and a space tourist to the orbital outpost.
While there is only a 30 percent chance of poor weather preventing a Sunday launch, that percentage drops to just 20 percent on subsequent days, shuttle weather officer Kathy Winters said.
"Overall, the weather looks pretty good for launch day," Winters added.
The 11-day mission features three spacewalks to install the Port 3/Port 4 (P3/P4) truss segments and new solar arrays, a $371.8 million addition to the ISS that will double its power output once fully activated.
The spaceflight is NASA's third shuttle mission since the 2003 Columbia accident, but the first ISS construction flight since the November 2002 launch of STS-113 aboard Endeavour.
"All we need is a little good weather on Sunday and we'll be out of here," Jett said.
Gallery: Prepping Atlantis
Complete Space Shuttle Mission Coverage
NASA's STS-115: Shuttle Atlantis to Jump Start ISS Construction
The Great Space Quiz: Space Shuttle Countdown