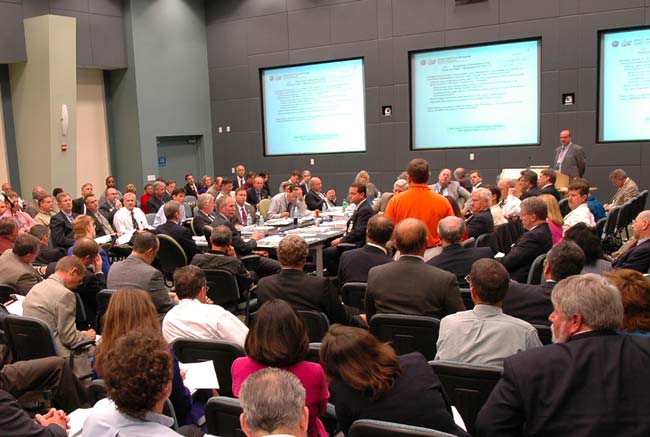 CAPE CANAVERAL, Fla. - NASA officials are expected to decide today whether the space shuttle Discovery will launch on July 1 or later next month after two days of intense discussion at the Kennedy Space Center (KSC).
NASA chief Michael Griffin, shuttle program managers and swarms of engineers and contractors are concluding a Flight Readiness Review (FRR) here that is expected to pin down a firm launch date for Discovery's upcoming STS-121 mission. The spaceflight, NASA's second shuttle mission since the 2003 Columbia tragedy, has a launch window that runs between July 1 and July 19.
"The final thing they'll do Saturday is to take a poll as to as to when to proceed with launch," KSC spokesperson Bruce Buckingham of the NASA flight review.
Space shuttle officials have evaluated a series of changes to Discovery and its launch stack, including the removal of a 38-foot (11-meter), foam-covered ramp that shielded a tray of cables and pressurization lines along the orbiter's external tank. Wind tunnel tests and computer models have found the fix - aimed at reducing the risk of liberated foam debris striking Discovery during launch - sound for flight.
But additional talks are underway to determine whether Discovery's launch should be delayed a few days, when lighting will be optimum for the STS-121 crew to take orbital photographs of the tank's foam-covered ice frost ramps, which cover cable tray bracket mounts and have been known to shed debris from past flights.
"The lighting on the ice frost ramps kind of depends on the orientation of the tank when we separate," STS-121 mission commander Steven Lindsey told reporters Friday.
Lindsey, who is confident Discovery will fly in early July, said that during each of his three previous shuttle flights, the external tank has twisted or tumbled slightly just after separation due a combination of orbiter maneuvers, the explosive bolts used to shed the tank and fuel line venting.
"The program direction has been that we're not sure if it's worth it to wait a couple of days if it's really not going to buy us anything," Lindsey said. "Obviously we want to get good imagery on the ice frost ramps, but we will have cameras on that area. I suspect that even with shadowing, we'll get good imagery."
NASA's post-Flight Readiness Review press conference will be broadcast on NASA TV at no earlier than 2:00 p.m. EDT (1800 GMT) Saturday. You are invited to follow along with the briefings using SPACE.com's NASA TV feed, which is available by clicking here.
Return to Flight: NASA's Road to STS-121