Powerful solar storm delays SpaceX rocket launch, stalls oil rigs in Canada amid aurora-palooza
"I've been a wellsite geologist for close to 30 years, and last night/this morning was the first time that we briefly suspended drilling operations due to a solar storm."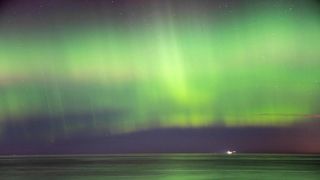 (Image credit: MADS CLAUS RASMUSSEN/Ritzau Scanpix/AFP via Getty Images)
A powerful solar storm that swept across Earth on Monday (Feb. 27) forced SpaceX to delay a Starlink launch from Florida and temporarily disrupted operations of several Canadian oil rigs as GPS signals were too inaccurate.
SpaceX eventually launched those satellites, the first batch of 21 second-generation Starlink internet spacecraft, at 6:13 p.m. ET (2313 GMT) on Monday after the geomagnetic storm, classified by the U.S. National Oceanic and Atmospheric Administration (NOAA) as a strong G3 storm subsided. Liftoff occurred about 4.5 hours after the originally scheduled launch time.
SpaceX has been cooperating with NOAA since a mishap in February last year, which saw the company lose a batch of 40 satellites after launching them right into a relatively mild geomagnetic storm. When huge amounts of charged solar particles reach our planet, the interactions of these particles with Earth's upper atmosphere cause the atmosphere to swell. When that happens, the density of gases at higher altitudes increases and spacecraft experience more drag. Since SpaceX launches Starlink craft into very low altitudes and then uses the satellite's onboard propulsion to raise their orbit, this additional drag proved too much for the ill-fated spacecraft.
Related: Extreme solar storms can strike out of the blue. Are we really prepared?
Since that 2022 incident, the company has not only been paying greater attention to space weather forecasts but has also been providing data from Starlink's onboard sensors to help NOAA improve its space weather forecasting models.
The G3 storm that caused Monday's launch delay was a result of a combination of factors. In recent days, streams of fast solar wind have been flowing toward Earth from a so-called coronal hole, which is essentially an opening in the sun's magnetic field. On top of that, two coronal mass ejections (CMEs), enormous bursts of solar plasma, emerged from an active region, or a sunspot, over the weekend and reached our planet in quick succession on Sunday and Monday (Feb. 26 and 27).
The solar storm spawned a feast of aurora displays all over North America and Europe, with sightings reported from South Dakota, Wisconsin and even California. Dedicated aurora chasers also managed to snap the arrival of the southern polar lights over Australia's westernmost big city, Perth.
Aurora from Death Valley on 2/27/23. Here is the panoramic - 4 images stitched in Ps. #aurora #deathvalley #spaceweather pic.twitter.com/ohuCC5bTMMFebruary 28, 2023
SpaceX, however, was not the only company inconvenienced by the geomagnetic storm. Canadian exploration geologist Chris Mason reported on Facebook that a drilling rig in Saskatchewan, where he is currently deployed, had to temporarily shut down operations due to the solar storm.
"I've been a wellsite geologist for close to 30 years, and last night/this morning was the first time that we briefly suspended drilling operations due to a solar storm," Mason said in the post. "The electronics in the tool that tells us which direction and inclination the drill bit is going was receiving so much interference from the storm that its readings were unreliable."
Mason added that multiple rigs in the area were affected.
Commenting on the post on her Twitter account, U.S. solar physicist and space weather expert Tamitha Skov explained that the rigs were affected by the disruption of GPS signals, which they use for precise navigation.
"The ongoing strong #solarstorm is impacting #GPS and even has caused the temporary suspension of drilling platforms due to the unreliability of even precision GPS signals and due to the GICs (geomagnetically induced currents in the ground)," Skov said in the tweet. "Events like these will come more often as we rise towards solar maximum."
Auroras as well as disruptions such as those experienced by SpaceX and the oil companies in Canada are likely going to become more regular in the next two years as the solar cycle, the 11-year ebb and flow of the star's generation of sunspots, solar flares and CMEs, moves toward its maximum.
Earlier this year, the European Space Agency reported that some of its low-orbiting satellites were losing altitude due to the swelled-up atmosphere. The current solar cycle, the 25th since record-keeping began, is also shaping up to be much stronger than what NOAA and NASA originally predicted.
The Monday storm belonged to the third-strongest category, according to NOAA's five-grade classification system. G3 storms can occur up to 200 times per solar cycle and can cause minor problems to power grids and spacecraft in orbit, as well as satellite signal and radio signal disruption.
The more powerful G4 and G5 storms have not occurred during this cycle yet. While a G4 is still relatively common, with up to 100 hitting Earth each solar cycle, the most severe G5 class only arrives about four times per cycle. G5 storms can cause widespread power blackouts and even damage power transformers.
In such powerful storms, spacecraft operators might completely lose track of their satellites as the swelled-up atmosphere would affect satellite's trajectories. Experts worry that the environment near Earth, with fast-growing numbers of operational satellites as well as fragments of space debris, could become extremely vulnerable in a G5 storm. The loss of control over functioning satellites and the lack of awareness about the whereabouts of pieces of space debris could lead to collisions and trigger further growth of the amount of debris that clutters near-Earth space.
The current geomagnetically stormy weather is, however, expected to subside in the coming days, according to the U.K. space weather authority, the Met Office. A large sunspot, called AR3234, is, nevertheless, still facing our planet, and another is emerging in the sun's northeast, so some additional, mostly minor storms, could appear, the Met Office said.
Follow Tereza Pultarova on Twitter @TerezaPultarova. Follow us on Twitter @Spacedotcom and on Facebook.
Get the Space.com Newsletter
Breaking space news, the latest updates on rocket launches, skywatching events and more!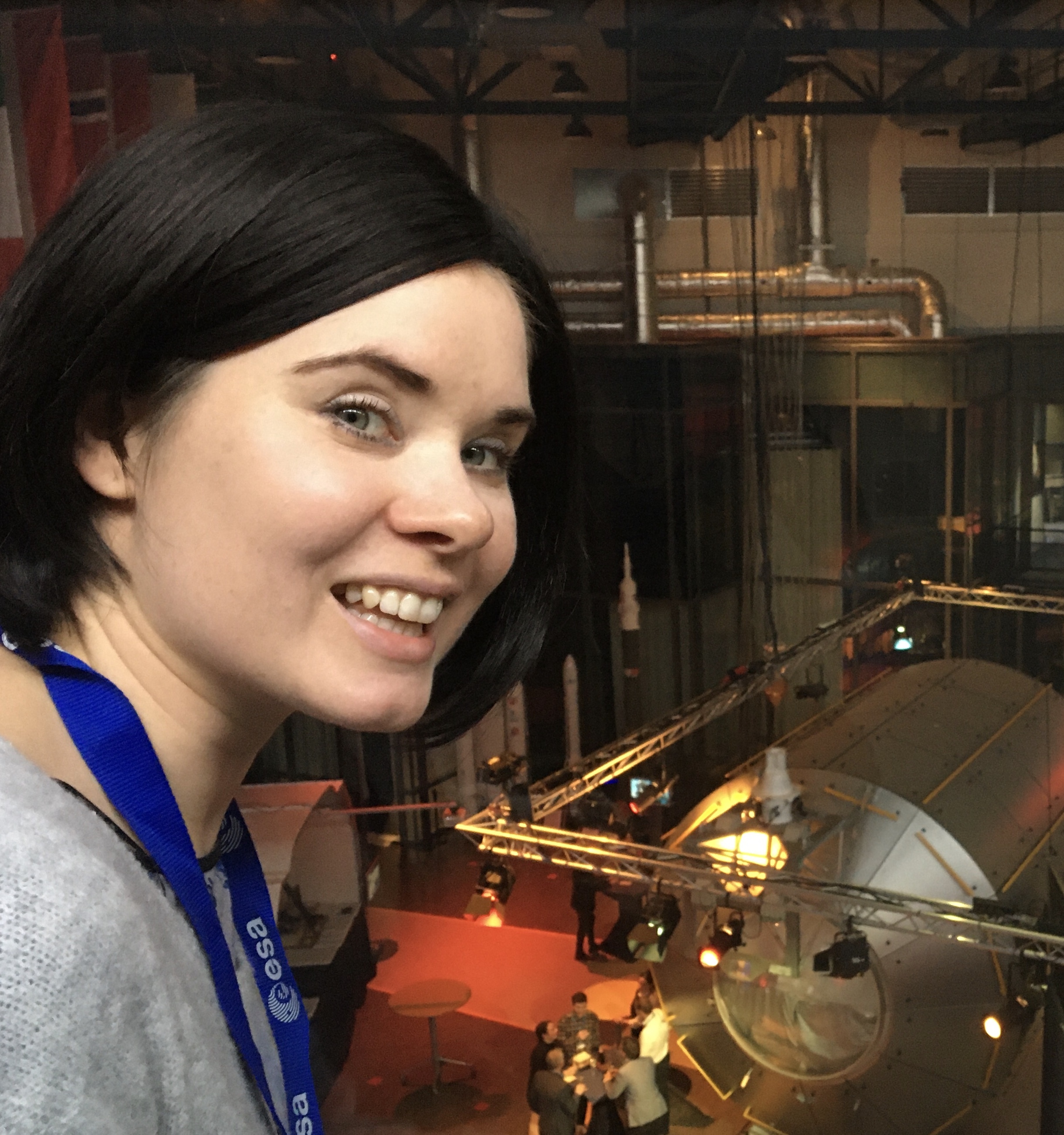 Tereza is a London-based science and technology journalist, aspiring fiction writer and amateur gymnast. Originally from Prague, the Czech Republic, she spent the first seven years of her career working as a reporter, script-writer and presenter for various TV programmes of the Czech Public Service Television. She later took a career break to pursue further education and added a Master's in Science from the International Space University, France, to her Bachelor's in Journalism and Master's in Cultural Anthropology from Prague's Charles University. She worked as a reporter at the Engineering and Technology magazine, freelanced for a range of publications including Live Science, Space.com, Professional Engineering, Via Satellite and Space News and served as a maternity cover science editor at the European Space Agency.
Its more to do with the downhole electronics that get their readings from sensor packages that use magnotometers on a tri axis to read the earth electromagnetic field to get a reading of what direction they are drilling in kind if like a compass. Only time GPS is used is to provide an exact reference point of the well head but that is done in the planning stages and not actively during the drilling process.

Reply