This was the hottest summer ever recorded on Earth
June through August 2023 were the hottest three months ever recorded, according to the World Meteorological Organization.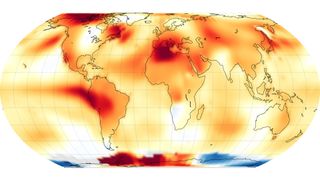 (Image credit: NASA)
Earth just had its hottest summer in recorded history, data released Wednesday (Sept. 6) by the World Meteorological Organization (WMO) reveals.
June to August 2023 were the hottest months ever and are yet another sign that climate change is happening.
Global sea surface temperatures broke new records each consecutive month, while Antarctic sea ice extent remained at a record low for the current time of year.
"Our planet has just endured a season of simmering — the hottest summer on record," U.N. secretary-general António Guterres said in a statement. "Climate breakdown has begun."
The summer was characterized by relentless heat waves around the world. In July, numerous countries — including the U.S., Mexico, Spain and China — experienced national heat records, with over 200 heat-related deaths reported in Mexico alone.
Related: Climate change hits Antarctica hard, sparking concerns about irreversible tipping points
Global sea-surface temperatures have been especially high over the past five months and remained at record-high levels throughout April, May, June and July 2023. In August 2023, the sea-surface temperature was 69.76 degrees Fahrenheit (20.98 degrees Celsius), surpassing the previous March 2016 heat record every single day that month.
"What we are observing, not only new extremes but the persistence of these record-breaking conditions and the impacts these have on both people and planet, are a clear consequence of the warming of the climate system," Carlo Buontempo, director of the Copernicus Climate Change Service, said in the statement.
According to the WMO data, August this year was the hottest on record "by a large margin" and the hottest month ever after July 2023. The month's combined land and ocean surface temperature was 2.7 F (1.5 C) higher than the 1850 to 1900 average.
"Scientists have long warned what our fossil fuel addiction will unleash," Guterres said. "Surging temperatures demand a surge in action. Leaders must turn up the heat now for climate solutions. We can still avoid the worst of climate chaos – and we don't have a moment to lose."
But in the short term, conditions could get worse as El Niño takes shape.
"It is worth noting that this is happening before we see the full warming impact of the El Niño event," WMO secretary-general Petteri Taalas said in statement.
El Niño is a weather pattern in which a belt of warm water sits off the Pacific coast of South America, which often leads to warmer global temperatures and extreme weather events. Heatwaves, fires and floods are likely to increase as El Niño conditions develop in the tropical Pacific for the first time in seven years. According to the WMO, there is a 90% chance that the ocean-warming event will continue throughout the second half of 2023.
Get the Space.com Newsletter
Breaking space news, the latest updates on rocket launches, skywatching events and more!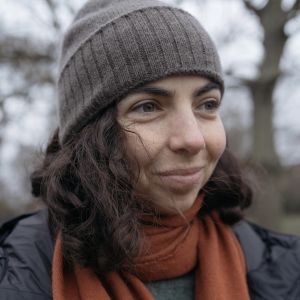 Aimee Gabay is an independent journalist based in London, U.K. Focusing on land rights, nature and climate change, her reporting has appeared in Al Jazeera, Mongabay and New Scientist.