The Celestron AstroMaster 130EQ is a powerful beginner telescope and is now 40% off for Amazon Prime Day, which ends tonight, July 12.
The 40% discount means you save $140, giving you the lowest price Amazon has offered on the telescope for years. You get more than just a quality telescope though, it comes with accessories like a full-height tripod, two eyepieces, a finderscope and fully-coated glass optics, for clear views of your targets. We'd also recommend checking out our guides for the best beginner telescopes and best budget telescopes for similar models.
We think there's a lot to like about Celestron's AstroMaster 130EQ, aside from the saving, as there's a good balance of price, ease-of-use and performance. Its more than handy light-gathering abilities are because of its 130mm aperture and 650mm focal length, making it ideal for Celestial viewing.
---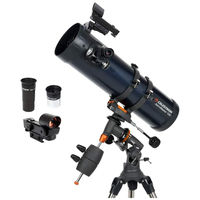 Celestron AstroMaster 130EQ was $349.95 now $209.30 at Amazon.
Save 40% on the Celestron AstroMaster 130EQ on Amazon Prime Day, a great scope for beginners that is still pretty powerful. You can easily see Saturn's rings, Jupiter's moons and a whole array of deep-space objects.
---
Though it's not without its limitations — the relatively low aperture size may restrict the level of detail achievable when observing faint objects. While this telescope is capable of decent planetary and lunar observations, it may not provide the highest-resolution views for serious enthusiasts or professional astronomers — but for beginners, we think this scope is a great start and will definitely see you through until you're ready to upgrade to a serious bit of kit.
It comes with 10mm and 20mm eyepieces, a full-height tripod, a StarPointer red dot finderscope and a free download of the Starry Night software.

Don't forget, if you want to make the most of Amazon Prime Day 2023, check out our Amazon Prime Day hub for a roundup of the best discounts and deals on telescopes, binoculars, cameras, star projectors, drones, lego and much more.
Key Specs: It has a large 130mm aperture and focal length of 650mm, plus focal ratio of f/5. The total kit weight is 17 lbs, so not totally unreasonable to take to dark sky sites. It features a German Equatorial Mount and a no-tool setup, making it easy to get going.
Consensus: The Celestron AstroMaster 130EQ is a popular entry-level reflector telescope designed for amateur astronomers and stargazers. While it does have its limitations, we think it's definitely worth buying if you're serious about getting into astronomy.
Buy if: You are serious about getting into astronomy and want a powerful scope to see a wide variety of celestial objects. This scope would also be good for astrophotography.
Don't buy if: You're more advanced and need something that packs more of a punch, or you want a GoTo.
Alternative models: For a scope with a quick setup, a GoTo and no collimation required, try the Celestron NexStar 4SE. It's more expensive, but you can't put a price on convenience. Alternatively, to take it back to basics with a simple beginner scope, try the Celestron AstroMaster 70AZ which, is also in the Prime Day sale.