Adam Savage on SpaceX's first astronaut launch, spacesuits and storytelling
Adam Savage has a spacesuit (actually, he has many) and is ready to travel.
But with the coronavirus still a concern, instead of attending SpaceX's launch of NASA's first astronauts to fly from the U.S. in nearly a decade, he will help bring the historic event into the homes of people across the country as part of "Space Launch Live: America Returns to Space," a Discovery and Science Channel live simulcast.
"Discovery had told me that if we weren't on lockdown, that there was a good possibility they might have been able to bring me to the launch, which would have been unbelievable. That's exactly the kind of experience I not only love to go experience, but I also love to go experience it with the mission to tell a story about what my experience was," said Savage, the editor-in-chief of Tested.com and former co-host of Discovery's "Mythbusters."
"So that will be what I am going to be doing here from the cave in order to get my enthusiasm on. It's very likely I will be putting on a spacesuit just in solidarity," he said from his workshop ("the cave") in San Francisco.
Related: SpaceX's historic Demo-2 Crew Dragon launch: Full coverage
NASA astronauts Bob Behnken and Doug Hurley are set to launch on board SpaceX's Crew Dragon spacecraft from NASA's Kennedy Space Center in Florida on the Demo-2 mission to the International Space Station. Liftoff of the SpaceX Falcon 9 rocket from Launch Complex 39A is slated for 4:33 p.m. EDT (2033 GMT) on May 27. Discovery's broadcast is scheduled to begin at 2 p.m. EDT.
Savage will be joined live on air by singer Katy Perry, NASA Administrator Jim Bridenstine and by Behnken's and Hurley's wives, who are also both astronauts, Karen Nyberg and Megan McArthur. An accompanying two-hour documentary, "NASA & SpaceX: Journey to the Future," featuring an interview with SpaceX CEO Elon Musk, debuted Monday (May 25) at 9 p.m. ET/PT on Science Channel and will air Tuesday at 10 p.m. on Discovery.
collectSPACE.com spoke with Savage about Musk, the launch, the equipment SpaceX designed for the mission and the return of a NASA icon.
collectSPACE (cS): Your mention that you might don one of your replicas on air provides a great segue into the topic of SpaceX's new spacesuit —
Adam Savage: I would love for the public to have a little more clarity about what we mean when we say "spacesuit," because we mean several different things. What SpaceX has rendered, I don't think it's a functioning vacuum-of-space suit that they have. I could be wrong.
cS: No, you're correct. It is only a pressure suit in case of a loss of atmosphere inside the Crew Dragon spacecraft.
Savage: Yeah, it's like the old Mercury astronauts' suits, it's an "Oh sh*t! suit" is what I think about, which is a completely necessary thing to be wearing. You want something to save your life if the cabin depressurizes and that's what it is.
cS: So what do you think of its design? It is very different from past pressure suits, lacking any exposed connectors, zippers or other hardware.
Savage: Elon has his pluses and minuses, but he really does know how to create a story that is compelling. That is maybe his strongest skill.
With these suits, he's giving us a vision of the future. I appreciate that. It's a very stark contrast sometimes to what seems like the incremental changes that NASA makes, even though I know, because I know the engineers, how important the changes they are making to their suits are. But it's great when we have this public-private partnership and you get to see brand new ideas on the field.
cS: So where does SpaceX's suit fit within your ranking of space garments? Is it the best you have ever seen? The worst?
Savage: Right now, I don't feel either.
Someone just asked me to bid on making one of SpaceX's suits, so I did spend a couple of weeks diving into its details and it's really beautiful. There are some gorgeous details within it. And I guarantee you that if I get this job to replicate it, when it's replicated, I will fall in love with it. That's what happens. You get close with something and you build a relationship with it.
I don't think it's the best suit I've ever seen. It's not the worst, but that to me isn't even that important. It is not about the quality of it. It is about the fact that it is a brand new vision and something that we haven't seen.
cS: Elon and SpaceX have extended that vision to their new spacecraft, too. The company has said from the start that the Crew Dragon was intended to be a 21st century vehicle, and they have, for the most part, stayed away from integrating systems and hardware from previous or other spacecraft. So from your experience as a maker and designer, what do you think are the tradeoffs between adapting an existing solution versus achieving the same outcome but with a new approach?
Savage: That is a really good question, and please understand that all of my knowledge comes second hand from reading material and from knowing and talking to engineers. The legacy institutional knowledge that an organization like NASA or JPL [Jet Propulsion Laboratory] has is absolutely invaluable. In fact, the lack of institutional memory is one of the reasons new spacesuits cost NASA so much because budget cuts required them to cut some of the people making the spacesuits or they've died, and NASA has had to basically, in many ways, start again from scratch.
You can have the most precise joints in the world for a neck ring, for example, but to make that action smooth, it is all about the machinist. It's about the craftspeople putting the stuff together. And when you lose that, that craft knowledge, you lose something really valuable.
But Elon, SpaceX and the other private space companies, they can go cull the engineering expertise that they need and they can draw a brand new slate, they can create something. They have a tabula rasa.
I love the Dragon, too, because it feels to me like it stepped right out of "2001," out of the movie. There's something about it that feels exactly right back to a late 60's model of a future in which we colonize space.
cS: Which brings up something that seems to separate SpaceX, and in particular Elon as the company's chief engineer, with regards to the importance he places on aesthetics. From an outside perspective, it seemed to be as important to Elon that the spacesuits and spacecraft looked good as it was that they worked.
What do you make of an approach, where aesthetics may sometimes take a place over function?
Savage: That's an interesting conundrum right there. My favorite story about space, about NASA, is the development of the A7L [Apollo spacesuit] — the fact that the NASA engineers didn't want a soft suit that was bespoke to every astronaut that had to wear one. They wanted a one size fits all. They wanted an engineering solution, but human bodies are too weird and squishy. And it took Playtex forming ILC Dover for NASA to finally obtain the suit that they needed for the technology they were developing.
I love that. I love the idea that the function dictated the final form. One thing I didn't know when I was researching spacesuits is that there were plenty of spacesuits that worked really well in terms of mobility and comfort of use, but they were too big to fit into the ships. And that's one of the key reasons that the A7L became the one that we took to the moon.
Now, when it comes to aesthetics, like I said, Elon is brilliant at storytelling and the story of where we are going is a really important story to tell the public. The virtuous cycle of books, like "The Right Stuff," and movies like "Star Trek" and "Star Wars," and the way in which a public awareness of this raises the budgets for NASA and JPL to go explore space, that's a fantastic sight line. It is built on storytelling. So Elon is participating in the grand arc of cultural storytelling there.
I think it can be potentially problematic to have aesthetics dictate function with something as difficult as a spacesuit, but that is because I have no idea how it is going on for them on the inside. I have never been able to meet or talk to anyone on the [SpaceX] suit development side. So I don't know if that's actually an issue for them or not.
But as an engineer, as a citizen engineer, and having read extensively about how complicated and difficult it is, a spacesuit is one of the most difficult human engineering challenges. I am super excited about the fact that there is more than one private company throwing their hat into the ring to make spacesuits. I think that is a net good for NASA and for people in general. But at a certain point, with something that complex, you got to let the function take over the form.
cS: Speaking of form, this mission also marks the return to flight of NASA's retro logotype, the "worm." Are you a fan?
Savage: I love the worm. But look, I'm in for the whole thing. I love NASA. So I love everything that NASA produces. I love the manuals they produce for the storage bag for feces.
NASA is to me a ritualized failure analysis organization. It's such a beautiful enterprise, what they do and the ways in which they ignore their own intuition and authority to the better, right? Like you have to, you have to take each problem on its own merits, and knowing a few astronauts as I do, they are among some of my favorite people in the world. The insight into an organization like that — it just thrills me.
So I love the worm. I love the meatball. In fact, I was at Johnson Space Center in Houston a couple of years ago and saw some guys working on a rover, on the independent steering, six-wheel rover that they've got over there. And they had a version of the worm which extended on the baseline front and back and it kind of reminded them of an EKG readout. So they called it the "heartbeat." And personally, that's my favorite NASA logo, the heartbeat. It's not an official logo, it's just something that some part of Johnson adopted for their own little ragtag group.
cS: What a wonderful way to think of the worm, as the "heartbeat" of NASA!
Before you go, and maybe along some of the same lines, what would you say to someone, maybe some of those who will tune in to watch you and the SpaceX launch on Discovery, about why we are still sending astronauts into space at a time when the nation — and everyone left on the ground — are struggling with a challenge such as the current pandemic.
Savage: People are asking important questions about whether we should be expending the energy right now to go to space, to get American astronauts up on an American vehicle during this COVID-19 lockdown during this pandemic. And those are valid questions to ask.
I'm a storyteller and to me stories aren't just something that sit on top of culture. They are culture. And when we, as a culture, experience a story of human ingenuity and bravery and stick-to-itiveness and cooperation and collaboration and exploration, when we see those stories and we see how remarkable human beings are and can be when they work together, that is a net good for humanity.
Those are the stories we need right now. So I think that this is an important story and I think that it's really important to share now. It's a great moment and I'm really excited to be part of it.
Follow collectSPACE.com on Facebook and on Twitter at @collectSPACE. Copyright 2020 collectSPACE.com. All rights reserved.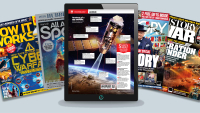 Get the Space.com Newsletter
Breaking space news, the latest updates on rocket launches, skywatching events and more!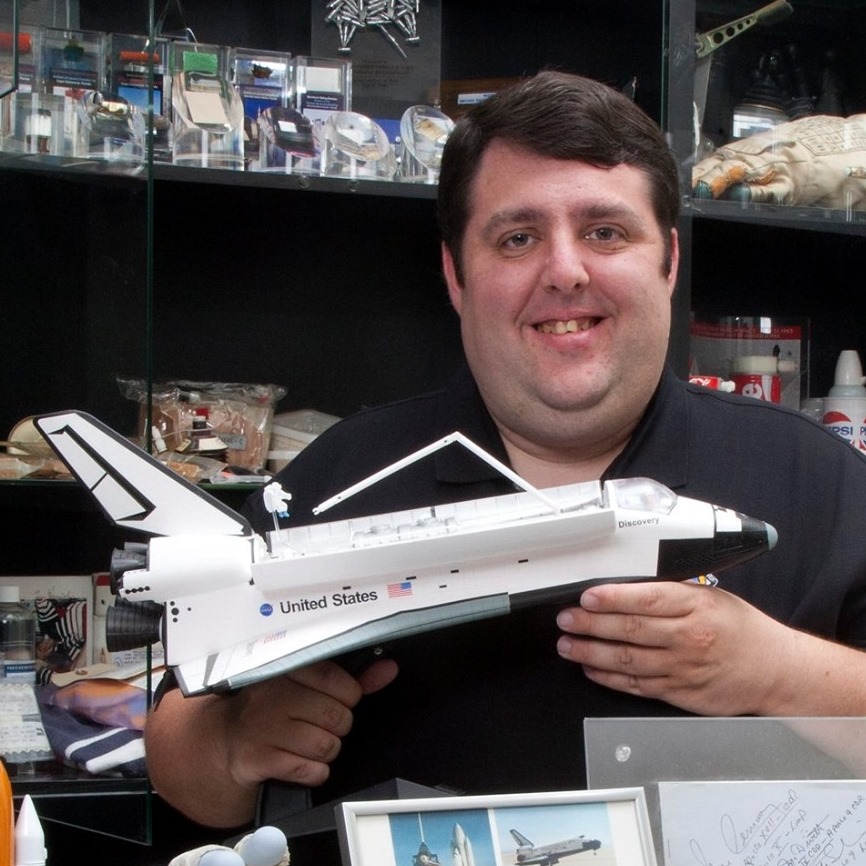 collectSPACE.com Editor, Space.com Contributor
Robert Pearlman is a space historian, journalist and the founder and editor of collectSPACE.com, an online publication and community devoted to space history with a particular focus on how and where space exploration intersects with pop culture. Pearlman is also a contributing writer for Space.com and co-author of "Space Stations: The Art, Science, and Reality of Working in Space" published by Smithsonian Books in 2018. He previously developed online content for the National Space Society and Apollo 11 moonwalker Buzz Aldrin, helped establish the space tourism company Space Adventures and currently serves on the History Committee of the American Astronautical Society, the advisory committee for The Mars Generation and leadership board of For All Moonkind. In 2009, he was inducted into the U.S. Space Camp Hall of Fame in Huntsville, Alabama. In 2021, he was honored by the American Astronautical Society with the Ordway Award for Sustained Excellence in Spaceflight History.