USPS Ceremony Dedicates 'Amazing' Sally Ride Forever Postage Stamp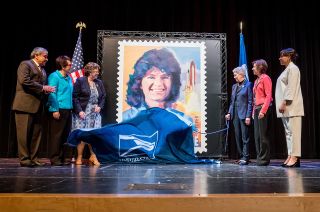 (Image credit: Daniel Afzal/USPS)
SAN DIEGO — Maybe it was the spotlight, or perhaps it was the skill of the artist who had created her likeness, but Sally Ride seemed to glow as the curtain fell, revealing the larger than life art for the U.S. postage stamp depicting the late astronaut.
"That is an amazing stamp! It captures Sally's warm smile, and that mischievous little twinkle in her eye. It's drop dead gorgeous," exclaimed Tam O'Shaughnessy, Ride's life and business partner, at the ceremony held Wednesday (May 23) to dedicate the United States Postal Service's (USPS) new commemorative honoring the first American woman to fly in space.
The Forever-denomination stamp, which is now on sale at post offices across the United States, features a portrait of Ride as she appeared before her launch 35 years ago, set against the backdrop of a space shuttle lifting off to space. [Sally Ride: First American Woman in Space (Pictures)]
"I wish Paul Salmon was here, the artist," said Billie Jean King, a tennis legend and Ride's friend. "Would someone please thank him. He did a great job."
The public dedication ceremony was held at the University of California San Diego, where Ride had been a professor of physics and where her company, Sally Ride Science, is now based. Friends, family members (including her mother Joyce and sister Bear), former colleagues and Ride's fans filled a ballroom at the school's Price Center for the event.
"The new stamp celebrates the lifetime contributions of the first American woman to soar into space — a woman who soared into so many of our hearts, here on our campus at UC San Diego and all over the world," chancellor Pradeep Khosla said.
"She was an astronaut, she was a scientist, she was a writer, she was a teacher and she was a mentor. She was just about everything you could ever imagine somebody to be," he said.
Ride is remembered most, though, for having gone where no American woman had gone before.
"The date was June 18, 1983. The place, Kennedy Space Center. The destination, 'space, the final frontier' — I have always wanted to say that," said Kristin Seaver, the USPS chief information officer and executive vice president.
Though Ride was not the world's first woman in space, her flight came 20 years after Soviet-era cosmonaut Valentina Tereshkova set that record in 1963, she was widely hailed as a trailblazer.
"Our nation and the world celebrated," said King. "We had a new, exciting role model — a 'shero.' As Sally explained, 'You can't be what you can't see.'"
After flying on the space shuttle for a second time in 1984, Ride became a prominent advocate for science education.
"The Postal Service has been a direct beneficiary of Sally Ride's push to get more youth, particularly girls, interested in careers in science and technology. I know, because I am one of those she influenced," said Seaver.
NASA benefited from Ride's leadership as well.
"We had a gathering of woman astronauts at the time of Sally's memorial tree dedication at Johnson Space Center. And as we went around the table, just about every single woman in the astronaut office, current or former, had been personally affected by Sally," said astronaut Ellen Ochoa, the first Hispanic woman in space and outgoing director of Johnson Space Center. "She did such a superb job during her mission that it really wasn't a question after if a woman could do the job."
"It made it easier for the rest of the women in her class to get assigned to a flight and for all of the women who were subsequently selected for the astronaut program," Ochoa said.
It was for that reason and more that Ochoa and the others who gathered on Wednesday said that they were thrilled to take part in the dedication.
"I think it is very fitting that Sally is on a stamp. I wish she was here to see it," said O'Shaughnessy. "She would just be beyond happy."
Watch video highlights from the USPS Sally Ride Forever stamp dedication ceremony at collectSPACE.
Follow collectSPACE.com on Facebook and on Twitter at @collectSPACE. Copyright 2018 collectSPACE.com. All rights reserved.
Get the Space.com Newsletter
Breaking space news, the latest updates on rocket launches, skywatching events and more!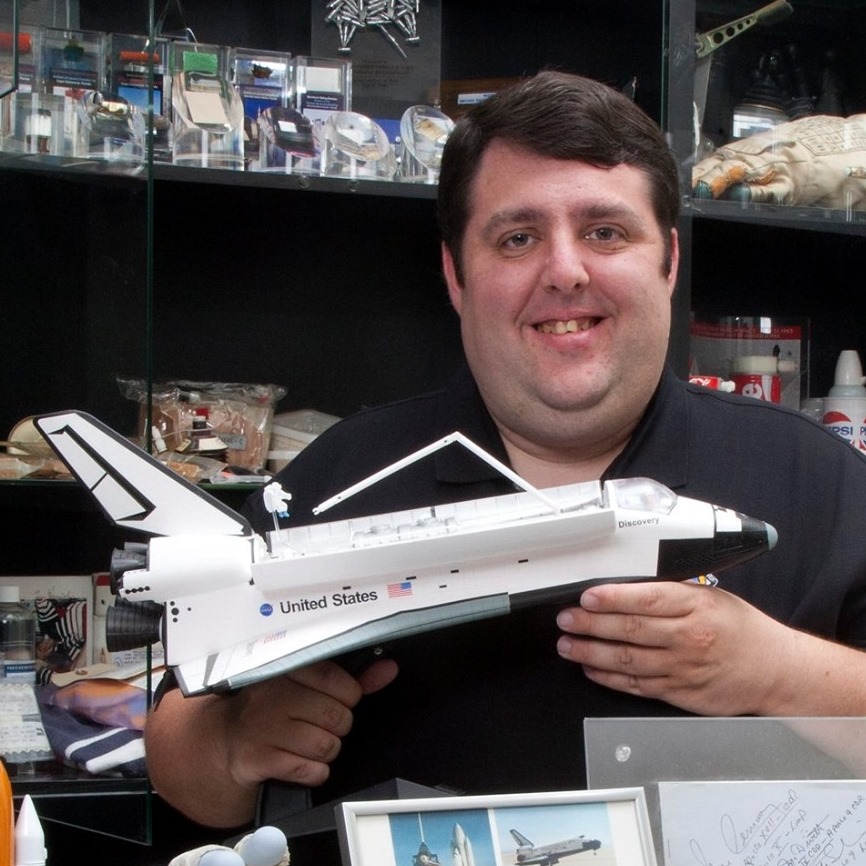 collectSPACE.com Editor, Space.com Contributor
Robert Pearlman is a space historian, journalist and the founder and editor of collectSPACE.com, an online publication and community devoted to space history with a particular focus on how and where space exploration intersects with pop culture. Pearlman is also a contributing writer for Space.com and co-author of "Space Stations: The Art, Science, and Reality of Working in Space" published by Smithsonian Books in 2018. He previously developed online content for the National Space Society and Apollo 11 moonwalker Buzz Aldrin, helped establish the space tourism company Space Adventures and currently serves on the History Committee of the American Astronautical Society, the advisory committee for The Mars Generation and leadership board of For All Moonkind. In 2009, he was inducted into the U.S. Space Camp Hall of Fame in Huntsville, Alabama. In 2021, he was honored by the American Astronautical Society with the Ordway Award for Sustained Excellence in Spaceflight History.