First Retailer in Orbit: Lowe's and Made In Space Send 3D Printer to Station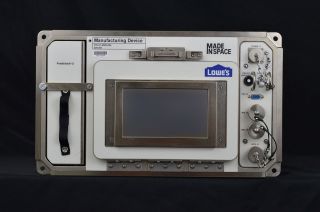 (Image credit: Lowe's)
Outer space is about to get its first pop-up retail shop.
Lowe's, the home-improvement store, has teamed up with Made In Space, the company behind the world's first zero-G 3D printer, to launch the first commercial manufacturing facility on the International Space Station.
The Additive Manufacturing Facility (AMF), as it is called, is an advanced, permanent 3D printer that will be available for use not only by NASA and its station partners, but also by researchers, educational organizations and commercial customers.
"Whether you have a home in Topeka, Kansas, or your home is the International Space Station, you have a lot of the same problems and a lot of the same needs," Kyle Nel, executive director of Lowe's Innovation Labs, explained in an interview with collectSPACE. "When something breaks, you have to fix it — the problem is just more acute on the space station than it probably is back home on Earth." [3D Printing: 10 Ways It Could Transform Space Travel]
Currently packed aboard Orbital ATK's OA-6 Cygnus cargo spacecraft, the S.S. Rick Husband, the AMF is scheduled to launch today (March 22) at 11:05 p.m. EDT (0305 GMT March 23) atop a United Launch Alliance (ULA) Atlas V rocket from Launch Complex 41 at the Cape Canaveral Air Force Station in Florida. Pending an on-time liftoff, the commercial freighter will rendezvous with and be berthed at the space station on Saturday.
Once installed, the AMF will enable parts to be delivered to orbit at the press of a few buttons.
"We like to think people now have two options," said Matt Napoli, vice president of in-space operations for the AMF at Made In Space. "They can send their hardware on their rocket to the space station, or they can just send a visual file and we will create your part on board the space station, [which is] a lot simpler a process."
From prototype to production
Made In Space launched the world's first zero-G 3D printer to the space station two years ago.
"We partnered with [NASA's] Marshall Space Flight Center to build and operate the first 3D printer," said Napoli. "That system was an experiment to demonstrate 3D printing in microgravity and the space environment."
Operational from November 2014 through January 2015, the zero-G 3D printer produced 14 different designs with a total of 21 parts, including a replacement faceplate for the printer's own extruder printheadand a ratcheting socket wrench. The latter was the first tool to be designed on the ground, emailed to space and then printed on orbit.
The AMF builds upon that first prototype unit. The facility is larger, can scan and geometrically verify the parts that it produces, and, unlike the original device, can use more than one type of filament.
"The Additive Manufacturing Facility is currently a polymer 3D printer. We have three different polymers, plastics, that we can print with," said Napoli. "Our system [though] is modular and upgradable. In the future we can add other materials as needed."
The initial set of plastics include ABS, the same material that Lego bricks are made of; a high-density polyethylene, such as the type found in home food containers; and an aerospace-grade polymer that can survive exposure to the vacuum of space.
In addition to its physical improvements, the AMF was also made easier to use. It is primarily run from the ground.
"It is actually very simple for the crew to use," Napoli said. "We have onboard cameras and sensors to provide our team with real-time telemetry. When the print is complete, we give notice to the crew, and they float over, open the door, stick their hand in, remove a part and then close the door. Nominal operations are that simple for the crew."
Above the Earth, for the Earth
The first part to be printed with the Additive Manufacturing Facility is being held secret, but Made In Space has said it will be a Lowe's-branded optimized tool.
"It's going to be a real tool that people on Earth would also use," said Nel.
But the partnership between Lowe's and Made In Space is about more than marketing the home-improvement store's brand or providing tools for astronauts to use on the space station.
"We are the first retailer in space, and we are really excited about that, but it [also] brings together two parties that can be more than they are individually," said Nel. "Made In Space is incredible at additive manufacturing and how it is applied in space, but what they don't have experience in is retail.
"We know a lot about retail and how people interact with things," he said.
For Lowe's part, Nel said he sees this launch as the manifestation of a larger, long-term partnership.
"Additive manufacturing could pretty substantially change not only the way home improvement is done, but [also] the way people interact with stuff. In a world where you can design things and then have them printed out, it changes how you interact with things — and we sell things, so we want to be part of that," he said.
"3D printing is something that is going to come of age at some point, and some of the persistant problems — reliability, it being difficult to use, all those things — Made In Space has solved. To have it work in space perpetually with an astronaut, you just have to solve a lot of problems that you do not have to solve on Earth," Nel said.
"So, we can learn from that extreme environment, just as humans have been doing since we began exploring space, and then bring that back to the Earth," he said.
Watch Lowe's and Made In Space's video about the Additive Manufacturing Facility at collectSPACE.
Follow collectSPACE.com on Facebook and on Twitter at @collectSPACE. Copyright 2016 collectSPACE.com. All rights reserved.
Get the Space.com Newsletter
Breaking space news, the latest updates on rocket launches, skywatching events and more!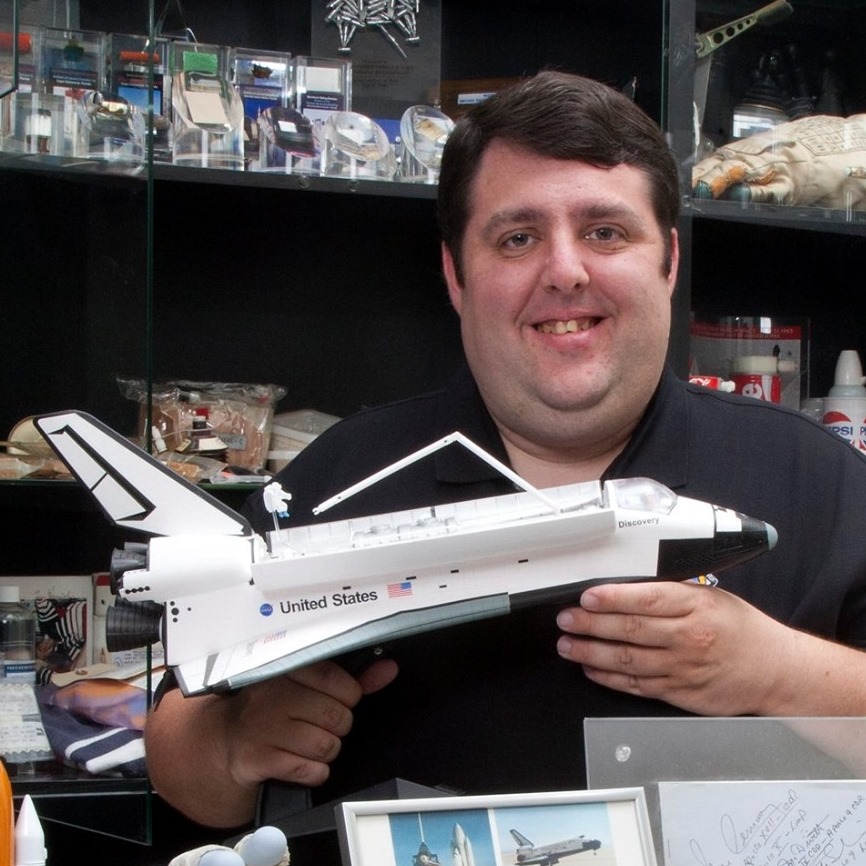 collectSPACE.com Editor, Space.com Contributor
Robert Pearlman is a space historian, journalist and the founder and editor of collectSPACE.com, an online publication and community devoted to space history with a particular focus on how and where space exploration intersects with pop culture. Pearlman is also a contributing writer for Space.com and co-author of "Space Stations: The Art, Science, and Reality of Working in Space" published by Smithsonian Books in 2018. He previously developed online content for the National Space Society and Apollo 11 moonwalker Buzz Aldrin, helped establish the space tourism company Space Adventures and currently serves on the History Committee of the American Astronautical Society, the advisory committee for The Mars Generation and leadership board of For All Moonkind. In 2009, he was inducted into the U.S. Space Camp Hall of Fame in Huntsville, Alabama. In 2021, he was honored by the American Astronautical Society with the Ordway Award for Sustained Excellence in Spaceflight History.