Deke Slayton to Fly, Again: Orbital ATK Names 2nd Ship for Astronaut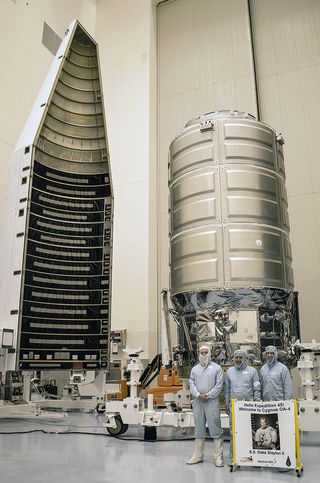 (Image credit: collectSPACE.com/Talia Landman )
Deke Slayton waited 16 years to fly in space after he was selected as one of the original seven Mercury astronauts in 1959.
Grounded for more than a decade as the result of a heart condition, when Slayton finally did fly, he was the "world's oldest space rookie," a distinction the then-President of the United States, Gerald Ford, highlighted when he asked the 51-year-old pilot if he had any recommendations for those who would like to follow in his footsteps.
"The best advice I can give," Slayton radioed from orbit in July 1975, "is decide what you want to do, and then never give up until you've done it."
Forty years later, Slayton's advice, and name, are living on in a commercial spaceflight company's continuing efforts to supply the International Space Station. For a second time, Orbital ATK has christened its next station-bound Cygnus freighter after Slayton. [Deke Slayton: One of NASA's 1st Astronauts]
The company's first "SpaceShip [S.S.] Deke Slayton" was lost in a launch failure in October 2014.
"In keeping with our commitment to honor his memory, the OA-4 Cygnus is named the 'S.S. Deke Slayton II,'" Orbital ATK officials announced on Friday (Nov. 13).
Another try
The first S.S. Deke Slayton was just 15 seconds into flight when the Antares rocket it was launching atop exploded, raining down debris on the launch pad at NASA's Wallops Flight Research Center in Virginia. An investigation found the failure began with an engine exploding but wasn't able to pinpoint a specific root cause.
Orbital ATK plans to resume flights from Wallops using its redesigned Antares next year but until then, it is flying its next Cygnus, the S.S. Deke Slayton II, on a United Launch Alliance Atlas V rocket from the Cape Canaveral Air Force Station in Florida. Liftoff of the OA-4 mission is targeted for Dec. 3.
"We are going to give it another try and this time we are confident we are going to do well," said Dan Tani, a former astronaut and Orbital ATK's senior director of mission and cargo operations.
If successful, the Slayton II will deliver approximately 7,700 lbs. (3,500 kg) of supplies and science experiments for the space station's Expedition 45/46 crew. The mission will mark the first use of Orbital ATK's UltraFlex arrays and its longer, enhanced Cygnus pressurized module, which can carry a greater volume of cargo than possible on previous flights.
A second flight
Orbital ATK's decision to christen the OA-4 Cygnus as the Deke Slayton, again, continues the tradition the company has for naming its spacecraft after astronauts who played a role in the company's current activities. Previous ships have been named after the late G. David Low, C. Gordon Fullerton and Janice Voss, all NASA astronauts who either worked for Orbital or helped support its missions.
Orbital ATK's executives selected Slayton as a namesake for the role that he played as a crew member on the United States' first joint spaceflight with Russia, the Apollo-Soyuz Test Project in 1975, as well as the part he had in opening spaceflight to commercial operations.
"He was the president of the first real commercial rocket company, called Space Services, Inc., and they launched the first privately-funded rocket, the Conestoga, in 1982," Tani said. "So from a commercial space point of view, and from an international cooperation point of view, and just his stature, we thought it very appropriate to name this vehicle after Deke."
Slayton, who died in 1993, is survived by a son and niece, who provided Orbital ATK with a few small mementos to fly on the original S.S. Deke Slayton.
"They did not give us anything to fly on this flight, but they are aware of it," Tani said. "We reached out and let them know we wanted to honor him."
Talia Landman contributed to this article from the Kennedy Space Center in Florida.
See the SS Deke Slayton II's nameplate aboard Orbital ATK's Cygnus at collectSPACE.
Follow collectSPACE.com on Facebook and on Twitter at @collectSPACE. Copyright 2015 collectSPACE.com. All rights reserved.
Get the Space.com Newsletter
Breaking space news, the latest updates on rocket launches, skywatching events and more!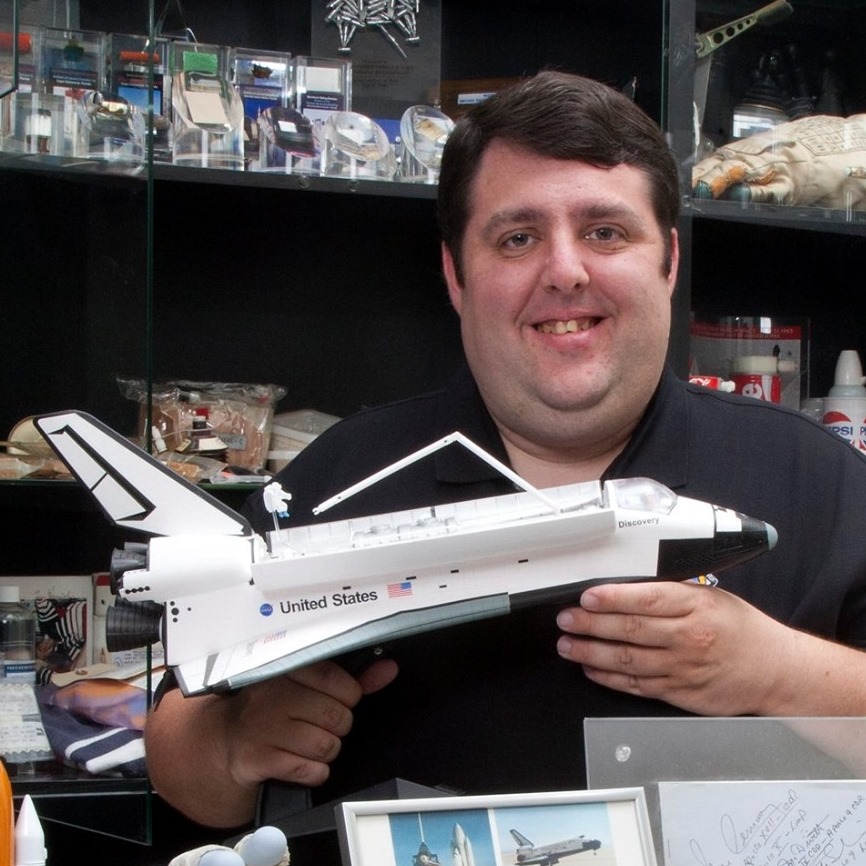 collectSPACE.com Editor, Space.com Contributor
Robert Pearlman is a space historian, journalist and the founder and editor of collectSPACE.com, an online publication and community devoted to space history with a particular focus on how and where space exploration intersects with pop culture. Pearlman is also a contributing writer for Space.com and co-author of "Space Stations: The Art, Science, and Reality of Working in Space" published by Smithsonian Books in 2018. He previously developed online content for the National Space Society and Apollo 11 moonwalker Buzz Aldrin, helped establish the space tourism company Space Adventures and currently serves on the History Committee of the American Astronautical Society, the advisory committee for The Mars Generation and leadership board of For All Moonkind. In 2009, he was inducted into the U.S. Space Camp Hall of Fame in Huntsville, Alabama. In 2021, he was honored by the American Astronautical Society with the Ordway Award for Sustained Excellence in Spaceflight History.