India Launches Third Satellite for Regional Navigation Constellation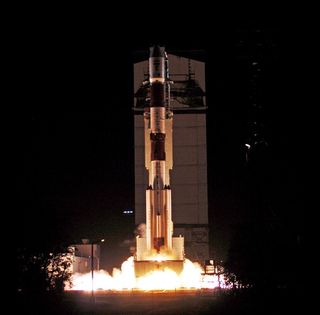 (Image credit: ISRO)
BANGALORE, India — India on Oct. 16 successfully launched the third of seven planned satellites for its Indian Regional Navigation Satellite System (IRNSS), which is expected to be fully operational in 2015.
In a nationally televised launch, India's Polar Satellite Launch Vehicle lifted off at 1:32 a.m. local time from the Satish Dhawan Space Centre in Sriharikota carrying the 1,425 kilogram-IRNSS-1C satellite. The satellite was injected into an elliptical orbit with a perigee of 282 kilometers and an apogee of 20,670 kilometers as intended.
In the coming days, IRNSS-1C will be raised to its assigned geostationary-orbit slot at 83 degrees east longitude over the Indian Ocean, the Indian Space Research Organisation announced.
When fully deployed, the IRNSS constellation will feature five virtually identical satellites: three in geostationary orbit, meaning fixed above the equator; two in geosynchronous orbit inclined at 29 degrees; and two spares. The first satellite in the constellation, IRNSS-1A, was launched July 2, 2013, and IRNSS-1B followed April 4, 2014.
ISRO said the system is designed to provide position-location information with an accuracy of better than 20 meters to users in India as well as the region extending as many as 1,500 kilometers from its boundary. Two types of services are available — a standard positioning services open to all users, and a restricted service with encrypted signals in the L5 (1176.45 megahertz) and S (2492 megahertz) bands for authorized users. A rubidium atomic clock and corner cube retro reflectors for laser ranging are part of the payload.
Email K.S. Jayaraman at killugudi@hotmail.com. This story was provided by SpaceNews, dedicated to covering all aspects of the space industry
Get the Space.com Newsletter
Breaking space news, the latest updates on rocket launches, skywatching events and more!
Dr. Killugudi S. Jayaraman holds a PhD in nuclear physics from the University of Maryland and a master's degree in journalism from the Medill School of Journalism at Northwestern University. According to the Biotech Times, Dr. Jayaraman played a critical role in Indian science journalism, placing Indian science on a global platform. He was the first Science Editor of the Press Trust of India (PTI), editor of Nature India and Science Editor with IANS. His work can be found in many Indian and international publications.