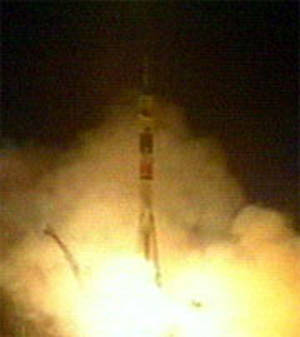 Three astronauts bound for the International Space Station (ISS) are circling the Earth inside a Russian space capsule after successfully launching into orbit atop a Soyuz rocket.
Tucked inside their Soyuz TMA-6 spacecraft, ISS Expedition 11 commander Sergei Krikalev, flight engineer John Phillips and Italian astronaut Roberto Vittori, have begun a two-day journey that will ultimately ferry them to the space station.
"No problems with the launch," Krikalev told flight controllers as his spacecraft rose up from its launch pad at Baikonur Cosmodrome in Kazakhstan.
Liftoff occurred on time at 8:46 p.m. EDT (0046 April 15 GMT), though it was 6:46 a.m. Local Time at Baikonur. Vittori and the Expedition 11 crew launched from the same launch pad that saw Russia's first manned space shot - the successful and historic spaceflight of Yuri Gagarin - that began the human space age on April 12, 1961.
Vittori and the Expedition 11 crew are due to arrive at the ISS on April 16 at about 10:10 p.m. EDT (0210 April 17 GMT), then open the hatches separating their Soyuz capsule and the station about three hours later.
ISS crew change
Krikalev and Phillips will relieve the space station's current caretakers, Expedition 10 commander Leroy Chiao and flight engineer Salizhan Sharipov, who have been living aboard the orbital outpost since October 2004.
Vittori, a visiting astronaut representing the European Space Agency (ESA), will conduct eight days of science experiments while the Expedition 11 and Expedition 10 crews transfer ISS control.
All three men are spaceflight veterans though today's launch marked the beginning of Krikalev's sixth launch, the most amassed by any cosmonaut. By the end of Expedition 11, he will have spent about 800 days living in space and set a new all-time record.
But before that Krikalev can commemorate his new spaceflight record, Phillips celebrated his own milestone.
The NASA astronaut celebrated his 54th birthday just before liftoff, receiving birthday wishes from his wife Laura and a handmade sign that said 'Happy Birthday Dad.' He has two children.
"We wish you a safe flight," former cosmonaut Valentina Tereshkova, the first woman in space, told Vittori and the Expedition 11 crew during prelaunch activities.
"Have a good time and take good care of the space station," said NASA's acting administrator Fred Gregory before launch.
Preparing for ISS assembly, shuttle visits
The launch of the Expedition 11 crew marks the beginning of a mission that, NASA officials hope, will see the visit of two space shuttles to the ISS.
After taking control the station from the Expedition 10 crew, Krikalev and Phillips will have just a few weeks to prepare for the arrival of the Discovery orbiter and NASA's STS-114 mission, the agency's first shuttle flight since the Columbia tragedy.
Just as Russian flight engineers began loading fuel into Expedition 11's Soyuz rocket, their shuttle counterparts at NASA's Kennedy Space Center in Cape Canaveral, Florida completed a fuel loading test of Discovery's redesigned external tank. Discovery is set to launch no earlier than May 15.
"There's something truly aligned about our two space programs," said Bill Gerstenmaier, NASA ISS program manager, after watching the Expedition 11 crew rocket into space. "We're in a great position to begin with return to flight of the shuttle and return to assembly of the space station."
During their 180-day spaceflight, Krikalev and Phillips will also perform two spacewalks to support the ISS, receive two cargo delivers aboard unmanned Russian supply ships and host the crew of NASA's STS-121 crew aboard Atlantis - the agency's second return to flight shuttle mission - when it arrives sometime in July.
They also hope to see the arrival of a third ISS crewmember, something the space station has gone without since NASA grounded its shuttle fleet after the loss of Columbia. Two-person crews have kept the ISS in working order until renewed shuttle flights could once again begin delivering the supplies needed to support a larger crew.
"The maintenance work required when you have three people on board is basically the same as when you have two people on board, and you've got one whole extra person to do the scientific work," Phillips said in prelaunch NASA interview. "I think of it as kind of symbolic, it gets us back on the road to recovery."
Complete Coverage: ISS Expedition 11