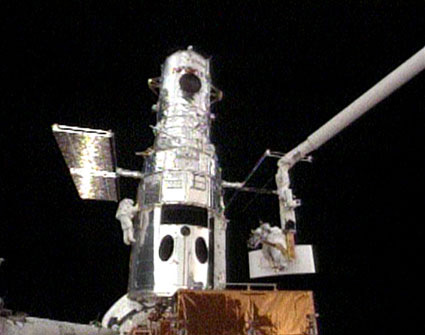 This story was updated at 5:15 p.m. EDT.
HOUSTON - Atlantis astronauts gave the ailing Hubble Space Telescope a deeper view into the universe Thursday in the form of a new camera eye during the first of five grueling spacewalks to fix the iconic observatory.
Spacewalkers John Grunsfeld and Andrew Feustel floated outside their shuttle to begin more than seven hours of work to boost the 19-year-old Hubble?s vision and fix a key computer unit that beams images to Earth. Not since 2002 had astronauts touched the space telescope, which had some stuck bolts and other surprises waiting for its repairmen.
?We got to Hubble and gave Hubble a hug,? said Grunsfeld, who led the spacewalk and is making his third trip to the telescope. ?And in traditional Hubble fashion, Hubble threw us a few curves.?
The spacewalk began late and then stalled as astronauts tackled stubborn bolts on Hubble?s old workhorse imager - the Wide Field Planetary Camera 2 - which they replaced with a vastly improved one. The old camera was installed in 1993 and is responsible for some of Hubble's most famous images, but it refused to budge when the spacewalkers tried to unbolt it.
After putting in some extra elbow grease, Feustel freed the stuck camera to the relief of his crewmates and Mission Control.
?I think I got it,? Feustel said. ?Woohoo! It?s moving out!?
The old camera will be returned to Earth aboard Atlantis and eventually displayed at the Smithsonian Institute?s National Air and Space Museum, Hubble scientists said.
?It?s been in there 16 years, Drew,? Grunsfeld said.
?It didn?t want to come out,? Feustel replied.
The seven astronauts aboard Atlantis are flying an 11-day mission that is NASA?s fifth and final service call on the Hubble Space Telescope. Tomorrow, a different pair of spacewalkers will replace Hubble?s aging gyroscopes and a set of old batteries in order to extend the space telescope?s lifetime through at least 2014. In all, Atlantis astronauts will perform five spacewalks in as many days.
Hubble?s new camera eye
Grunsfeld and Feustel replaced Hubble?s old imager with the Wide Field Camera 3, a new $132 million instrument expected to probe deeper into the evolution of galaxies and the shed new light on the mysteries of dark matter and dark energy. It is designed to see back to about 500 million years after the birth of the universe. The universe is 13.7 billion years old.
?This is our highest priority science instrument,? said Jon Morse, NASA?s astrophysics division chief, in a Wednesday briefing here at the Johnson Space Center.
The new camera weighs 900 pounds (408 kg) and is about the size of a baby grand piano. Grunsfeld said camera would ?help unlock the secrets of the universe.? Flight controllers in Hubble?s control center at NASA?s Goddard Space Flight Center in Greenbelt, Md., successfully powered up the new camera to the delight of Atlantis? crew.
?That?s awesome news,? said astronaut Michael Massimino, who choreographed the spacewalk from inside Atlantis. Astronaut Megan McArthur flew the shuttle?s robotic arm.
Spacewalkers also replaced an ailing science data handling unit on Hubble that failed last fall and delayed Atlantis? current mission by seven months. Engineers revived the telescope with a temporary fix until today's repair, which went swiftly.
The spacewalkers also attached a docking mechanism on Hubble so a robotic spacecraft grab the telescope when its mission is over and send it plummeting into the Pacific Ocean. They also lubricated some of Hubble?s doors and tried to install door mechanisms that also gave them some trouble.
?It?s a day of surprises,? Feustel said.
Spacewalk marathon kicks off
Thursday?s spacewalk began at 8:52 a.m. EDT (1252 GMT) and sets the stage for another repair job on Friday. The astronauts were dwarfed by the four-story Hubble above them in television images relayed from the shuttle.
The spacewalk lasted 7 hours, 52 minutes and marked the sixth career excursion for Grunsfeld, who ended with 44 hours and 52 minutes. It was Feustel?s first spacewalk.
?I?m ready for a hot shower and good meal,? one of the spacewalkers said near the end.
?We?ll see what we can do,? Massimino said.
Atlantis launched Monday and is flying in an environment littered with space junk because of Hubble?s high orbit. Debris from a 2007 Chinese anti-satellite test zipped by the shuttle late Wednesday, but not close enough to require the shuttle move out of the way, NASA officials said. NASA has the shuttle Endeavour on standby as a rescue craft if needed.
NASA initially canceled the $1.1 billion Hubble flight in 2004 citing it as too risky in the wake of the Columbia shuttle disaster. But the agency reversed that decision in 2006 after successfully resuming shuttle flights and testing shuttle inspection and repair techniques.
SPACE.com is providing continuous coverage of NASA's last mission to the Hubble Space Telescope with senior editor Tariq Malik in Houston and reporter Clara Moskowitz in New York. Click here for mission updates, live spacewalk coverage and SPACE.com's live NASA TV video feed.
New Videos - Hubble's High Art, New Camera

New Video Show - Hubble's Final Shuttle Service Call

Image Gallery - The Hubble Repair Missions: Part 1, Part 2