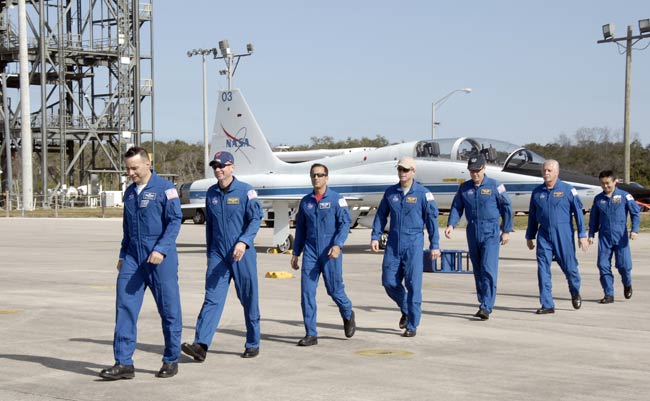 Standing on a platform 195 feet up Kennedy Space Center's launch pad 39A today, Discovery's crew should enjoy spectacular views of the Space Coast.
But if a fire or other emergency forced the seven astronauts from the shuttle's flight deck and mid-deck before a targeted Feb. 12 liftoff, they wouldn't pause to take in the scenery.
Instead, they would scramble into slide-wire baskets designed to whoosh them to the safety of a ground bunker, a procedure they'll review today during the second of three days of pre-launch training.
"This is very valuable training," mission commander Lee Archambault said Monday morning after the crew jetted into the space center from Houston. "We've been in training for almost a year, so we're very anxious to get going with the mission."
Archambault was joined by pilot Tony Antonelli and mission specialists Joseph Acaba, Richard Arnold, John Phillips, Steve Swanson and Koichi Wakata -- all wearing blue flight suits.
The year's first of six planned shuttle missions will deliver the last two solar wings to the International Space Station, completing its power supply.
On Monday, the crew practiced driving the M-113 turret-less tank they would use to crash through a perimeter fence and flee the launch pad area, if time allowed during an emergency.
Archambault and Antonelli also practiced landing a jet modified to handle like an orbiter on descent.
The training culminates Wednesday with a countdown dress rehearsal that ends with an abort drill seconds before the simulated liftoff.
The astronauts don't expect to have time in their busy schedule to watch today's presidential inauguration.
Responding to a reporter's question, Archambault said he hoped the Obama administration would stick with plans to return astronauts to the moon and Mars on a new spacecraft.
"We'd love very much for him to stay the course and press on with the Constellation program," he said.
Video - Space Shuttle Bloopers!

Video - NASA's Constellation Journey Begins: Part 1, Part 2

Images - Stunning Night Launch for Shuttle Endeavour
Published under license from FLORIDA TODAY. Copyright ? 2009 FLORIDA TODAY. No portion of this material may be reproduced in any way without the written consent of FLORIDA TODAY.