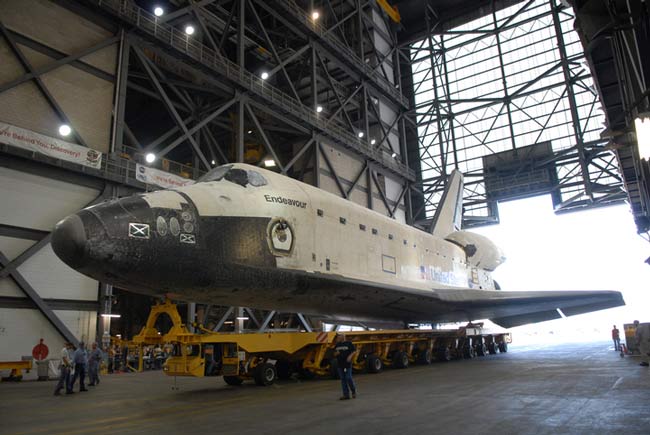 The space shuttle Endeavour, the rescue ship for NASA?s planned October mission to the Hubble Space Telescope, moved a step closer to the launch pad Thursday as the agency closed down its Houston-based astronaut training center to prepare for an incoming hurricane.
Endeavour rolled out of its processing hangar at NASA?s Kennedy Space Center (KSC) in Cape Canaveral, Fla., at 7:01 a.m. EDT (1101 GMT) and made the short trek to the agency?s cavernous Vehicle Assembly Building within an hour, KSC spokesperson Candrea Thomas told SPACE.com.
?They?ll attach the orbiter to its external fuel tank and the solid rocket boosters on the Mobile Launch Platform,? Thomas said of the upcoming work. Engineers plan to roll the spacecraft out of the 52-story Vehicle Assembly Building and on to its seaside Pad 39B launch site on Sept. 18. The shuttle Atlantis is already perched atop the nearby Pad 39A for its planned launch next month.
Endeavour is slated to launch new supplies and equipment to the International Space Station (ISS) for NASA?s STS-126 mission set to lift off on Nov. 12. But the shuttle is also pulling double duty as a rescue ship for its sister ship Atlantis, which is currently scheduled to launch seven astronauts on a final service call to the Hubble Space Telescope on Oct. 10.
Because Atlantis must fly in a higher orbit and different inclination than the space station to reach Hubble, the shuttle will not be able to ferry its crew to the ISS to await rescue if the spacecraft suffers critical damage. Instead, NASA is preparing Endeavour and a minimal four-astronaut crew to launch a rescue mission and retrieve the Atlantis crew in a series of three unprecedented shuttle-to-shuttle spacewalks. Mission managers and Atlantis? STS-125 astronauts have said it is extremely unlikely they?ll ever need the plan, but it was vital to be prepared.
Bracing for Ike
While engineers in Florida prepare Atlantis and Endeavour for their respective launches, NASA officials closed the Johnson Space Center in Houston due to the threat of violent weather associated with Hurricane Ike.
Currently a Category 2 hurricane, Ike is centered about 470 miles (760 km) east-southeast of Galveston, Texas, with maximum sustained winds reaching speeds of 100 mph (160 kph), according to the National Hurricane Center. The storm is expected to strengthen into a major hurricane before reaching the Texas gulf coast this weekend, the center reported.
The Johnson Space Center is home to NASA?s astronaut training facilities and Mission Control centers for space shuttle flights and the International Space Station. The space station Mission Control was also closed, with back up teams in place near Austin, Texas, and in Hunstville, Ala., NASA officials said.
The space center?s closure will require NASA to suspend training activities for the STS-125 astronauts preparing for the Hubble Space Telescope overhaul. It also delayed plans for a mission readiness meeting originally targeted for today.
?The closing prompted space shuttle program manager John Shannon to postpone until sometime next week the STS-125 program-level Flight Readiness Review that had been scheduled for today and Friday,? NASA officials said in a status report.
Thomas said that Atlantis? STS-125 crew is due to head to the Kennedy Space Center on Sept. 21 for several days of launch rehearsal training. Any scheduled changes due to Hurricane Ike, if any, will be assessed next week, she added.
?We don?t know if it will have an impact, but for right now everything is still scheduled the way that it was,? Thomas said.
Video - Hubble Service Mission 4 Countdown

New Hubble Images - When Galaxies Collide