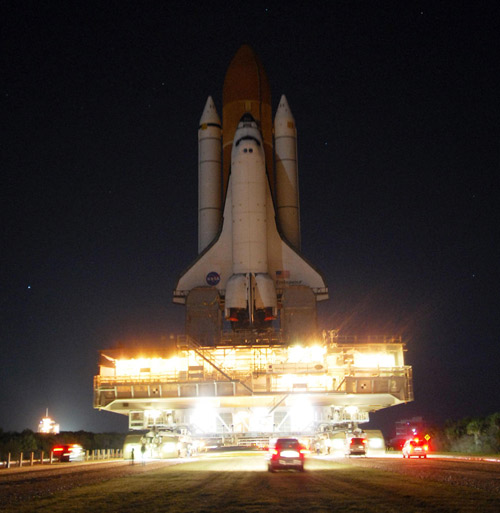 This story was updated at 12:30 p.m. ET.
CAPE CANAVERAL, Fla. — NASA mission managers gave space shuttle Endeavour and its seven-astronaut crew a green light for a predawn launch attempt on Tuesday as fair weather continues to grace the Florida space coast.
Headed by commander Dominic Gorie, the STS-123 space station construction mission will deliver a monstrous two-armed Canadian robot, Japan's first permanent room in space and a suite of medical, biological and physics experiments to the International Space Station (ISS). Gorie and his crew are slated to lift off from Pad 39A here at Kennedy Space Center at 2:28 a.m. EDT (0628 GMT) on Tuesday.
"It's great to be here on the verge of this truly international mission," Scott Higginbotham, STS-123 payload manager, said this morning. "This has been a long campaign for us, but both my team and our international partners are excited for the opportunity to finally see our hardware do its thing in space."
Shuttle weather officer Lt. Col. Patrick Barrett said it should be clear skies across Florida through Tuesday — ideal conditions for the highly anticipated night launch of Endeavour.
"We're expecting favorable conditions all the way through tanking into launch time," Barrett said, noting that weather has no chance to hold up fueling of the 100-ton orbiter's 15-story fuel tank and only a 10 percent chance of scrubbing the space shot.
Glove check
LeRoy Cain, chair of NASA's mission management team, said the agency has found no launch-hindering issues, but did note that a close watch will be kept on troublesome spacesuit gloves during no less than five spacewalks planned for the STS-123 mission.
"We did find that we had a small tear in one of the [extravehicular activity] gloves that was used in a previous shuttle docked mission," Cain said of Atlantis' STS-122 mission. He explained that the damage wasn't discovered until the orbiter returned to Earth last month, when technicians examined the gloves.
Although unlikely, NASA is concerned that tears or holes in the Vectran-coated gloves could breach an astronaut's pressurized spacewalking gear, and the problem has prompted glove redesign efforts, Cain said. STS-118 astronaut Rick Mastracchio detected damage during a spacewalk in August 2007, prematurely ending the outing.
"We've been looking very closely at causes," Cain said, noting that dings from tiny pieces of space debris in handrails the astronauts grab is likely the culprit. "It's things like that that we're looking for."
Night walkers
STS-123 spacewalkers Rick Linnehan, Robert Behnken, Mike Foreman and Garrett Reisman — an ISS crewmember replacement — will frequently check their gloves for damage during the mission, Cain said. Also set to launch aboard Endeavour with the spacewalkers and commander Gorie is pilot Gregory H. Johnson and JAXA astronaut Takao Doi.
To prepare for the overnight hours of their 16-day mission, hailed as the longest station-bound shuttle flight NASA has ever attempted, the astronauts went to sleep around 8:30 a.m. EDT (1230 GMT) Sunday morning.
The crew has shifted their sleep schedule to opposite that of a normal work day because the space station, traveling at more than 17,500 mph (28,200 kph), is in a fixed orbit that offers Endeavour only a 10-minute opportunity each day to chase it down.
From Earth to the station
As NASA gears up for its own launch, test director Jeff Spaulding congratulated the European Space Agency (ESA) on their successful launch of the automated cargo spaceship Jules Verne, now bound for the space station.
"We're very happy to have that in orbit," Spaulding said of the double-decker bus-sized spacecraft, which can ferry three times as many supplies than Russian Progress spacecraft.
Spaulding also noted that launch preparation crews at KSC haven't missed a beat in preparing Endeavour just one month after shuttle Atlantis launched with the ESA's giant Columbus laboratory on board.
"All of our systems at this point are in great shape, our teams are ready to go," Spaulding said. "They're very excited to be back again in this posture where we'll be able to launch just over a month or so from our last launch."
VIDEO: ESA's New Science Laboratory