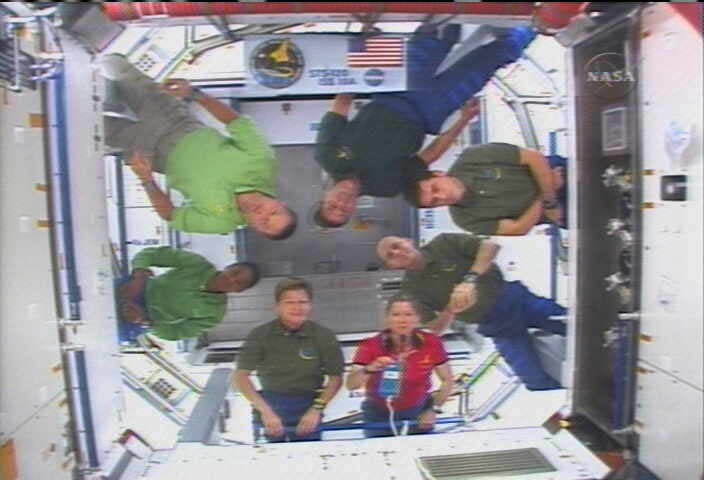 HOUSTON - Astronauts broke in a brand new room aboard the International Space Station (ISS) with some orbital fun Saturday as their ambitious construction mission goes well.
With smiles on their faces, the astronauts of NASA?s shuttle Discovery and the station?s Expedition 16 crew performed some formation flying inside Harmony, the new 16-ton connecting node they christened earlier today as the hub for future international laboratories at the ISS.
?Looking back over the last few days, it has gone very smoothly and we?re excited about that,? shuttle commander Pamela Melroy told reporters during several interviews from the new node. ?But there?s a lot of work left yet to come.?
Melroy and her STS-120 crew delivered the Italian-built Harmony module during a Friday spacewalk. They worked alongside the ISS crew to outfit the node?s interior earlier today, priming it to serve as the attachment point for Europe?s Columbus lab and Japan?s three-piece Kibo module once the module is moved to its permanent location next month.
?It?s bright, it?s shiny,? said NASA?s lead shuttle flight director Rick LaBrode of Harmony. ?The report from the crew is that it?s as clean as can be.?
But the node?s installation is just part of a packed mission for Discovery?s astronaut crew.
The astronauts have already swapped out one member of the station?s Expedition 16 crew and plan to move a massive 17.5-ton solar array segment during two upcoming spacewalks, the first of which is set for Sunday. Two more spacewalks - giving their flight a record-tying five excursions - will test a shuttle heat shield repair technique and prime the ISS for future construction.
?This is really a special moment for the station because it kicks off the international science portion of the international space station,? Melroy said of the mission so far. ?I love the idea that delivering this node is beginning a whole new era of science in space.?
The first-time flyers on Melroy?s crew have taken at least a few moments since their Discovery shuttle?s Oct. 23 launch to soak in the view of Earth.
?The first time I set eyes on it, I [saw] that the colors are brilliant,? Discovery pilot George Zamka. ?There is a tremendous amount of blue that comes from the Earth. When the Sun comes up, it?s like a blue rainbow going around the Earth.?
Melroy is NASA?s second female shuttle commander and is leading her flight at the same time as Expedition 16 commander Peggy Whitson, the first woman ever to lead an ISS mission. Both spaceflyers said they took heart that enough female astronauts are flying that the coincidence could occur.
Whitson received a ceremonial whip to signify her command before launching to the ISS on Oct. 10. When asked which among the station and shuttle?s joint crew needed the closest attention, Whitson - and all others present in Harmony - jokingly pointed to crewmate Clayton Anderson, a spaceflyer known for his sense of humor.
?I?ve been as nice as a choir boy,? replied a smiling Anderson, who is completing a five-month mission to ISS and will return to Earth aboard Discovery. ?I don?t understand all this harassment I?ve been getting.?
NASA is broadcasting Discovery's STS-120 launch and mission operations live on NASA TV. Click here for mission updates and NASA TV from SPACE.com.
SPACE.com Video

Interplayer

: Delivering 'Harmony' with NASA's STS-120 Mission

Complete Space Shuttle Mission Coverage