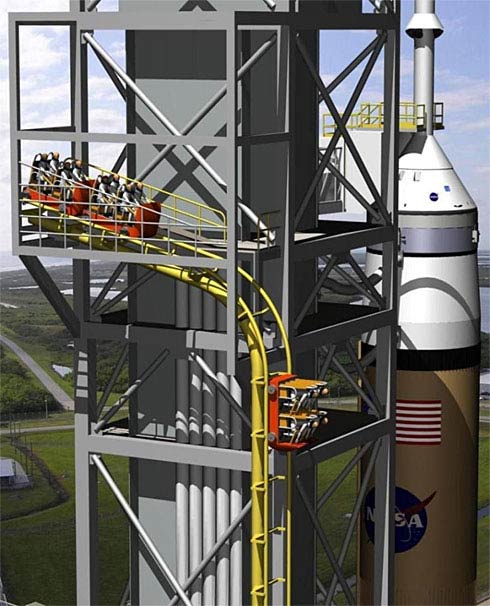 Evacuation systems have been built into launch pads since the 1960's Saturn rockets took astronauts to the moon. Earlier systems consisted of a cable basket that would take evacuated astronauts to the ground.
The re-engineered Launch Complex 39B will need to handle the new Orion spacecraft and its Ares 1 rocket. For quick evac, NASA turned to the world's roller coaster designers for help.
In the event of an emergency, astronauts will jump into tram cars and head face down toward the ground (see illustration) from a height of approximately 370 feet.
"Technology developed for the public thrill-seekers is very applicable here," says Scott Horowitz, head of NASA's effort to return to the moon.
Once completed in 2012, the NASA 'coaster will be the world's third tallest, after the Kingda Ka at Six Flags Great Adventure in Jackson, New Jersey, and the Top Thrill Dragster at Cedar Point in Sandusky, Ohio.
Attention NASA engineers: check out the RoboCoaster G2 - Extreme Robot Roller Coaster for ideas for extra thrills on the way down. People who don't meet NASA's height requirement (not to mention being an astronaut) can still enjoy the Shuttle Launch Experience at the Kennedy Space Center.
Via NASA: Astronauts to Ride Rails in Emergency and NASA designs a 'roller coaster' escape.
Video: Dropping Orion

GALLERY: 50 Years of Spaceflight: The Road Ahead

Future of Flight