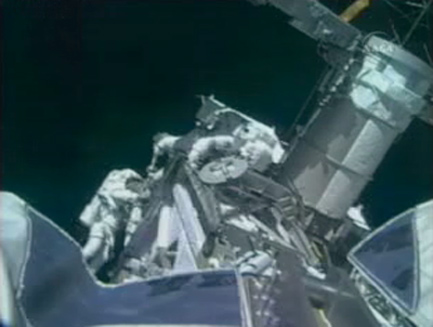 HOUSTON – Two spacewalking astronauts added a new piece to the growing International Space Station (ISS) Saturday while engineers on Earth analyzed a U.S computer glitch and damage to the shuttle Endeavour.
STS-118 mission specialists Rick Mastracchio and Dave Williams bolted a new Starboard 5 (S5) spacer truss to the end of the space station's metallic backbone, among other construction tasks, during their six-hour-and-17-minute spacewalk.
"You guys were awesome," shuttle commander Scott Kelly told the two spacewalkers after they finished their work.
Known affectionately as "Stubby," the S5 truss makes way for a new solar array on the growing orbital laboratory. Addition of the 4,010-pound (1,818-kilogram) block gives the ISS an end-to-end length of 246 feet (75 meters) and a weight of about 513,000 pounds (233,000 kilograms).
About the only hitch while Mastracchio and Williams toiled outside the orbital laboratory occurred inside the station's U.S. segment.
At about 3:52 p.m. EDT (1952 GMT), the station's primary U.S. command and control computer shut down inside NASA's Destiny laboratory, forcing two backups to take over as designed. The six-year-old computer's shutoff had no effect on Saturday's spacewalk, but engineers are studying the problem to track the failure's source.
Computer failures plagued the station's last visiting shuttle mission in June, when computers governing the station's Russian navigation and control systems crashed. The space station's current Expedition 15 crew revived the ailing machines by installing jumper cables to bypass faulty components. More repairs for those computer systems are slated to begin Sunday while Endeavour is docked to the ISS.
The computer failure occurred just one day after NASA engineers discovered damage to the heat-resistant belly of Endeavour, prompting mission managers' concerns for safe reentry to Earth.
Engineers think a spray of ice chiseled out pieces of heat-resistant tiles just under a minute after Endeavour's launch on Wednesday evening, but need more information to fully assess the extent of damage. STS-118 crewmembers hope to scan the damage in detail using the space shuttle's sensor-tipped extension boom on Sunday at about 12:06 p.m. EDT (1606 GMT).
Growing laboratory
While hooking up the S5 truss to the space station, astronauts had a nearly unobstructed view of the blue planet 214 miles (344 kilometers) beneath them.
"The view is incredible," Williams said during the installation of the $11 million, Boeing-built truss.
The spacewalking astronauts also relocated a spare grappling fixture, which allows the space station's robotic arm to safely grab space station components and move them around. After the relocation, Mastracchio and Williams retracted a radiator on the station's mast-like Port 6 truss, clearing the massive segment for relocation to the orbital laboratory's port-most side later this year.
"You guys look like those toys in a souvenir shop," mission specialist Tracy Caldwell told the astronauts outside of her space station window during the retraction. Caldwell served as spacewalk choreographer, delivering instructions and advice during the busy construction outing.
With time to spare after their primary tasks, Mastracchio and Williams squeezed in several "get-ahead" tasks to accelerate construction of the space station.
Endeavour's seven-astronaut crew is delivering spare ISS hardware, 5,000 pounds (2,267 kilograms) of fresh cargo and replacing a failed gyroscope to the space station during the their up-to-14 day mission.
Throughout Saturday's spacewalk, teacher-astronaut Barbara Morgan oversaw the transfer some of that cargo. Morgan waited 22 years for the opportunity, following the loss of the 1986 Challenger crew. She was assigned to Endeavour's STS-118 mission in 2002 after becoming a full-fledged astronaut in 1998.
STS-118 astronauts are expected to perform at least two more spacewalks during the next six days, although a new device that shares space station solar power with Endeavour could allow for a fourth spacewalk. Mission managers will decide by Sunday afternoon whether or not to extend the mission by three days.
"[It] may make us, if it works properly, the longest docked mission to the space station to date," Kelly said in an interview with SPACE.com.
VIDEO: Teaching the Future: Teacher-Astronaut Barbara Morgan

VIDEO: Endeavour's STS-118 Mission Profile

Complete Space Shuttle Mission Coverage