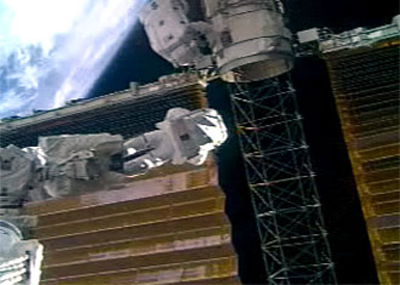 HOUSTON -- A unplanned spacewalk by two shuttle astronauts to force stubborn solar array into submission atop the International Space Station (ISS) Monday made for high drama at NASA's Mission Control here at the Johnson Space Center.
"'Wow,' is about the only thing I can say," Kirk Shireman, NASA's ISS deputy program manager, said late Monday after the spacewalk's success. "It was really an emotional rollercoaster today."
European Space Agency astronaut Christer Fuglesang and veteran NASA spaceflyer Robert Curbeam shook, poked, prodded and coaxed a reluctant solar array into its storage boxes on the station's six-year-old Port 6 truss during six hours and 38 minutes of orbital work [image]. They worked in concert with flight controllers and their crewmates aboard the ISS and docked shuttle Discovery.
Snags between the array's guide wires and metal grommets, or eyelets, called for Curbeam to employ mostly improvised tools: a scraper designed to repair shuttle heat shields, extension bars for loosening sticky ISS bolts and others, all of which were covered in orange tape to ward off arcs of electricity -- a hazard when working near the solar wings, NASA said [image 1, image 2].
"Beamer had us on the edge of our seats," Tricia Mack, NASA's lead spacewalk officer for the astronaut's STS-116 mission aboard Discovery, told reporters of Curbeam after the spacewalk.
NASA engineers expected some solar array guide wires to stick, but they didn't expect it to billow out in loose loops when Curbeam plucked on it to free grommets.
"There was a groan, I think people heard that all over the building," Shireman said.
After some discussion in space and on Earth, Curbeam tugged a bit more on the line and it retracted back onto its spool.
Mack said Curbeam, known for keeping a cool head and his quick reaction times, did not disappoint. He even set a new record for the number of spacewalks -- four -- performed by a shuttle astronaut during an orbiter flight, she added.
Curbeam also jumped from 13th to fifth on the list of all-time spacewalkers during the latest orbital work, NASA officials said.
"We were also extremely entertained with Christer using the shake method and counting in various languages," Mack said.
During the spacewalk, Fuglesang counted in a variety of languages aside from English -- Spanish and French to name a few -- as he shook the balky solar array.
At one point, when again asked to shake the solar wing, he mentioned he had run out of languages. But despite the levity, both spacewalkers were on task, mission managers said.
Monday's spacewalk marked the fourth and last for NASA's STS-116 mission aboard the Discovery orbiter and capped a week of ISS construction and crew change. The shuttle crew is slated to undock aboard Discovery at 5:09 p.m. EST (2209 GMT) today.
"What a day," Shireman said.
Images: The Spacewalks of NASA's STS-116
Images: Discovery's STS-116 Launch Day Gallery
STS-116 Video: Power is Everything
STS-116 Video: Building Blocks
Mission Discovery: The ISS Rewiring Job of NASA's STS-116
Complete Space Shuttle Mission Coverage
The Great Space Quiz: Space Shuttle Countdown
All About the Space Shuttle