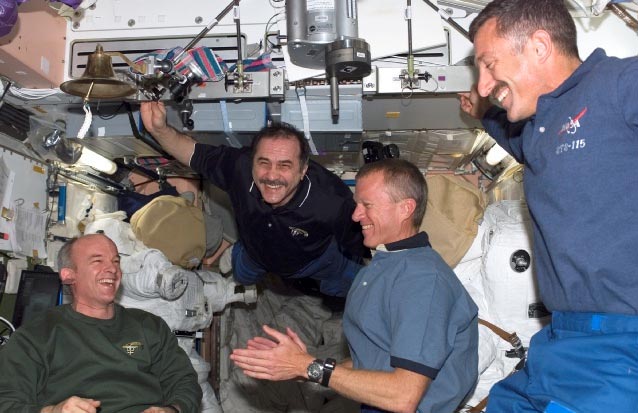 This story was updated at 11:45 a.m. EDT.
HOUSTON - After busy week of spacewalks and orbital construction, the six-astronaut crew of NASA's shuttle Atlantis relaxed a bit Saturday at the International Space Station (ISS).
Atlantis' STS-115 crew, commanded by veteran shuttle flyer Brent Jett, took a few hours off Saturday morning before speaking with reporters on Earth and hauling cargo between their Atlantis spacecraft and the ISS.
"We hope you enjoy the couple of free hours you have and enjoy your day," European Space Agency astronaut Hans Schlegel, serving as spacecraft communicator, told STS-115 mission specialist Daniel Burbank as the crew awoke at 1:15 a.m. EDT (0515 GMT).
Mission controllers roused the Atlantis crew with Jimmy Buffet's "Twelve Volt Man," a song chosen for Burbank by his wife Ros and their children, Emily and Daniel.
"Thanks very much for that great wake up music," Burbank told mission control. "It's a great day up here in space and I really appreciate that. Thanks Houston."
Atlantis' six astronauts have a brief respite of sorts from the intense schedule they followed to deliver the new, $372 million Port 3/Port 4 (P3/P4) truss segments and new solar arrays to the ISS. The astronauts launched on Sept. 9 and are now on Flight Day 8 of their mission.
"They do have off duty time," John McCullough, lead ISS flight director for Atlantis' mission, told reporters Friday. "They're generally all winding down."
But today's rest is a short break from the challenging days ahead, McCullough added.
STS-115 mission specialist Heidemarie Stefanyshyn-Piper, for example, is in charge of ensuring that all vital cargos to be transferred from Atlantis to the ISS reach their destinations. She is also making sure the unneeded items aboard the orbital laboratory are packed away in Atlantis' middeck.
As of Friday, about 60 percent of that cargo transfer was complete, mission managers said.
"We had half a day off this morning, and it gave us the opportunity first of all to sleep in because we've been very, very busy," Stefanyshyn-Piper said in a space-to-ground link between the joint ISS-Atlantis crew and reporters.
Stefanyshyn-Piper said ISS Expedition 13 flight engineer Jeffrey Williams, a NASA astronaut, also gave the shuttle astronauts a tour of the station during their off-time.
"Jeff gave us a real nice tour of the International Space Station, going into some of the modules that we normally don't go into like the Soyuz capsule, which was very interesting, and the rest of the time was spent taking pictures and getting an opportunity to look out the window," she said.
Meanwhile, other STS-115 astronauts such as Jett and pilot Chris Ferguson are looking ahead to Sunday, when Atlantis is set to undock at 8:50 a.m. EDT (1250 GMT) from the ISS and circle the station in a maneuver known as a flyaround. The STS-115 astronauts will leave the station's Expedition 13 commander Pavel Vinogradov and flight engineers Jeffrey Williams and Thomas Reiter with much different ISS - with its new solar wings - than when they arrived.
On Monday, Burbank his crewmates are expected to again survey their shuttle's heat shield with a sensor laden inspection boom to seek out any damage from micrometeorites or orbital debris.
"I think basically they're getting a break...a little breather," McCullough said. "But they also have some pretty good activities ahead of them."
Busy flight
Atlantis' STS-115 astronauts, with the aid of the three-astronaut ISS crew, have staged three spacewalks in four days outside the orbital laboratory to wire up the station's newest addition with power, data and fluid lines.
The exhaustive schedule paused a day to allow the astronauts time to unfurl new solar arrays on Thursday. A radiator for the solar arrays deployed during the mission's final extravehicular activity (EVA) on Friday.
"There are some milestones that they had definitely been looking forward to, solar array deploy, radiator deploy and knocking out all these EVAs successfully," McCullough said. "So they can take a breather [Saturday], get comfortable and then jump back into it."
New Gallery: STS-115 Spacewalks
Gallery: STS-115: Atlantis's Launch Day
Complete Space Shuttle Mission Coverage
NASA's STS-115: Shuttle Atlantis to Jump Start ISS Construction
The Great Space Quiz: Space Shuttle Countdown
Complete Coverage: ISS Expedition 13