Image of the Day Archives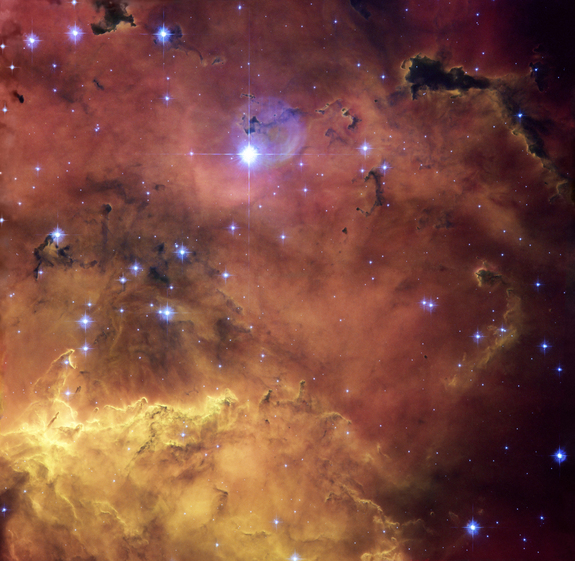 We Will Never Forget
Friday, Feb. 1, 2013: Astronaut Buzz Aldrin (saluting) and NASA Administrator Charles Bolden lay a wreath at Arlington National Cemetery in honor of NASA's Day of Remembrance (Feb. 1). Today marks the tenth anniversary of the Space Shuttle Columbia disaster.

— Tom Chao
Starlight in Vermont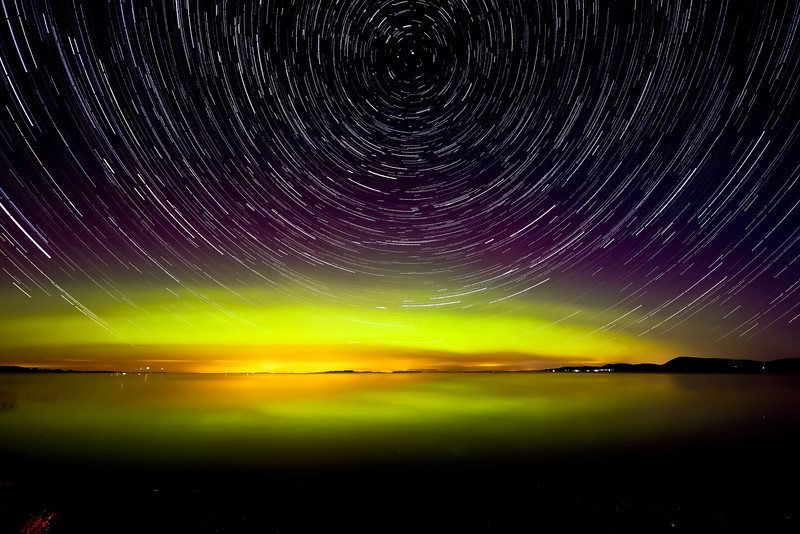 Monday, Feb. 4, 2013: Sky watcher Brian Drourr sent in his composite image of star trails and an auroral display seen over northern Vermont. He says he captured the aurora and 200+ stacked images of the star trails "this past summer" at Sand Bar State Park in northern VT.

— Tom Chao
I'm Coming Apart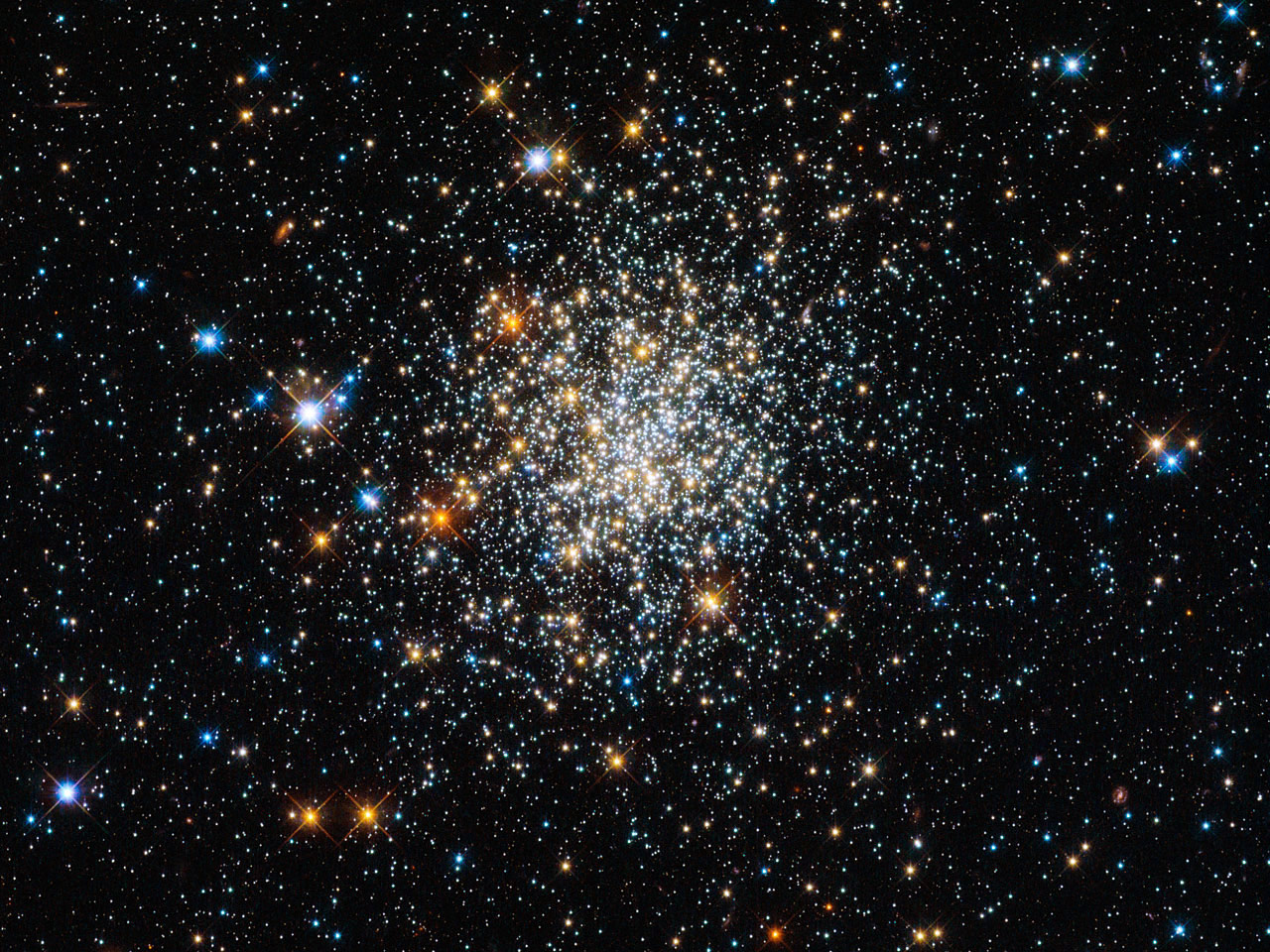 Tuesday, Feb. 5, 2013: NGC 411, seen here, looks like a globular cluster, but appearances may deceive the viewer. Astronomers classify NGC 411 as an open cluster. Stars in open clusters drift apart over time, whereas globular clusters have remained intact over 10 billion years. NGC 411, a relative newcomer, has not been around even a tenth of this age.

— Tom Chao
Stretch Arm ... Strong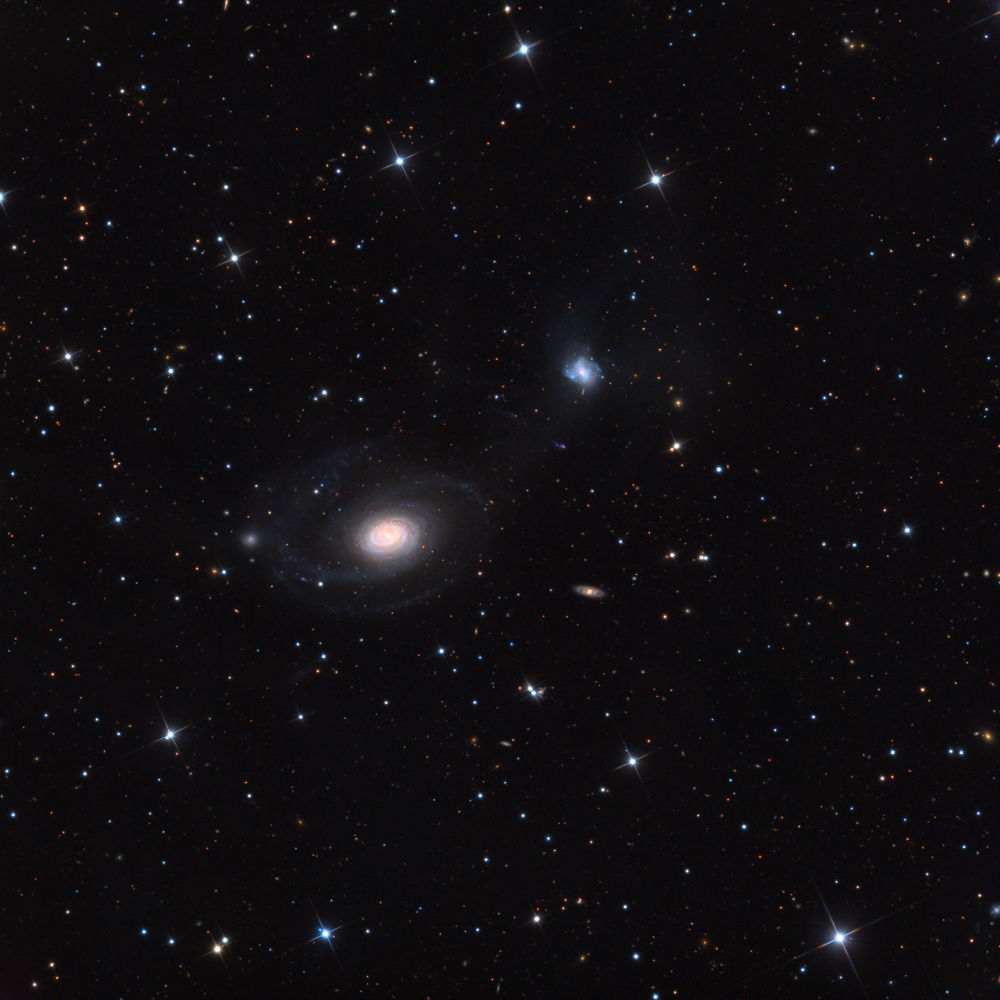 Wednesday, Feb. 6, 2013: NGC 2460 is a spiral galaxy with very long arms, lying in the constellation of Camelopardalis.

— Tom Chao
Stopping by Woods on a Starry Evening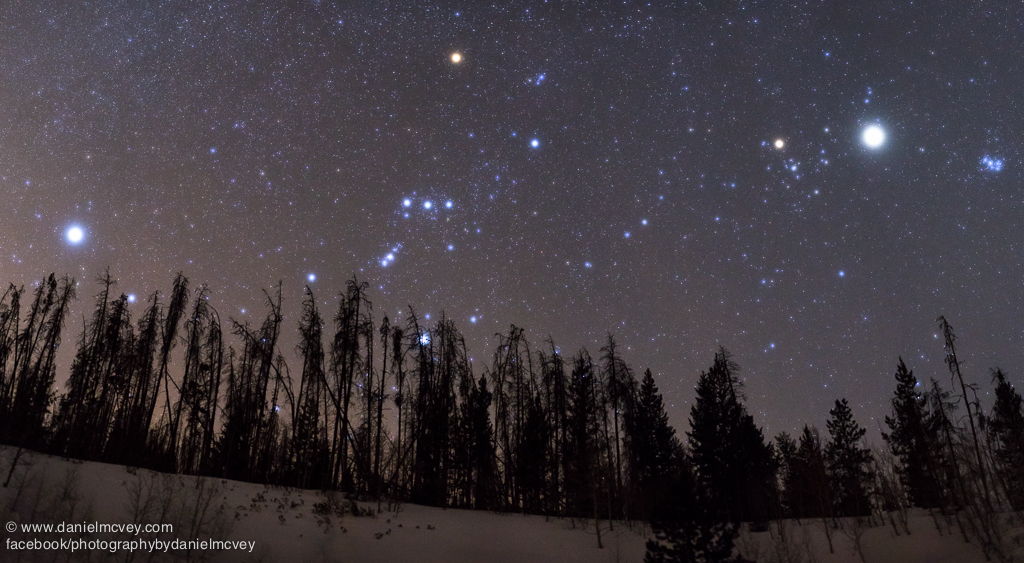 Thursday, Feb. 7, 2013: Astrophotographer Daniel McVey sent in a photo of stars and planet Jupiter over White River National Forest in Summit County, Colorado. L to R: Canis Major, the Orion constellation, Aldebaran (in the constellation of Taurus), planet Jupiter and The Pleiades (The Seven Sisters). Photo released Feb. 5, 2013.

— Tom Chao
Perfect Specimen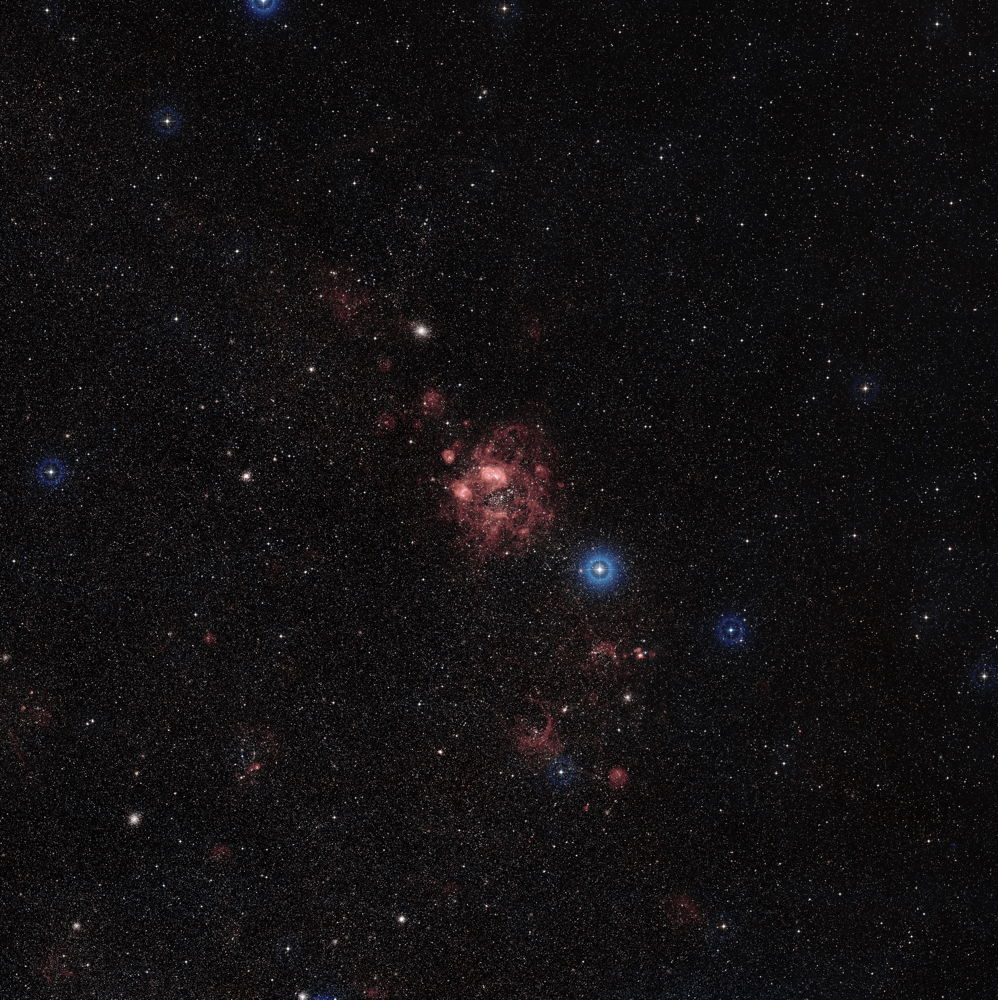 Friday, Feb. 8, 2013: The Large Magellanic Cloud (LMC), a satellite galaxy of the Milky Way floats nearly 200 000 light-years from Earth. Clouds of gas within it slowly collapse, forming new stars. Astronomers know that the LMC lies in an ideal position for the study of phenomena surrounding star formation. The LMC is positioned far enough from the plane of the Milky Way to avoid being outshone by nearby stars, or be obscured by the dust in the Milky Way's center. The LMC is close enough to study in detail, and lies almost face-on to us.

— Tom Chao
Six Sides to Every Story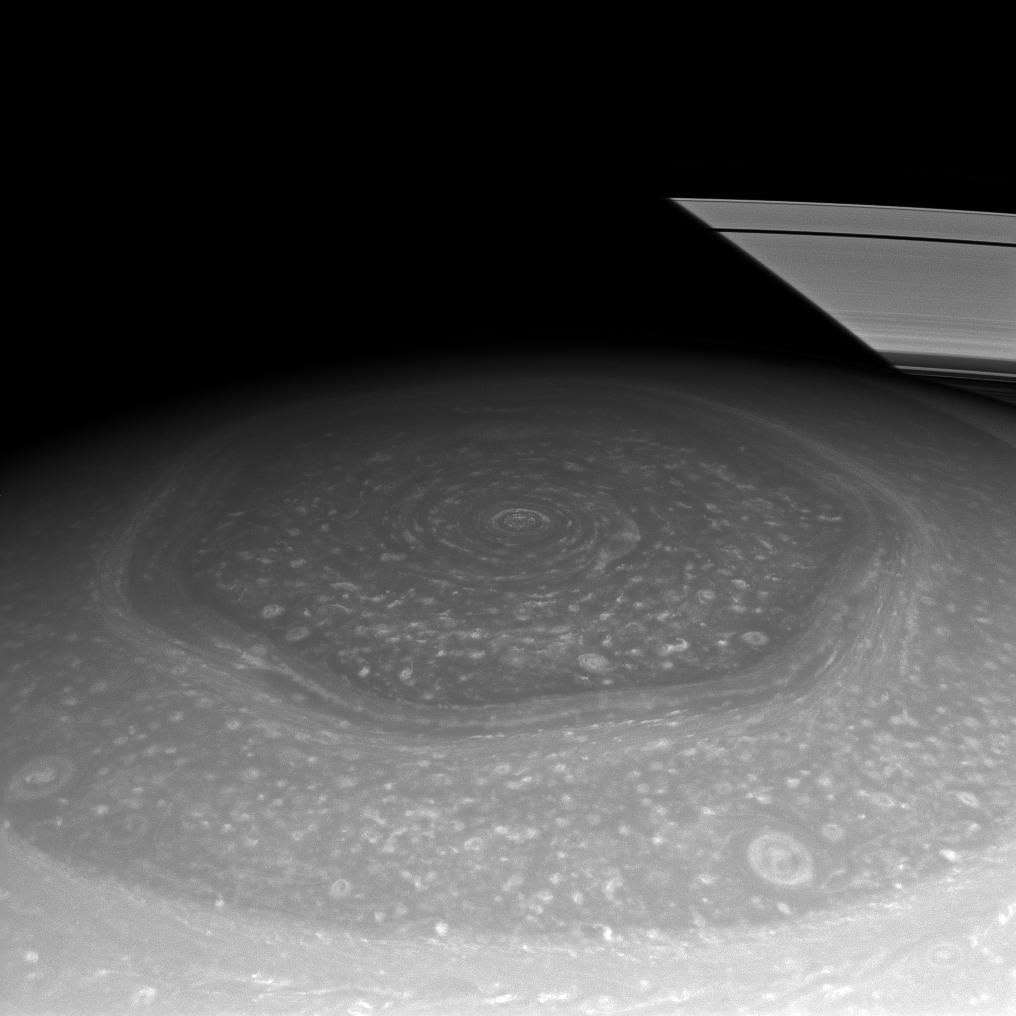 Monday, Feb. 11, 2013: Saturn's north polar hexagon emerges in sunlight as spring arrived in the northern hemisphere. Many smaller storms speckle the north polar region, and Saturn's signature rings, partly disappearing in Saturn's shadow, peek out of the background. Cassini spacecraft's wide-angle camera captured the image on Nov. 27, 2012.

— Tom Chao
It's Been Such a Long Time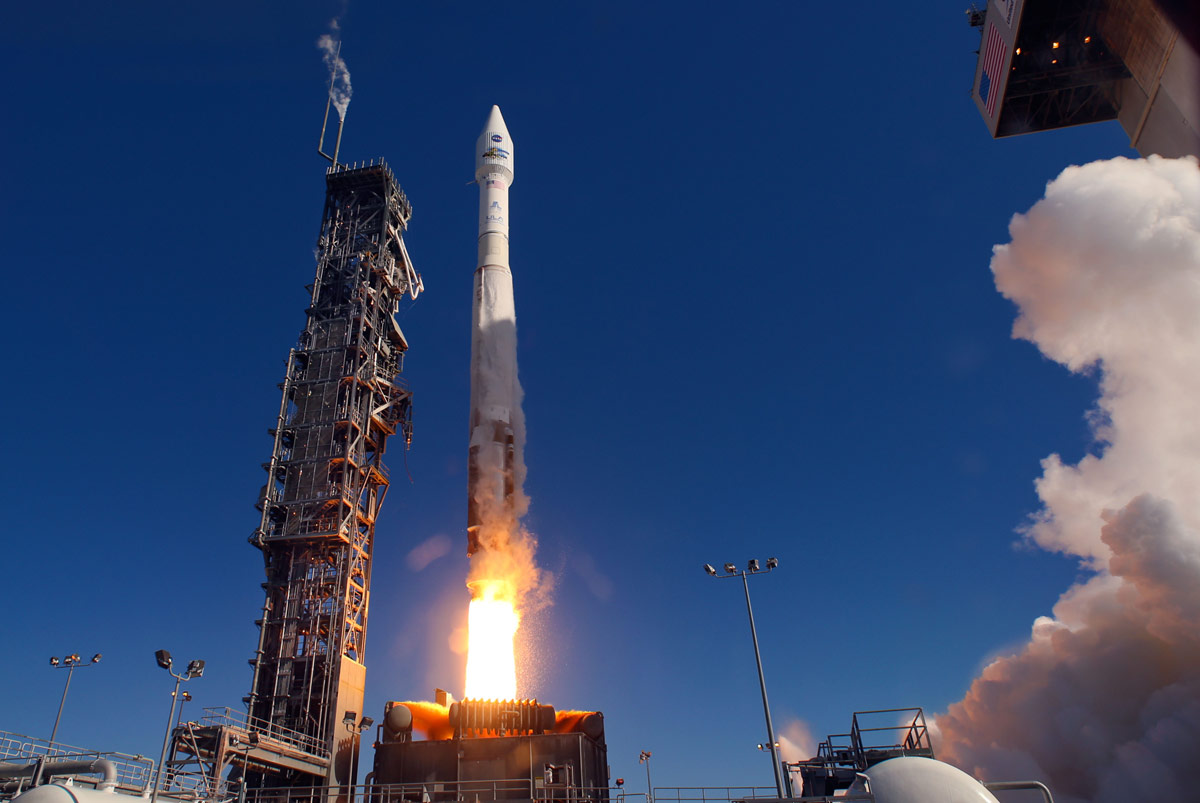 Tuesday, Feb. 12, 2013: The Landsat Data Continuity Mission spacecraft arrived in orbit after launching from California's Vandenberg Air Force Base on Feb. 11, 2013. The mission, Landsat 8, will continue more than 40 years of global land observations used for energy and water management, forest monitoring, human and environmental health, urban planning, disaster recovery and agriculture.

— Tom Chao
You're Tearing Me Apart, Galaxy!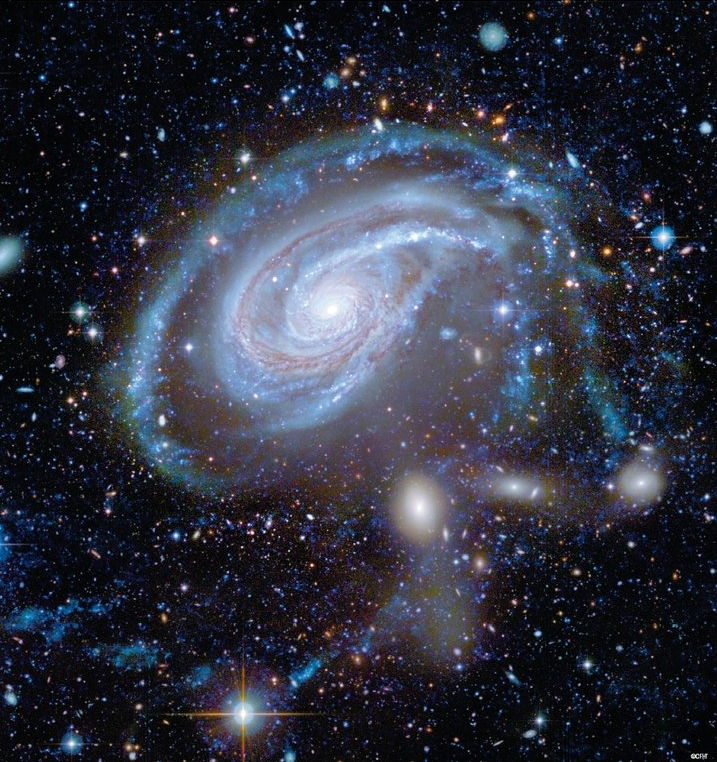 Wednesday, Feb. 13, 2013: Galaxy NGC 772 shows signs of being pulled apart after interacting gravitationally with another galaxy. The other galaxy has pulled apart the spiral arms of NGC 772, while the external spiral arms vanish in the intergalactic medium. Image released January 2013.

— Tom Chao
It's My Happy Heart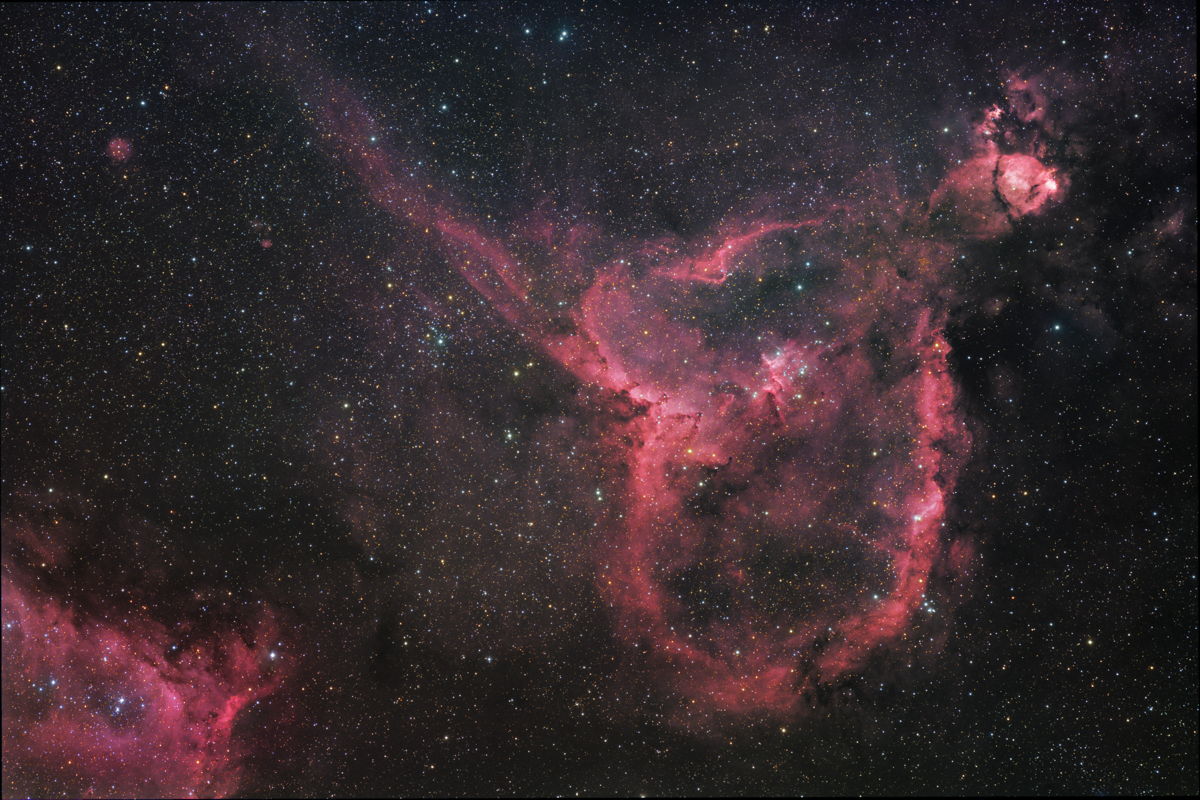 Thursday, Feb. 14, 2013: Happy Valentine's Day from SPACE.com! The Hubble Space Telescope provided this view of IC 1805, the Heart Nebula (which is rotated 90 degrees counter-clockwise in this photo). This nebula lies 7,500 light-years away from Earth in the Perseus spiral arm of our galaxy, in the constellation Cassiopeia. When viewed from the angle shown here, it resembles a running dog, which is the kind of animal you'd better emulate if you don't make Valentine's Day special for your significant other!

— Tom Chao
The Great and Mighty Orion (Nebula)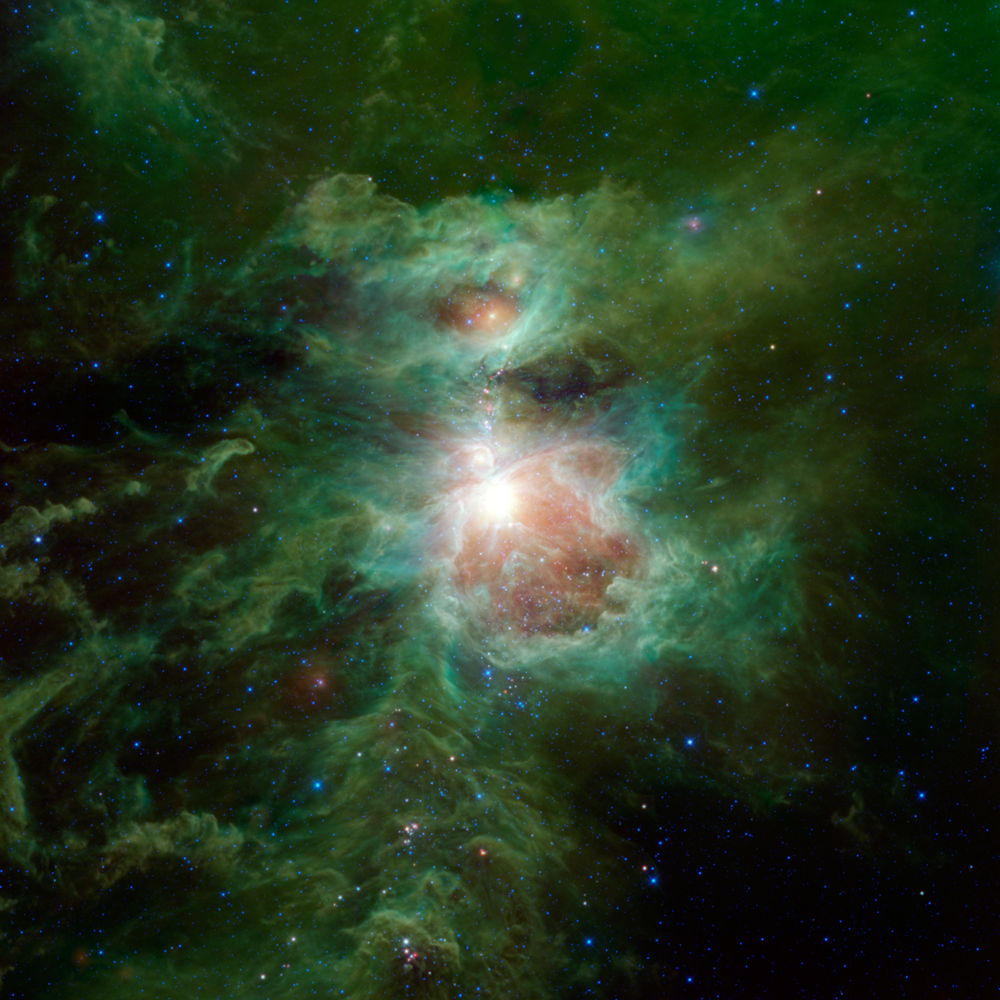 Friday, Feb. 15, 2013: NASA's Wide-field Infrared Survey Explorer (WISE) provides this image of The Great Nebula in Orion. The Orion Nebula (Messier 42) lies located in the sword of Orion, hanging from his easily recognized belt of three stars. Astronomers now realize that the Orion Nebula makes up part of the larger Orion molecular cloud complex, also including the Flame Nebula. This complex in our Milky Way Galaxy actively makes new stars. Light from these new stars warms the dust filling the nebula, making the dust glow in infrared light.

— Tom Chao
Give 'Em Enough Rope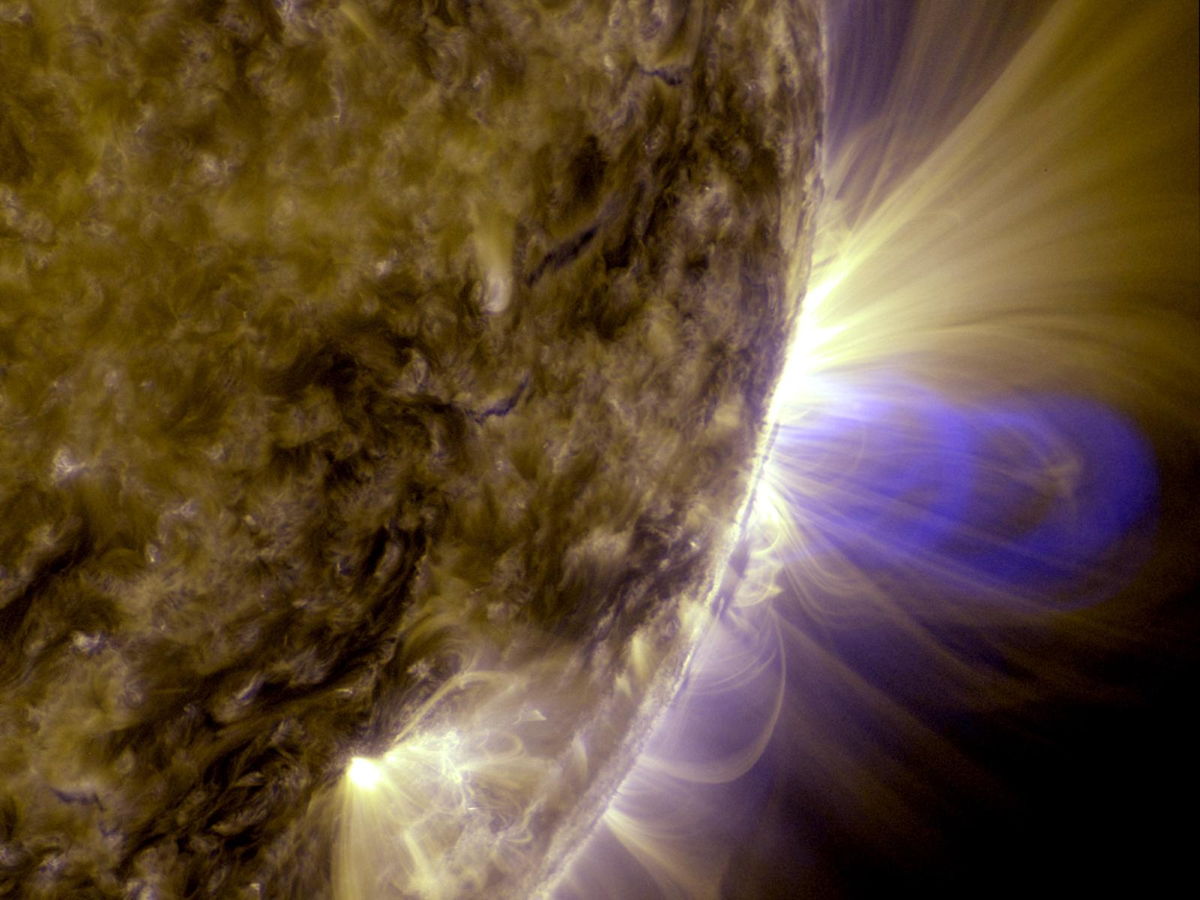 Tuesday, Feb. 19, 2013: NASA's Solar Dynamics Observatory (SDO) presents magnetic loops on the sun in this dramatic image. The image received processing to highlight the edges of each loop to make the structure more clear. Scientists call a series of loops such as this a flux rope, and they are central to eruptions on the sun known as coronal mass ejections (CMEs.) This marked the first time scientists could discern the timing of a flux rope's formation. The image contains blended 131 Angstrom and 171 Angstrom images of the July 19, 2012 flare and CME.

— Tom Chao
Fireball!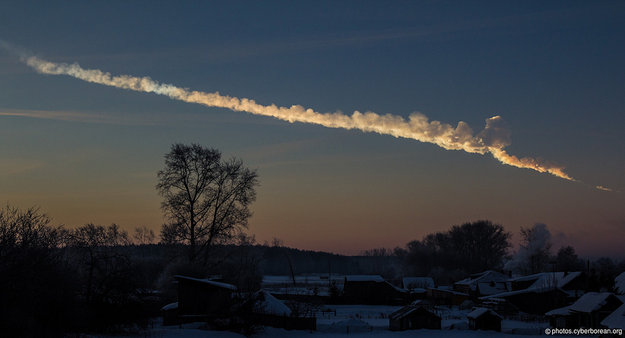 Wednesday, Feb. 20, 2013: Sky watcher Alex Alishevskikh posted this photo of the smoke trail of a meteor above the Urals, Russia, on his blog, Feb. 16, 2013. He wrote: "That morning [Feb. 15] I was on the balcony checking some antenna cable. Suddenly, a flare of a very bright star on the south-east attracted my attention. The star moved from east to west and quickly grew in size. In few seconds, it had transformed to a fireball similar to the sun in size and brightness. That was a dim dawn twilight but for a couple of seconds everything had brightened like under the midday sunshine. In another few seconds, the fireball shrank and went out somewhere on the south-west leaving a thick cloudy trace illuminated by the rising sun. Still under the impression of this thrilling show, I rushed downstairs to grab the camera and back to make this shot. After the shutter had been released, I heard the sound of a distant explosion and felt the vibration like of a slight earthquake.... Bit by bit, more information surfaced about what hit Chelyabinsk and what I observed: it appeared to be a huge meteor entered the atmosphere above Alaska and exploded in the skies over the Urals at 3:20 AM UTC (9:20 AM local time) 15 Feb, 2013."

— Tom Chao
V Is Very, Very Extraordinary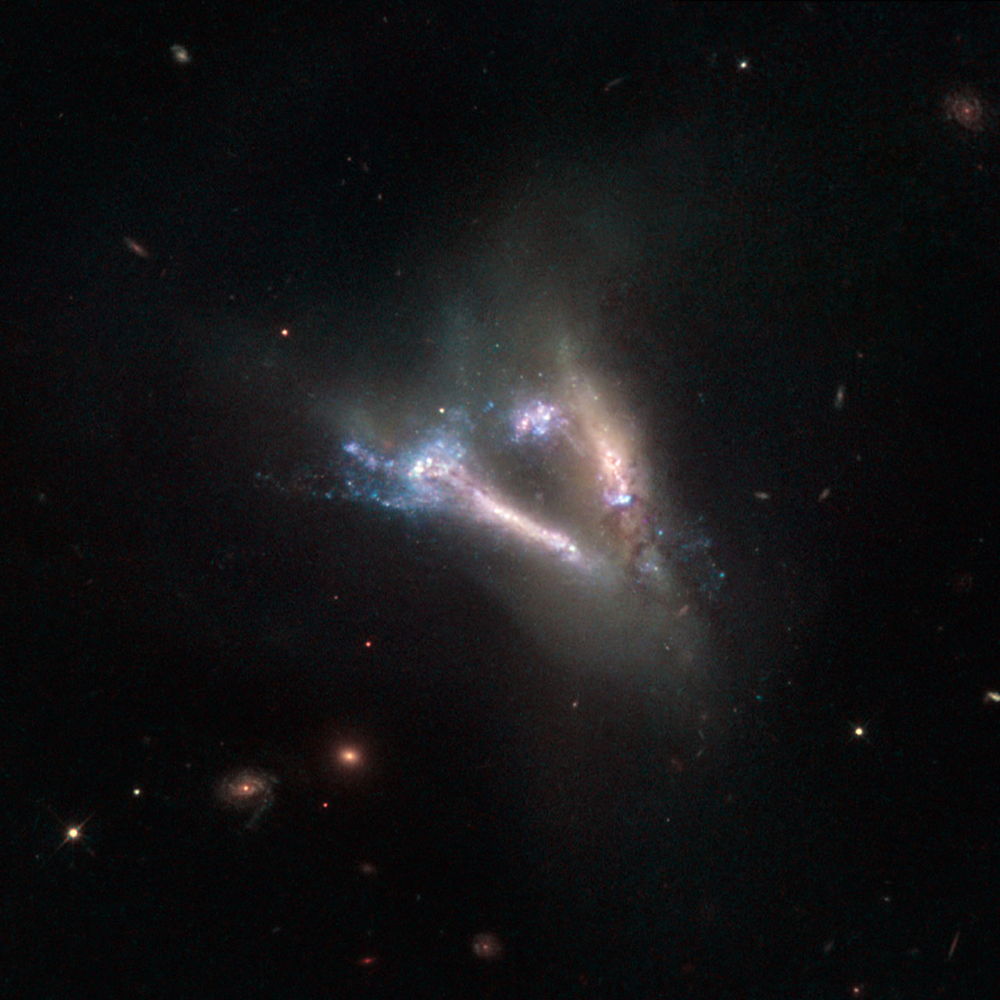 Thursday, Feb. 21, 2013: A pair of interacting galaxies called IC 2184 appear to form a "V" in space, in the northern constellation of Camelopardalis (The Giraffe). Both galaxies lie almost edge-on to us, so that they look like long straight light streaks, bookended by ghostly tidal tails. Thin, elongated streams of gas, dust and stars that extend away from a galaxy into space form the tidal tails, created when galaxies gravitationally interact. Since they almost always take on a curved shape, the galaxies must lie side-on to our point of view.

— Tom Chao
Big Jet Sky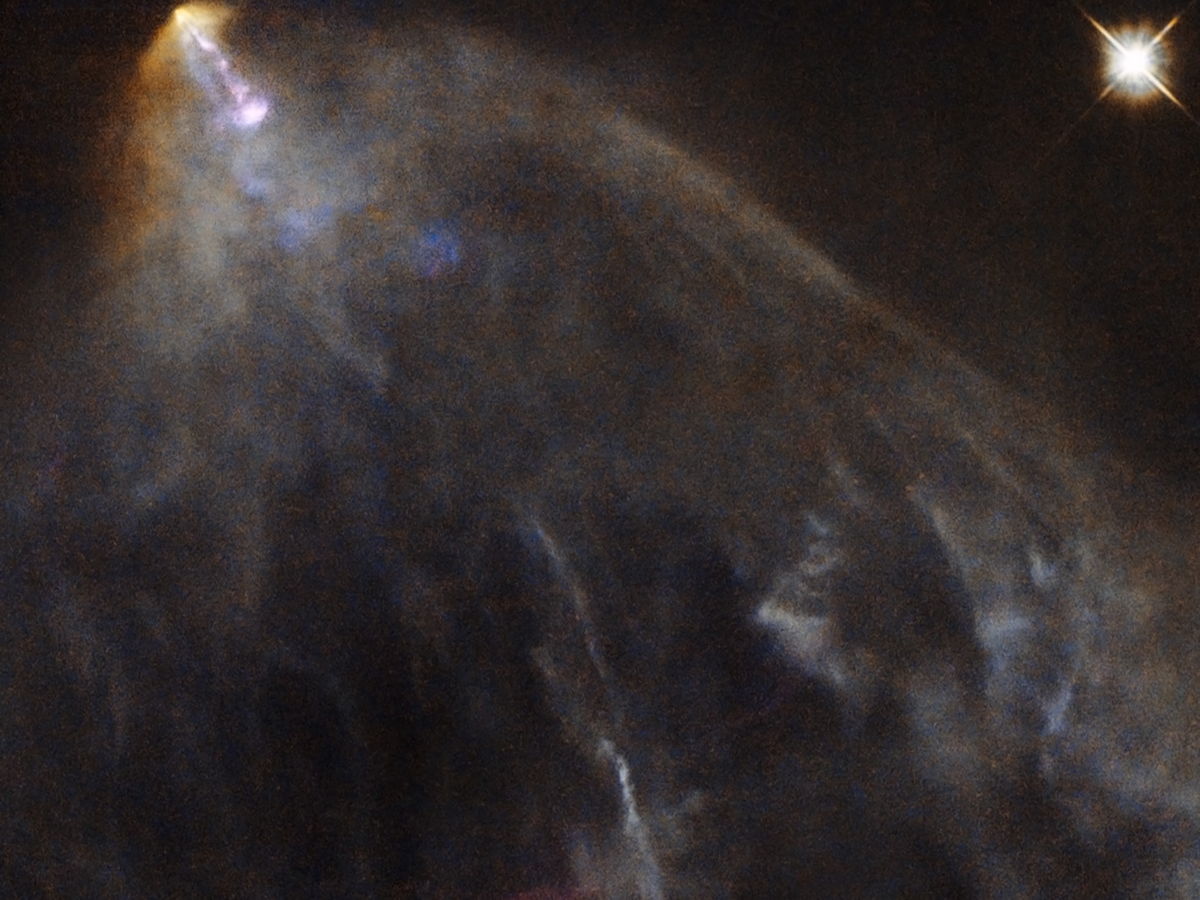 Friday, Feb. 22, 2013: Deep-space object HH 151 consists of a bright jet of glowing material trailed by an orange-tinged plume of gas and dust. It lies about 460 light-years away in the constellation of Taurus (The Bull), near the young star HL Tau. This material forms a hot disc that swirls around the coalescing body, launching narrow streams of material shooting at high speed from its poles. These jets create the wispy structures known as Herbig-Haro objects, such as HH 151 seen here.

— Tom Chao
Mutual Attraction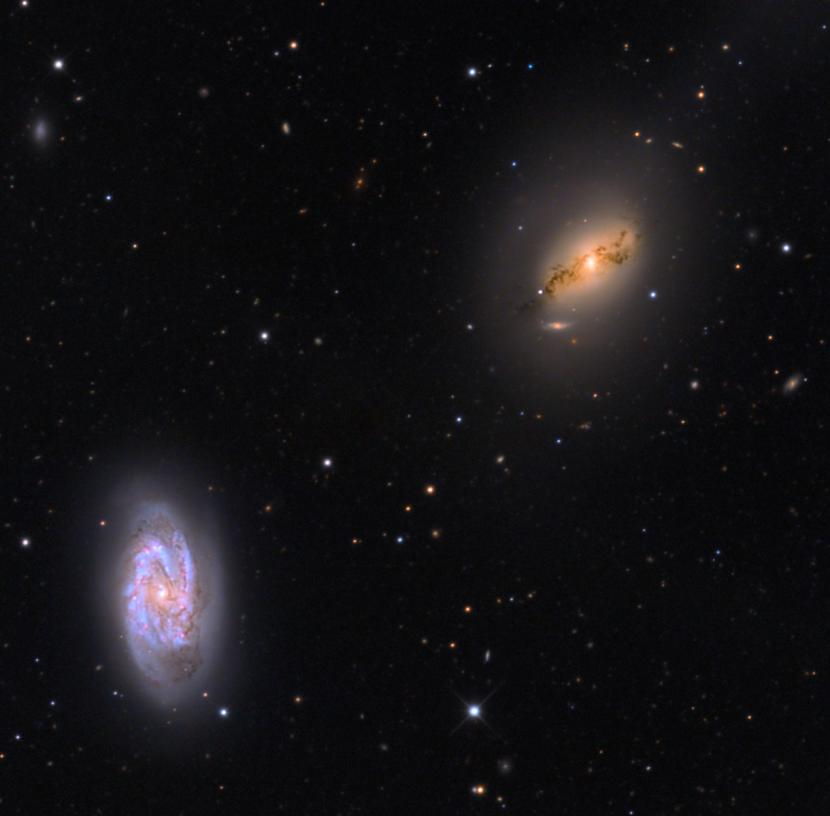 Monday, Feb. 25, 2013: Galaxies NGC 2964 (lower right) and NGC 2968 lie in the constellation of LEO, at 81 and 71 million light years from Earth, respectively. The two galaxies may interact gravitationally. Image obtained December 2012 — February 2013 by Adam Block at the Mount Lemmon SkyCenter/University of Arizona.

— Tom Chao
Satellite's Gone Up to the Skies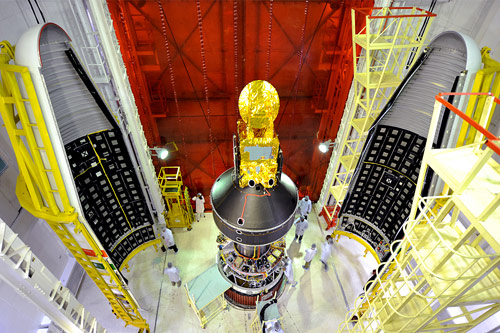 Tuesday, Feb. 26, 2013: This panoramic view shows preparations for India's Polar Satellite Launch Vehicle-C20 to launch into space carrying seven new satellites. The mission primarily intended to orbit the ocean-monitoring SARAL satellite for the Indian Space Research Organisation (ISRO) and French Space Agency. The Canadian Space Agency's NEOSSat asteroid-hunting satellite also went along for the ride. The rocket launched successfully on Feb. 25, 2013, from the Satish Dhawan Space Centre in Sriharikota, India.

— Tom Chao
Moonlet Feels Right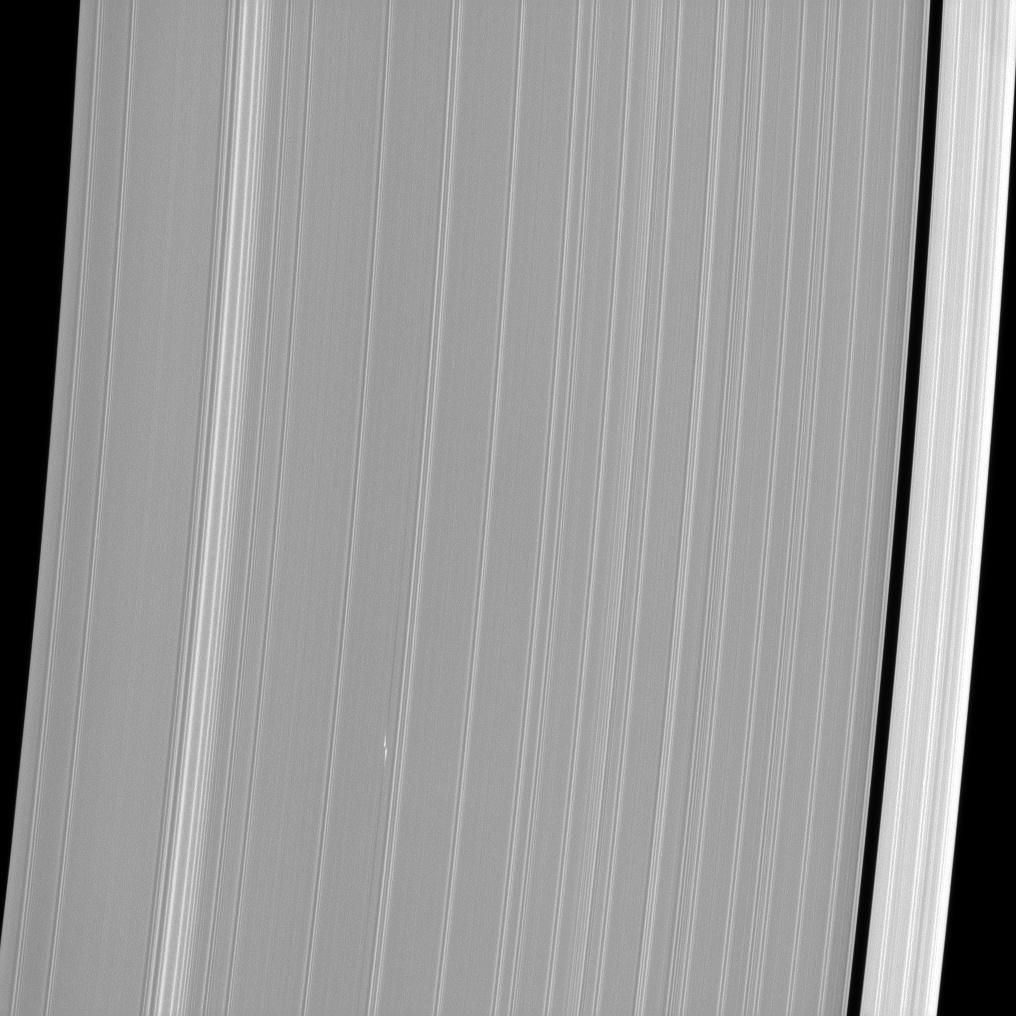 Wednesday, Feb. 27, 2013: A tiny moonlet nicknamed Blierot embedded itself in Saturn's A Ring, creating the propeller-shaped white dashes near the bottom of this image. Cassini spacecraft took the image on Nov. 11, 2012.

— Tom Chao
The Lagoon Show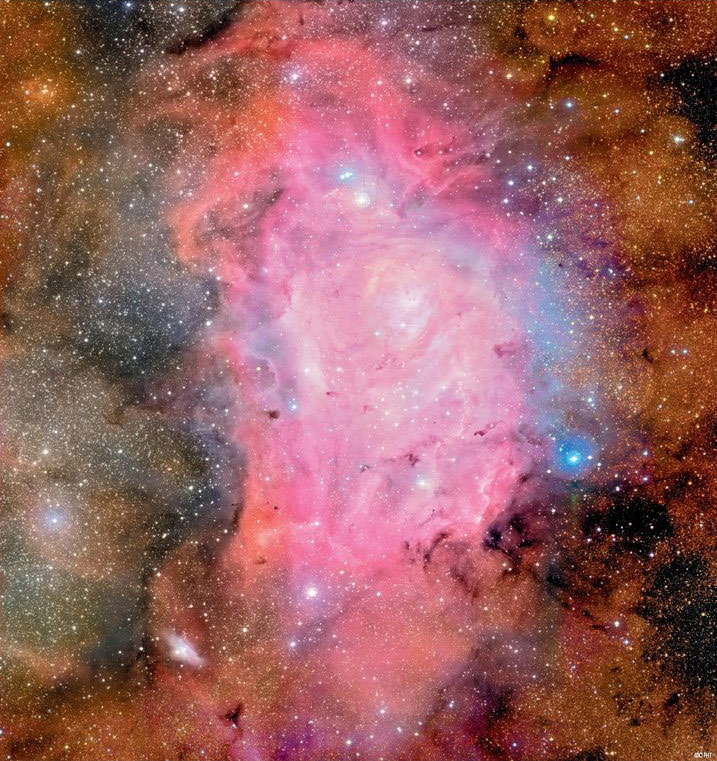 Thursday, Feb. 28, 2013: The Lagoon Nebula, also called Messier 8, lies deeply embedded in the disk of our galaxy. Stars form within this giant region, and they gravitationally cluster in the heart of the nebula. Ultraviolet radiations from newborn stars ionize hydrogen gas, creating the pink emission.

— Tom Chao