Should I buy a drone on Black Friday 2023?
With Black Friday just around the corner, November could be your best opportunity of the year to snag yourself a drone deal.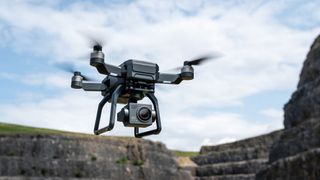 (Image credit: James Abbott)
Black Friday is one of the most hotly anticipated sale events of the year and bagging a drone deal is likely with discounts on models annually. This year, the popular start of the holiday shopping season, which can see significant discounts from retailers and direct from manufacturers, falls on November 24th with Cyber Monday on November 27th.
The event typically lasts from friday through monday, but many online retailers begin their Black Friday sales early while others continue them for a period after. So, the key to success when it comes to drones is to decide what you'd like to buy and keep an eye on websites such as Amazon, online camera retailers and the drone manufacturers' websites, so be sure to check everywhere for the best deals in the run-up to the sale.
Drones typically reduce in price when a superseding model is released, or when manufacturers have their sales throughout the year. And since drones aren't a seasonal product, Black Friday / Cyber Monday is a great opportunity to bag a bargain, and one that you can pinpoint with much greater accuracy than others. In previous years, there have been some generous discounts on DJI models and some of the beginner drone brands, so there are often savings to be had across the whole price spectrum to suit every budget.
Be sure to check out our dedicated Black Friday space gift deals for the best deals on drones, telescopes, camera, binoculars, star projectors, Lego and more.
Drone models to look out for in 2023
2023 has been a great year for drone releases in general, which means there's fantastic potential for discounts on older, yet still highly capable models. With models that have been superseded by a newer model, there will in most cases already be a price reduction in place, but there's still potential for further discounts. So, here are four drone models that could see generous discounts this Black Friday.
DJI Mini 3 Pro
The DJI Mini 3 Pro was the best sub-250 g drone available until the DJI Mini 4 Pro was released in September 2023. The newer model is a better drone overall, but both use the same 12.1/48MP 1/1.3-inch sensor image sensor and offer many of the same features and functionality, including vertical shooting and 4K video, so the Mini 3 Pro remains a highly capable model. Plus, with price reductions already seen on the Mini 3 Pro, there's great potential for further savings on Black Friday.
DJI FPV
The DJI FPV has been available for a few years and is one of those models that frequently sees discounts during sale events. So, if you'd like a large, powerful and incredibly fast FPV drone that can be flown as easily as a camera drone, albeit with the pilot wearing goggles, or like a traditional FPV drone with full manual control for freestyle flight, keep an eye on the DJI FPV. It's not great for photo capture, but it's fantastic for shooting immersive 4K video.
Potensic Atom SE
With the release of the Potensic Atom in September 2023, last year's Potensic Atom SE has already reduced in price and is one of the best budget beginner drones available. Both drones are sub-250 g models, with the Atom SE being the more basic of the two despite featuring near-identical designs. The Atom SE features a 2-axis gimbal alongside Electronic Image Stabilisation for smooth video capture, and it can shoot 4K video as well as capture photos in both Raw and JPEG.
Holy Stone HS720G
Holy Stone drones are available on both the Holy Stone website and Amazon, with discounts common on Amazon throughout the year. However, Black Friday could see extended discounts across the Holy Stone range, including the HS720G, which remains available but has been superseded by the 3-axis gimbal HS720R. They're the same done in most respects, both capable of capturing 4K video and photos in JPEG format, but the HS720G has a 2-axis gimbal backed up by Electronic Image Stabilisation.
Which drone model is best for you?
When buying any tech, including drones, the price will always be a major factor in your purchasing decision. But this doesn't mean you should ever rush ahead and buy something simply because you can afford one model but not another. Often, if the more expensive model fulfils your requirements perfectly, it's worth saving for longer to buy the best model for you, which will ultimately save you money in the long term. Remember the adage, 'buy cheap, buy twice'.
Camera functionality for photos and videos, flight features, flight performance, size and weight of the drone are all important factors to consider when buying a drone. Some models are better than others for specific tasks, so make sure you research the models you're interested in before parting with your hard-earned cash.
Why should I wait for Black Friday?
With Black Friday taking place on November 24th, and Cyber Monday on November 27th, there are only a few weeks to wait and see if there are any discounts available on the drone you'd like to buy. As retailers fight for your custom, alongside manufacturers themselves, there's a strong possibility that patience will pay off.
Just bear in mind that discounts are often region-specific, so you may see a discount that's unfortunately not available to you, even on a website such as Amazon that covers most regions around the world. There's certainly no risk in waiting either because it's unlikely that prices will increase for Black Friday, so from your point of view, you ultimately have nothing to lose if you're planning to buy a new drone this month.
Check out our Black Friday 2023 deals page for discounts on telescopes, cameras, binoculars, star projectors, Lego and more.
Get the Space.com Newsletter
Breaking space news, the latest updates on rocket launches, skywatching events and more!
James is an award-winning freelance landscape and portrait photographer, as well as a highly experienced photography journalist working with some of the best photography magazines and websites with a worldwide audience. He's also the author of The Digital Darkroom: The Definitive Guide to Photo Editing. www.jamesaphoto.co.uk