Pegasus Rocket Woes Continue to Delay NASA's ICON Mission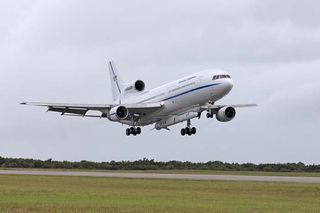 (Image credit: Kim Shiflett/NASA)
WASHINGTON — A persistent problem with a Pegasus rocket will keep a long-delayed NASA space science mission on the ground until at least this spring.
NASA's Ionospheric Connection Explorer (ICON) mission was scheduled to launch in late 2017 on a Pegasus XL rocket based out of Kwajalein Atoll in the Pacific. That launch was delayed to June 2018 because of an issue with the rocket's separation system, then delayed again when engineers detected "off-nominal" data from the rocket during a ferry flight from California ahead of the June launch attempt.
That problem was linked to a faulty sensor that was replaced, with the launch eventually rescheduled for Nov. 7, this time flying out of Cape Canaveral Air Force Station in Florida. However, after the rocket's L-1011 aircraft took off for the Nov. 7 launch attempt, engineers again detected off-nominal data from the rocket and scrubbed the launch.
Neither NASA nor Northrop Grumman Innovation Systems, which builds the Pegasus, have provided additional details about the problem, but at a December meeting of an advisory committee, Nicky Fox, director of NASA's heliophysics division, said engineers were examining the control system of the rocket's fins.
Fox, speaking at a Feb. 25 meeting of a National Academies committee here, said the launch was now scheduled for no earlier than the second quarter. "Northrop Grumman is still working extremely hard to analyze what is causing these anomalies during the ferry flight," she said. "They're working extremely hard to try and get ICON up as soon as possible."
Northrop Grumman hasn't elaborated on the specific issue with the rocket and what it is doing to resolve it. A company spokesperson, contacted by SpaceNews after Fox's talk, said that "the team is in testing" but offered no other details.
Pegasus has seen limited use in recent years, launching only three times in the last decade, most recently in 2016. No other missions are on the rocket's manifest after ICON, although Stratolaunch has an agreement to use the rocket for launches from the giant aircraft it is developing at the Mojave Air and Space Port.
At the Feb. 25 committee meeting, Fox also offered an update on another long-delayed mission, the Space Environment Testbed payload that is part of the Demonstration and Science Experiments (DSX) satellite from the Air Force Research Laboratory, part of the Space Test Program 2 mission launching on a Falcon Heavy. That launch was originally scheduled for launch in 2015 but postponed by delays in development of the rocket, which finally made its inaugural launch in February 2018.
Fox said the launch, last scheduled for April, is now planned for June. That launch will be the second of back-to-back Falcon Heavy missions using the same set of first stage boosters that will first launch the Arabsat-6A satellite this spring.
"We are awaiting launch because there is a launch ahead of us that we will be reusing the boosters from," she said. "So, we have to watch the other launch and, as that one slips, ours slips too."
This story was provided by SpaceNews, dedicated to covering all aspects of the space industry.
Get the Space.com Newsletter
Breaking space news, the latest updates on rocket launches, skywatching events and more!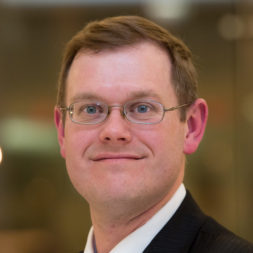 SpaceNews Senior Staff Writer
Jeff Foust is a Senior Staff Writer at SpaceNews, a space industry news magazine and website, where he writes about space policy, commercial spaceflight and other aerospace industry topics. Jeff has a Ph.D. in planetary sciences from the Massachusetts Institute of Technology and earned a bachelor's degree in geophysics and planetary science from the California Institute of Technology. You can see Jeff's latest projects by following him on Twitter.